Can you fire your inner critic? Author, professor, former TV producer and expert storyteller, Valerie Gordon, is back on the "Happiness through Hardship" – The Podcast to tell you how. After 20-years of producing award winning stories for ESPN and HBO, Valerie found communications agency, Commander-in-She, where she helps women advocate for their careers through the power of storytelling. On this week's episode Valerie talks to us about how our inner narrator impacts our lives, which can create or takeaway opportunities we want or deserve.
Apple Podcasts: https://apple.co/2zidDGw
Spotify: https://spoti.fi/3imO7An
Stitcher: https://bit.ly/2WOsaTl
Google Podcasts: http://bit.ly/35cuG9O
iHeartRadio: https://ihr.fm/3cTrLXH
Amazon Music: https://amzn.to/3mSCup2
I'm excited to have Valerie back on the podcast inspiring us how to take charge of our lives and recast our inner narrative. A year ago Valerie shared her wisdom on episode 28 about how to plan your next career chapter – whether you're unemployed, uninspired or just plain curious. This episode was amazing – the topic, the tips, the expertise and it continues to do well to this day. So I knew Valerie coming back on the podcast sharing more lessons and highlighting her new book, Fire Your Narrator! would be valuable. This book is a must have for people who want to learn how to quiet their inner narrator and lower the volume on those unhelpful inner stories we have in our heads.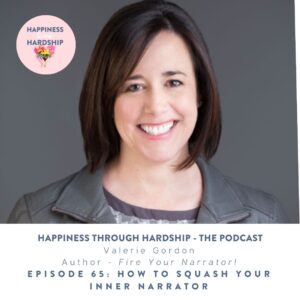 Show Notes – Episode 65 with Valerie Gordon – How to Squash Your Inner Narrator
5:02 – Learning how to keep it real
7:14 – Valerie introduces the idea of an inner narrator
8:59 – Breaking down where this inner narrator comes from
14:24 – Valerie tells us some types of narrators
21:19 – Valerie shares tips on how to deal with this inner narrator
26:21 – Important questions to ask yourself
30:12 – Valerie shows us when to point out the positives and the negatives
32:42 – Being present and rewriting that narrative
38:36 – Caryn and Valerie play The Grateful Game
Valerie's Company – Commander-in-She: https://commander-in-she.com/
Fire Your Narrator – A Storyteller's Guide to Getting Out of Your Head and Into Your Life by Valerie Gordon: https://amzn.to/3DyyG3c
---
---
Connect with Valerie – Episode 65 with Valerie Gordon – How to Squash Your Inner Narrator
Facebook: https://www.facebook.com/CommanderInShe
Twitter: https://twitter.com/CommanderInShe
Instagram: https://www.instagram.com/commanderinshe/
LinkedIn: https://www.linkedin.com/in/valeriejgordon/
Happiness through Hardship – The Book and Journal: BUY HERE or donate a book to a cancer center: DONATE HERE
For easily accessible cancer information – HERE
For daily wellness tips go to @PrettyWellness on Instagram
For more information on Pretty Wellness and Caryn Sullivan – CarynSullivan.com
Follow @PrettyWellness on social media on Instagram, Facebook and Twitter.