On this week's episode of "Happiness through Hardship" – The Podcast, Dr. Althea Bates, entrepreneur, author and the founder of the Project Resiliency Movement talks openly how the odds were stacked against her with so much tragedy in her life. However, Dr. Bates has a powerful outlook and can be incredibly helpful and motivating to everyone. She shares her thoughts about resilience and vision as well as figuring out your own superpower. Dr. Bates speaks from a place of empowerment and resilience. She is smart, brave, bold and absolutely beautiful inside and out. There's so much to learn from her in this episode and life. I'm excited for you to hear her story.
Apple Podcasts: https://apple.co/2zidDGw
Spotify: https://spoti.fi/2WNFc3k
Stitcher: https://bit.ly/2WOsaTl
Google Podcasts and more…
I met Dr. Bates at the local TV station where we both are regular contributors. That morning she was talking about self-care being more than just manicures and showcased her book and The Project Resiliency Movement. The Project Resiliency Movement, a social movement that empowers women of color in areas of self-care including mental, physical and emotional health provides connectivity and support to other women of color through resiliency circles, conferences, workshops and more. In addition to being the founder of The Project Resiliency Movement, she's also the leader of the Dr. Bates brand, which will help empower women of all different backgrounds to tap into their own wellness for the body, mind and soul.
Please listen to this episode and if you like rate, review and subscribe. You leaving a review helps us with our podcast ranking. The higher we are ranked, the more people can discover our show….and the more inspirational content we can bring to you and others.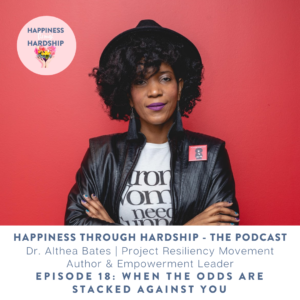 Episode 18: Dr. Althea Bates – When the Odds are Stacked Against You Show Notes
Brokenness, Baggage and Blessings: An Anthology of Resiliency Stories by Dr. Althea Bates: https://amzn.to/33WpbKX
Therapy for Black Girls: https://therapyforblackgirls.com/
Dr. Bates & WTNH-TV: The True Meaning of Self-care: https://www.wtnh.com/on-air/gmct-at-nine/the-true-meaning-of-self-care/
Connect with Dr. Althea Bates – When the Odds are Stacked Against You
Instagram: https://www.instagram.com/iamdrbates/
Facebook: https://www.facebook.com/Project-Resiliency-Movement-1165186203565005/
Twitter: https://twitter.com/projresmovement
For more information on the podcast episodes – HERE
For easily accessible cancer information – HERE
For daily wellness tips go to @PrettyWellness on Instagram
For more information on Pretty Wellness and Caryn Sullivan – CarynSullivan.com
For more information on "The Grateful Game" – https://www.instagram.com/tv/CCdduzuht2u/
Follow @PrettyWellness on social media on Instagram, Facebook and Twitter
Happiness through Hardship – The Book and Journal: BUY HERE or donate a book to a cancer center: DONATE HERE
To get a free copy of our smoothies and snacks ebook: sign up HERE