My husband has been telling me for years…YOU HAVE TO LAUNCH A PODCAST. I'm a storyteller, an information seeker and authentically want to help make the world a little better. I'm also not afraid of a microphone, so a podcast launch seemed natural. We got to work and decided the launch would be on the 6th anniversary of Pretty Wellness.
The anniversary of Pretty Wellness was April 2nd, but since everyone's world has been turned upside down with COVID-19, we chose to delay the podcast launch. Though my message with Happiness through Hardship – The Podcast is about finding a little joy during life's journey, whatever that might bring, I needed a pause. I also wasn't sure how a new podcast with hardship would be received during crisis. So, today – being the day that my home state and many others re-open to a new-normal, felt like a good time to celebrate…and so I'm excited to share the podcast launch with you. Our first episode is all about celebrations – I talk to Jelena Aleksich of The Confetti Project on how confetti helped her heal during her dad's passing.
Show Notes for Episode 1: Jelena Aleksich: Confetti and Dad's Cancer
Let's face it – when you're feeling down, hosting a party, unless it's a pity one, may be the last thing on your to-do list. However, Jelena Aleksich has leaned into her hardships with mini-celebrations. Through the ups and downs of living in NYC and then the passing of her father, Jelena's The Confetti Project became a visual study on human identity.
After being doused by confetti and finding it weeks later inside her jacket, Jelena, a psychology major, started researching how confetti brings about nostalgic and emotive responses. After moving to Brooklyn and being inspired by all the creatives around her, Jelena built her own pop-up experience connecting with people, sharing empowering stories and photographing all of this with canons of confetti.
Becoming a soulful entrepreneur is a difficult journey especially when it tapped into her own hardship. The Confetti Project has been therapy for her and many others; creating an environment for people to look introspectively and celebrate all the moments, some beautiful others painful…in order for them to find joy and peace.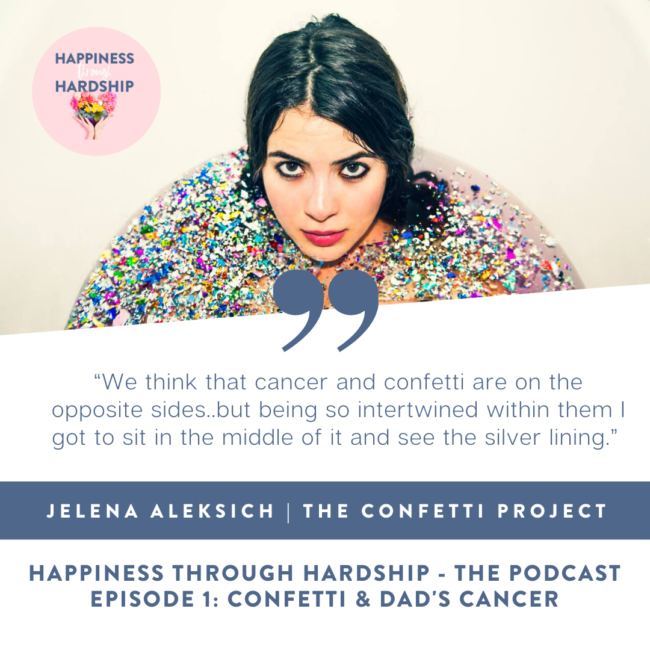 Today on Happiness through Hardship – The Podcast, I have Jelena Aleksich here to share this story and how using mantras, being grateful and tapping into passions has helped her cope during her life's hardest time. Learn more about how finding joy within the journey of parental loss and all-around grief didn't define a young woman, it actually led to more happiness. And make sure you listen to the end, for when we play The Gratitude Game together – hint we talk about The Good Earth Tea, Whole Foods meal prep boxes and more…
Please take a minute to rate, review and subscribe. You leaving a review helps us with our podcast ranking. The higher we are ranked, the more people can discover our show. Tune in every Wednesday for new episodes and Fridays for mini-episodes.
You can subscribe to the show through:
Stitcher and MORE…
Show Notes Links:
You can now buy your own confetti experience with a Confettigram.
The Confetti Project on Instagram
The Confetti Project on Facebook
Connect with us at:
Pretty Wellness on Instagram
Pretty Wellness on Facebook
Pretty Wellness on Twitter