This week's guest on "Happiness through Hardship" – The Podcast is Camille Hammond, a sports marketing dynamo and cherished executive for Kroenke Sports and Entertainment. Camille, a thoughtful leader, mentor and role-model focused on building a successful career first. She believed family and motherhood would come when the time was right. Then, in her mid-30's, she realized her biological clock was ticking. Rather than harp on what wasn't happening, she sought out nontraditional ways to be a parent. Camille is brave, beautiful and shares her story providing inspiration and tips for women considering having a child on their own.
Apple Podcasts: https://apple.co/2zidDGw
Spotify: https://spoti.fi/3imO7An
Stitcher: https://bit.ly/2WOsaTl
Google Podcasts: http://bit.ly/35cuG9O
Camille provides insight on how she has navigated this nontraditional path to motherhood. Whether you're single or have been a parent for years, you will enjoy her story. A life-long swimmer, daughter of a professional athlete and now mother of 9-year old twins, Camille also talks about fitness, healthy living and the support of extended family especially her mom. In addition, we laugh a lot especially about her daily daughter dance parties.
I'm excited to share with you this episode – also please check out some of our other interviews focused on parenting including NBC Sunday Night Football's Michele Tafoya talking about infertility and adoption as well as Christine St. Vil who shares best practices for digital learning. I guarantee you will get something out of these…and when you do, please rate, review and subscribe. You leaving a review helps us with our podcast ranking. The higher we are ranked, the more people can discover our show…and the more inspirational content we can bring to you and others.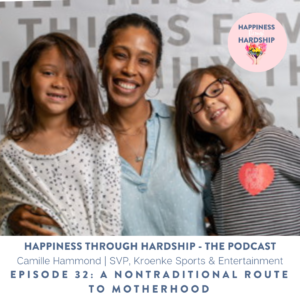 Episode 32: A Nontraditional Route to Motherhood Show Notes
Camille Hammond bio: https://www.coloradoclassic.com/camillehammondbio
Camille Hammond feature: https://www.nba.com/nuggets/news/camille-hammond-20200330
Who is BTS: https://www.oprahmag.com/entertainment/a27338485/who-is-bts/
---
---
Happiness through Hardship – The Book and Journal: BUY HERE or donate a book to a cancer center: DONATE HERE
For easily accessible cancer information – HERE
For daily wellness tips go to @PrettyWellness on Instagram
For more information on Pretty Wellness and Caryn Sullivan – CarynSullivan.com
Follow @PrettyWellness on social media on Instagram, Facebook and Twitter