I'm excited to introduce you to Laura McCarthy, a corporate communications exec gone entrepreneur and owner of My Style Life, on this week's episode of "Happiness through Hardship" – The Podcast. She's a power woman with a heart and a BIG smile. She highlights her story about being a single mom and reflects on what she might do differently now.
Apple Podcasts: https://apple.co/2zidDGw
Spotify: https://spoti.fi/2WNFc3k
Stitcher: https://bit.ly/2WOsaTl
Google Podcasts and more…
Laura used to want to do it all and struggled trying to overcompensate playing all the roles she believed her son needed. When she opened herself up and embraced a few different communities, she found it easier to receive well-needed help. In addition, she didn't take care of herself. For years she believed she didn't have the bandwidth to exercise, eat right or take a moment to breathe. When she started doing yoga she found stress reduction exercises that worked. It also gave her a whole new tribe for support and friendship. Through the years, she's found tools to be present, even when times were tough. Today, her passion for helping others and styling all has brought her to an incredibly happy place.
Laura's insights are helpful whether you're single moming, married or living a stressful life. She's smart, stylish and FULL of resourceful ideas. She shares on the podcast her struggles, her suggestions and even gives a few of her styling tips at the end.
I'm excited for you to hear her story. Please listen to this episode and if you like rate, review and subscribe. You leaving a review helps us with our podcast ranking. The higher we are ranked, the more people can discover our show.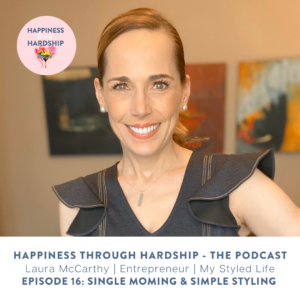 Episode 16: Laura McCarthy – My Styled Life | Single Moming & Simple Styling
Personal Styling for the Busy Professional Woman: https://www.mystyledlife.net/
Book a Free Consultation with Laura: https://www.mystyledlife.net/get-in-touch
Mix and Match Your Wardrobe for New Outfits: https://www.mystyledlife.net/dresscode/mix-up-your-wardrobe
The Jeremiah Program: https://jeremiahprogram.org/
Breathing Breaks – our favorite apps: Headspace, Calm, Insight Timer and more info: https://prettywellness.com/stress/
Connect with Laura McCarthy – My Style Life | Single Moming & Simple Styling
Instagram: https://www.instagram.com/my.styled.life/
LinkedIn: https://www.linkedin.com/in/lauramccarthympls/
For more information on the podcast episodes – HERE
For easily accessible cancer information – HERE
For daily wellness tips go to @PrettyWellness on Instagram
For more information on Pretty Wellness and Caryn Sullivan – CarynSullivan.com
For more information on "The Grateful Game" – https://www.instagram.com/tv/CCdduzuht2u/
Follow @PrettyWellness on social media on Instagram, Facebook and Twitter
Happiness through Hardship – The Book and Journal: BUY HERE or donate a book to a cancer center: DONATE HERE
To get a free copy of our smoothies and snacks ebook: sign up HERE