I'm excited to introduce you to this week's guest on Happiness thought Hardship – The Podcast, Christine St. Vil, popularly known as The Fly (First Love Yourself) Mom. Christine is an author, entrepreneur extraordinaire and founder of Moms 'N Charge® and PDMediaGroup. She's truly on a mission to help moms feel good without the guilt. In addition to her successful career, she's a wife and mom of three kids whom she is homeschooling.
Whether it's full-day in-person instruction, digital learning, a hybrid approach or homeschooling, many of us are contemplating now what arrangements make sense for our kids. Today's episode shares Christine's journey to homeschooling and provides tons of resources for those looking to engage kids with online learning opportunities. Whether homeschooling is an avenue you're considering or not, she offers useful information on how to help ourselves and our kids find joy and success when taking a different approach to schooling.
iTunes/Apple Podcasts: https://apple.co/2zidDGw
Spotify: https://spoti.fi/2WNFc3k
Stitcher: https://bit.ly/2WOsaTl
I encourage you to listen to the very end of this episode where I shed a few tears for Sammy the Shark and the loving community at my son's elementary school. Before that, Christine and I also had a few laughs when playing "The Grateful Game" where we talk about my sister, Target curbside pickup and more…please listen to this episode and if you like rate, review and subscribe. You leaving a review helps us with our podcast ranking. The higher we are ranked, the more people can discover our show.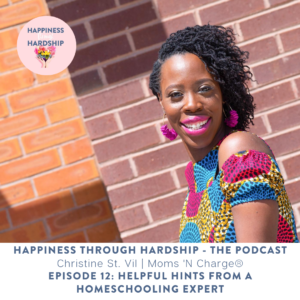 Christine St. Vil – Helpful Hints from a Homeschooling Expert – Show Notes Links: 
Christine's company – Moms 'N Charge®: https://www.momsncharge.com/
Christine's 50 Resources to Engage Kids When Digital Learning: https://www.momsncharge.com/forced-into-homeschooling-resources-coronavirus/
Why Connections Academy May Be The Answer to Your Child's Remote Learning Needs: bit.ly/mncconnections
Christine's formula for mompreneurs: https://www.momsncharge.com/goals
Christine's Book – Whose Shoes Are You Wearing? 12 Steps to Uncovering the Woman You Really Want to Be: https://amzn.to/30PWsXY and journal: http://whoseshoesbook.com/2020/
Home School Legal Defense Association (HSLDA): HSLDA.org
Super Teacher Worksheets: https://www.superteacherworksheets.com/
Teachers Pay Teachers: https://www.teacherspayteachers.com/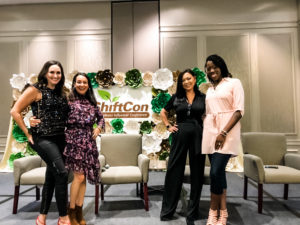 Connect with Christine St. Vil – Helpful Hints from a Homeschooling Expert
Instagram: https://www.instagram.com/momsncharge/
Facebook: https://www.facebook.com/MomsNCharge/
Twitter: https://twitter.com/MomsNCharge
Pinterest: https://www.pinterest.com/momsncharge/
Connect with us at: 
For more information on the podcast episodes – HERE
For easily accessible cancer information – HERE
For daily wellness tips go to @PrettyWellness on Instagram
For more information on Pretty Wellness and Caryn Sullivan – CarynSullivan.com
For more information on "The Grateful Game" – https://www.instagram.com/tv/CCdduzuht2u/
Follow @PrettyWellness on social media on Instagram, Facebook and Twitter
Happiness through Hardship – The Book and Journal: BUY HERE or donate a book to a cancer center: DONATE HERE
To get a free copy of our smoothies and snacks ebook: sign up HERE