This week's guest on "Happiness through Hardship" – The Podcast is Amylee Amos, founder of the Amos Institute, a company that helps people prevent and reverse cognitive decline using a functional medicine approach. She's been trained by some of the world's highly acclaimed leaders, doctors and Alzheimer's researchers…and is one of the only dietitians in the U.S. certified by the Institute for Functional Medicine. On today's episode Amylee shares her family's story with Alzheimer's disease and how early interventions can help prevent it.
Amylee's Nana battled Alzheimer's disease for over a decade. Not only did this disease take her life it also took a large emotional and financial toll on her entire family. Amylee understands what families experience. She is fully committed to helping reverse this disease. At the Amos Institute, she incorporates cutting edge, evidenced based scientific research, with many holistic approaches which have been used for centuries. She's thrilled to share on this episode that there are options now beyond medication that focus on the root causes of the disease.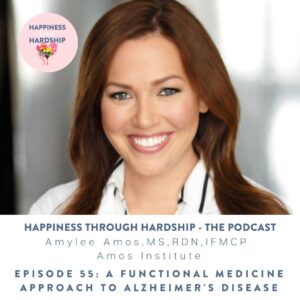 Ep. 55: A Functional Medicine Approach to Alzheimer's Disease Show Notes
3:58 – Amylee's story and why she decided to study Alzheimer's Disease
6:58 – The astounding prevalence of Alzheimer's
8:16 – Targeting the root cause and exploring treatment options
10:34 – How Alzheimer's is a RESPONSE in the brain and how to prevent it
15:33 – When people don't believe the Functional Medicine approach: just present the research
16:58 – Why revamping your lifestyle gives you some of your power back
1945 – Information on the Amos Institute
22:32 – Amylee's nutrition tips for optimal brain health – Ketoflex
28:17 – Amylee's top tip: eat more veggies
30:29 – Amylee's books recommendations
34:01 – Caryn and Amylee play The Grateful Game
Books that Amylee Recommends
Food Rules by Michael Pollan: https://amzn.to/3wnXuqm
The End of Alzheimer's – The First Program to Prevent and Reverse Cognitive Decline by Dale Bredesen: https://amzn.to/3qSo0XL
Connect with Amylee Amos
Amos Institute: https://amosinstitute.com/
Instagram: https://www.instagram.com/amosinstitute/
Facebook: https://www.facebook.com/theamosinstitute
Twitter: https://twitter.com/amosinstitute
---
If you like this episode – check out Episode 50 – "Brain Inflamed and Integrative Medicine " with Dr. Bock: https://prettywellness.com/brain-inflamed/
---
Connect with US
Happiness through Hardship – The Book and Journal: BUY HERE or donate a book to a cancer center: DONATE HERE
For easily accessible cancer information – HERE
For daily wellness tips go to @PrettyWellness on Instagram
For more information on Pretty Wellness and Caryn Sullivan – CarynSullivan.com
Follow @PrettyWellness on social media on Instagram, Facebook and Twitter.