As an adolescent social-butterfly, believe it or not, I adored the library. I seldom read teen books or investigated research. However, I craved connections. In addition to my childhood adventures with friends, I found other dynamic connections through books and magazines. I used to walk up the rows of the local library, likely procrastinating doing my homework, but also amazed at all the knowledge within those shelves. I grew from a kid that liked fictional stories to one that loved inspirational words and non-fiction information.
Now, as an adult, I enjoy going to the library to be inspired to write, connect to my passions and learn more. While tweens and teens today have so much data at their finger tips, I believe that they can connect to themselves, find their voices and learn healthy habits through a good book. Sometimes it's hard to know where to begin, so we've created another healthy kids book list in hopes of inspiring your kids to enjoy healthy habits. We started with 50 Children's Books that Promote Fitness and now we're excited to have added 15 Health Inspired Tween and Teen Books below.
15 Health Inspired Tween and Teen Books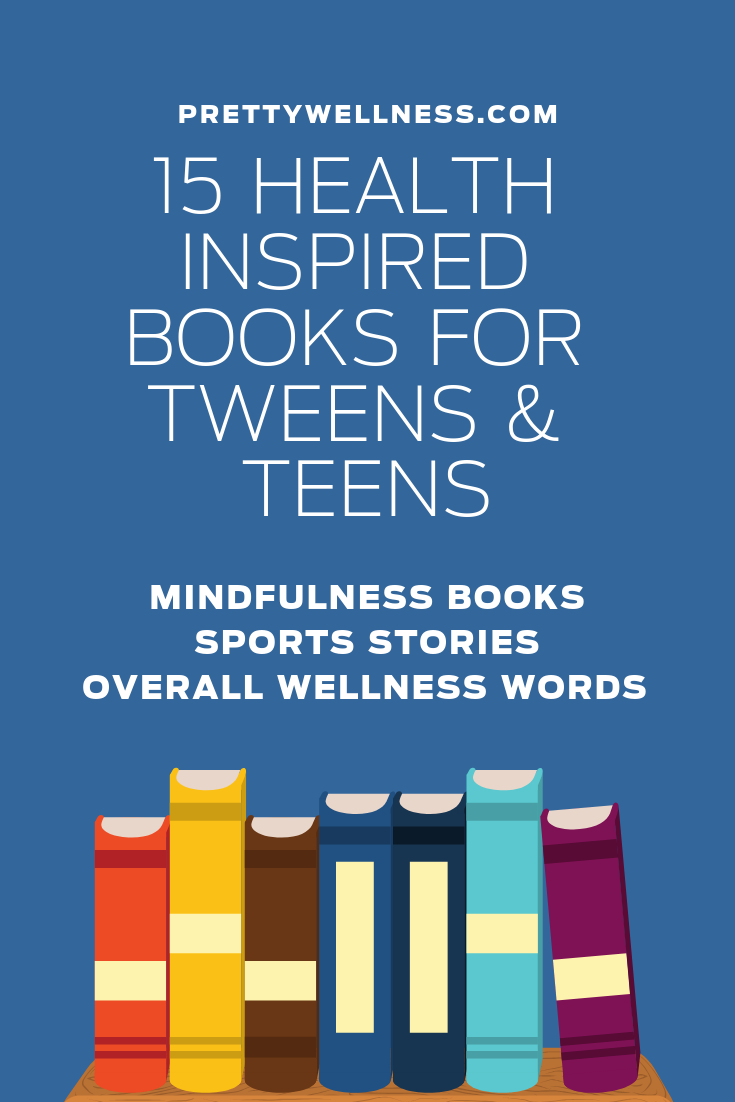 Tween and Teen Books: Mindfulness
Hip Guide to Happiness by Gabrielle Bernstein (Age 16 and up)
A Pebble for Your Pocket by Thich That Hanh' (Age 6 – 13)
The Mindful Teen: Powerful Skills to Help You Handle Stress One Moment at a Time by Dzung X. Vo (Teen age years)
Motivated Teen: 300 Quotes for Living a Confident Life by Pixinspired Life (Teen age years)
Ultimate Mindfulness Activity Book: 150 Playful Mindfulness Activities for Kids and Teens by Christian Bergstrom (All ages)
Tween and Teen Books: Sports, Wellness & Life Lessons
The Contract by Derek Jeter (Age 8-10) and other Jeter Publishing Books in The Contract Series
The Crossover by Kwame Alexander (Age 10-14) and other books by the author
Biggie by Derek E. Sullivan (Age 13 and up)
Breakaway: Beyond the Goal by Alex Morgan (Age 12 and up)
Soul Surfer: A True Story of Faith, Family and Fighting to Get Back on the Board by Bethany Hamilton (Age 12-15)
Tween and Teen Books: Overall Wellness / Resiliency
Finding Your Fit: A Kid-To-Kid Guide to Fitness, Food, and Feelings by Kimberly and Gabby King (Age 8 and up)
Be Healthy – It's a Girl Thing – Food, Fitness and Feeling Great by Mavis Jukes and Lilian Wai-Yin Cheung  (Age 10 and up)
Total Teen: Tracy Anderson's Guide to Health, Happiness, and Ruling Your World by Tracy Anderson (Teen age years)
Staying Fat for Sarah Bynes by Chris Crutcher (Young Adult / Teen age years)
365 Days of Wonder by R. J. Palacio
And don't forget the importance of being grateful – studies have shown that grateful kids have do better in school and feel more satisfied. Our favorite kid gratitude journal is: The Five Minute Journal for Kids – Develop Positive Thinking
Looking for a longer list – check out our feature including 50 Children's Books that Promote Fitness.
We would LOVE to hear from you to increase the number of books on this list. While I've connected with librarians, teachers and education professors, there's nothing quite like a recommendation from a parent whose child loves a book.
For wellness daily tips and inspirational ideas on healthy living, clean eating and a non-toxic lifestyle, please follow us on Twitter, Instagram, Facebook and Pinterest.
Looking for a speaker to inspire your organization or business team? Hire me to present or facilitate a seminar on resiliency, positivity and wellness in the workplace. Check out my business website and demo reel at CarynSullivan.com.
This post may contain affiliate links meaning I may receive a commission with no costs to you. I pro-actively try various products and then affiliate myself with these items that I already use and love.