Students have homework, this week's guest on "Happiness through Hardship" –  The Podcast, provides heartwork. I'm honored to introduce you to Megan McDowell, founder of the non-profit, Heartworks. She's a licensed therapist and enthusiastic leader that sparked a movement focused on conscious giving, kindness and self-awareness in honor of her brother-in-law, John Farrell, who passed away on September 11, 2001.
Apple Podcasts: https://apple.co/2zidDGw
Spotify: https://spoti.fi/3imO7An
Stitcher: https://bit.ly/2WOsaTl
Google Podcasts: http://bit.ly/35cuG9O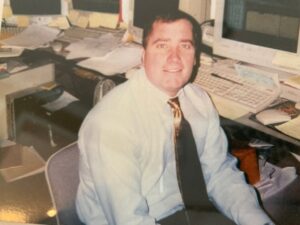 When I first heard about Megan, I knew I wanted to interview her. Not only does her organization follow what I believe in, how small acts of kindness can change the world and thus change ourselves, she also personally radiates positivity. Her story is motivational – how she took a horrible tragedy and built something to continually help others. She took a community who knew grief and gathered them to give back by organizing acts of kindness to others going through hardship.
Megan's incredibly motivating, showing how the benefits of community, caring and spreading love can help heal and provide hope for both the givers and receivers. No matter where you are in life…this episode will surely bring a smile. If you like it, please rate, review and subscribe. You leaving a review helps us with our podcast ranking. The higher we are ranked, the more people can discover our show and the more inspirational content we can bring to you and others.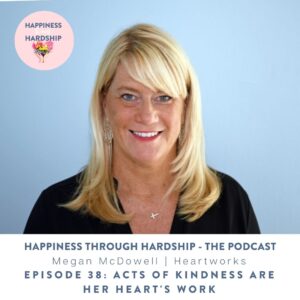 Show Notes Megan McDowell – Acts of Kindness Are Her Heart's Work
Heartworks: https://www.njheartworks.org/
How to help: https://www.njheartworks.org/donate/
How to live with a loving stance: https://prettywellness.com/spread-love/
Little things can shift energy toward positivity: https://www.instagram.com/p/CLCqU0WDwWr/
Smoothies and Snacks Free Cookbook: page.co/1oGzj
Connect with Heartworks – Megan McDowell – Acts of Kindness is Her Heart's Work
Instagram: https://www.instagram.com/heartworksnj/
Facebook: https://www.facebook.com/heartworksnj/
Bookclubs, Morning Meditations and More: https://www.njheartworks.org/calendar/
Connect with US
Happiness through Hardship – The Book and Journal: BUY HERE or donate a book to a cancer center: DONATE HERE
For easily accessible cancer information – HERE
For daily wellness tips go to @PrettyWellness on Instagram
For more information on Pretty Wellness and Caryn Sullivan – CarynSullivan.com
Follow @PrettyWellness on social media on Instagram, Facebook and Twitter.