What's new and what's hot in wellness is right here – we've got the latest wellness trends for you. We've been attending events, reading trade publications and embracing conversations about healthy lifestyle modalities and what will be mainstream in 2019. Some of these items may stick, some may not…but we're excited to share what in wellness will be more readily available this year. Below are our favorite 19 wellness trends for 2019.
Our latest wellness segment on WTNH's CT Style highlights some of the wellness trends we showcase below.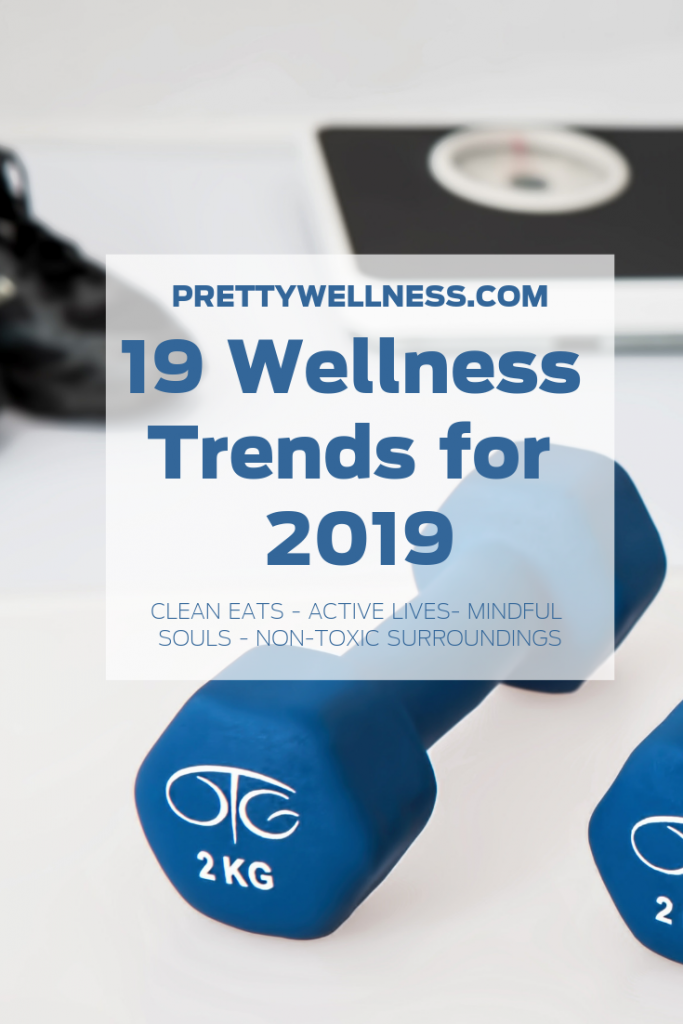 Clean Eating Wellness Trends
1. Cauliflower in the Snack Aisle – 2018 was all about cauliflower rice and pizza, this year it's headed into the snack aisle. Check out the new packaged goods in your local grocery store and you will see cauliflower in pretzels, breads and other snacks.
2. Oat Milk – Alternative milks continue to grow and this oat milk will be a highlight for 2019. Because it's less nutty tasting and great for frothing, look for oat milks to pop up in more restaurants and coffee shops. Our favorite brand with the least amount of sugar is Oatly.
3. Adaptogens – Adaptogens are healing herbs and plants derived from mushrooms that offer support for physical and mental healing. These herbs have been around for centuries and 2019 will bring them mainstream into traditional products…think mushroom hot chocolate and cereals.
4. Plant-based Fish – The plant-based revolution is strong and the past five years we've seen more vegan options for sausages and burgers on the market, like our favorite brand Beyond Meat. 2019 will bring rise to plant-based fish. When we called our local Whole Foods, they didn't sell it. However, we hear it's coming this year and look forward to seeing Sophie's Kitchen, Ocean Hugger Foods or Good Catch at a local grocery store soon.
5. Jackfruit – This Asian tropical fruit has a similar texture as pineapple. It has a similar texture to chicken so has been coined "vegetable meat." Jackfruit has been seen in traditional grocery stores over the past few years and we're now seeing the food industry create products using jackfruit as a plant-based substitute for meat.
Be Active Wellness Trends
6. Restorative Exercise – Check out your latest boutique or local gym and you will likely see shorter classes offered with healing benefits. Classes focused solely on healing using mats, rollers, theraguns and other tools will be more readily available in the coming year.
7. Wellness Gyms/Spas/Clubhouses – In 2019 we will see more small shop wellness centers that include several different healing modalities. Think cryotherapy, infrared saunas and IV drips all under one roof.
8. At-Home Workouts – Peleton has grown this market tremendously over the past five years and it will continue to be strong in 2019. We will see more apps and programs for at single home workouts. We have already started to see gyms offer added value to their membership by including at-home components to their apps or websites.
9. Smart Mirrors – Fancy mirrors that double as a fitness trainer. Imagine a smart mirror that cues you throughout your in-home workout.
10. Rowing Boutiques – We're seeing more rowing studios in the big markets and this trend will continue in 2019.
11. Back to the Basics – With all the simplification mantras spinning through the wellness world, there's been discussion about refocusing on simple fitness solutions and running has been top-of-mind.
Mindfulness Wellness Trends
12. Mindfulness for Kids – Schools and workplaces have been focusing on mindfulness components and this will not slow down in 2019. Look for there to be more kid-friendly content, games and apps that will hit the market in 2019. We love the Headspace app for all-things mindfulness. We also recently tried Cosmic Kids, Mindful Powers and Stop, Breathe and Think Kids.
13. Sleep – There's been a huge push to focus on the importance of sleep since Arianna Huffington's The Sleep Revolution release and Thrive Global launch. This year we will see more content on how we can track our circadian rhythm (sleep/wake cycle) and track our optimal sleep.
14. Smart Mattresses – As more homes are adding smart components, items sold within the home will add technology to promote good health and sleep. Smart mattresses are making a play, with technology that's able to track your sleep patterns and improve your overall quality of sleep.
15. Declutter Your Space – Declutter Your Mind – Marie Kondo's books, The Life-Changing Magic of Tidying Up
and Spark Joy
hit best-seller status and in 2019 debuted a series on Netflix. 2019 will showcase more and more how our homes and lives can be transformed by decluttering and organizing. Follow Neat Little Nest on Instagram if you want to see this come to life. Founder Michele Vig's passion for helping others organize and create beautiful spaces is transformative. Her feed is gorgeous and full of simple, decluttering tips.
Non-Toxic Living Wellness Trends
16. Clean Beauty – Green aka "all natural" beauty is now being coined "clean" beauty because there is a need for products with fewer ingredients. Big retail companies are requiring that skincare and cosmetic companies be more transparent with their ingredients. The "green" and "all-natural" terms have been noted as a marketing term, so "clean" is now being used for products that are truly made with mostly plant-based products. My favorite plant-based brand right now is Kosmatology.
17. Self-care in Less Steps – The push for 2019 is to simplify and that holds true with our beauty routines. Think of products that multitask – a cleanser that is a moisturizer. I love the "multi-tastic" products of Ducalm Skincare. Their products are made with non-toxic ingredients and I love this clean beauty company, as well.
18. CBD oil – CBD is oil that derived from the cannabis plant with possible therapeutic benefits. With the laws making marijuana legal in many states, more products will be made from the flower not just the hemp seed so look for topical and pill-based items to continue to grow immensely this year.
19. IV Drips – Celebrites have been using IV vitamin, rehydrating and healing therapy for the past few years. Now we've seen these IV Drip spas in major markets and they will continue to grow.
Which of these wellness trends peaks your interest? Do you already embrace them? Will you try something new?
How You Can Make 2019 Wellness Trends Work for You
Join us weekdays as we promote wellness each on our Instagram stories and live videos. The Pretty Wellness Small Steps Challenge is going on through the end of the month promoting a healthy living goal each week and highlighting daily tips to make that goal attainable.
For wellness daily tips and inspirational ideas on healthy living, clean eating and a non-toxic lifestyle, please follow us on Twitter, Instagram, Facebook and Pinterest. Please remember to talk with a doctor or natural practitioner when making lifestyle changes.
Looking for a speaker to inspire your organization or business team? Hire me to present or facilitate a seminar on resiliency, positivity and wellness in the workplace. Check out my business website and demo reel at CarynSullivan.com. I can be reached at [email protected].
This post may contain affiliate links meaning I may receive a commission with no costs to you. I pro-actively try various products and then affiliate myself with these items that I already use and love.