Have you ever struggled with yo-yo dieting? Do you feel lack of energy, itchy skin or mid-day blues? If you can relate, this episode about living cleanish is for you. This week's guest on "Happiness through Hardship" – The Podcast is Gin Stephens, a vivacious educator now author/podcast host as well as IF and healthy lifestyle expert. Gin shares her story struggling with weight and how Intermittent Fasting (IF) finally helped. While adapting to a healthy aka cleanish lifestyle, she learned she could feel good, be well and not deny herself. In her new book, Clean(ish) and on this episode, she charismatically talks about real foods, a healthier home and life with less toxins.

Apple Podcasts: https://apple.co/2zidDGw
Spotify: https://spoti.fi/3imO7An
Stitcher: https://bit.ly/2WOsaTl
Google Podcasts: http://bit.ly/35cuG9O
IHeartRadio: https://ihr.fm/3cTrLXH
Amazon Music: https://amzn.to/3fKqowq
Gin believes in eating real vs. not real foods as well as using products on your skin and in your home with less harmful chemicals. Yet on the same note – doesn't focus on perfection. If you're looking to lose weight or feel physically better, this episode provides a ton of resources and inspiration. Gin shares stories, suggestions and behind-the-scenes intel on how she made a healthier life and how you can, too.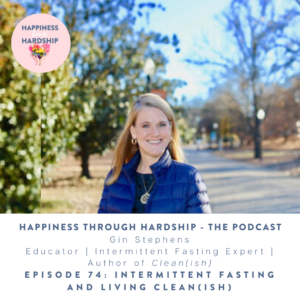 Show Notes: Ep. 74 Intermittent Fasting and Living Cleanish
6:13 – Gin shares her weight loss journey
8:37 – When Gin started Intermittent Fasting
10:53 – What is Intermittent Fasting (IF)?
13:55 – How to teach your body to be metabolically flexible
17:00 – What is the "clean(ish)" concept?
20:13 – What is autophagy?
23:08 – Talking about chemical studies
27:00 – Tips on how to start living cleanish
30:41 – How to get family on board
34:18 – Products Gin loves
43:20 – Unlearning shame with food choices
47:00 – Caryn and Gin play The Grateful Game
Environmental Working Group – Healthy Living App: https://www.ewg.org/apps/
Gin's favorite house cleaning products -Branch Basics: https://www.ginstephens.com/branchbasics.html
Meal Delivery Kits –
Green Chef: https://chef.greenchef.com
Sunbasket: https://sunbasket.com/
One Potato: https://onepotato.com/
Daily Harvest: https://www.daily-harvest.com/ (use PRETTYWELLNESS code at checkout for $25 off your first order)
Connect with Gin – Show Notes: Ep. 74 Intermittent Fasting and Living Cleanish
Gin's website: https://www.ginstephens.com/
Clean(ish:) https://amzn.to/3AclTTr
Delay, Don't Deny: https://amzn.to/33JK2EM
Feast. Fast. Repeat.: https://amzn.to/3GL6vQr
Feast without Fear: https://amzn.to/3fDwGMW
Gin's Podcasts
The Intermittent Fasting Podcast: https://ifpodcast.com/
Intermittent Fasting Stories: https://www.intermittentfastingstories.com/
Life Lessons: https://www.lifelessonscommunity.com/
Connect with US
Happiness through Hardship – The Book and Journal: BUY HERE or donate a book to a cancer center: DONATE HERE
For easily accessible cancer information – HERE
For daily wellness tips go to @PrettyWellness on Instagram
For more information on Pretty Wellness and Caryn Sullivan – CarynSullivan.com
Follow @PrettyWellness on social media on Instagram, Facebook and Twitter