Ever since I was a kid, I've always loved make-up and playing dress up. Even as a young adult, I was fortunate to sample different new products often because my roommate worked for a leading New York City beauty company. I even helped brainstorm color names for the next season's glamorous lipsticks and nail polishes. Now that I focus on living a healthy lifestyle, I use products that are free of most chemicals ranging from household cleaners to personal care items. There's a lot of media coverage on all the hormone disrupting chemicals in beauty products that can lead to various diseases, which is why I decided to change my habits and buy all-green beauty products. In doing this, I've found a few helpful healthy living resources to make investigating clean and green, non-toxic products easier. Continuing this series of my non-toxic green beauty picks for each season, "What's in My Bag Now," here are some of my favorite products this for fall.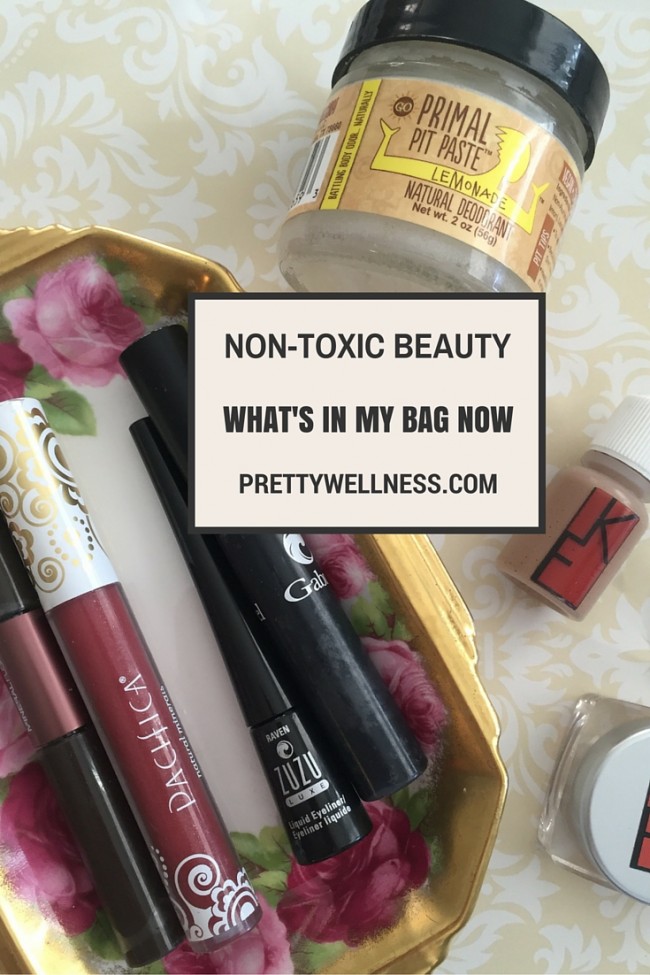 Six Non-Toxic Green Beauty Makeup and Products for Fall – Here's What's in My Bag Now
Pacifica Enlightened Lip Gloss (Ravish)
This light and nourishing lip gloss is perfect for a natural look during the day. I wear it over a dark crimson or plum for extra shine at night. My color of choice is Ravish.
Zuzu Luxe Liquid Eyeliner – Raven
Day or night, I'm a huge fan of liquid eyeliner and love this brand by Gabriel. Zuzu Luxe liquid eyeliner is not only easy to apply, it also stays on all day. I've been sampling other eyeliners and this brand is hands-down my favorite.
Natural Mascara Black By Gabriel Cosmetics
This natural mascara by Gabriel Cosmetics is gentle with a non-irritating formula including vitamin B-5 to lengthen and thicken lashes. The mascara wand is compact, so it easily fits in a wallet or purse for quick touch-ups, too.
Root Mineral Fusion Gray Root Concealer
As I continue my search for the best hair coloring product, which I haven't found yet, I've been covering my silver strands with this mascara-like hair wand. It covers the color well and washes out easily. After using, the hair is a bit stiff, much like using a lot of hair product. Nonetheless, it's a solid alternative that's a quick and easy color fix.
Primal Pit Paste Natural Deodorant, Aluminum Free, Paraben Free, No Added Fragrances, 2 Ounces, Lavender
I was turned onto this deodorant by my brother-in-law, who is an avid runner. True to his testament, this product kept me dry all day even when exercising, which is rare for natural deodorants. While I prefer a stick, rather than a paste, I've gotten used to dabbing a bit on each morning.
Kristina Foreman Powder and Foundation
This summer and fall, I've been wearing custom blended powder and foundation by Kristina Foreman of Makeup Makeup. She's a professional makeup artist with decades of experience in the fashion and beauty industry. Her focus is on creating quality natural products made with wholesome minerals and botanicals. She even made my customized set vegan, too.
What are your favorite beauty items? Would you consider trying a new brand in an effort to be healthier?
This post may contain affiliate links through the Amazon Associates program, meaning I may receive a commission with no cost to you.