Being a northern girl my whole life, spring excites me. After months of spending time indoors, swarms of people run, walk and laugh outside, just because there's a warm breeze and clear blue sky. The new season ushers in bright clothing, less bulky shoes and new makeup. Now that I focus on living a healthy lifestyle, I limit the cosmetics I use. I'm also really careful with the ones I select, making sure they are clear of hormone disrupting chemicals. Studies have proven these toxins can lead to various diseases especially breast cancer. I also verify that the Environmental Working Group's Skin Deep database rates my selection of green beauty cosmetics low in toxicity. I still love to doll myself up and have found many non-toxic products that work well. Continuing this series, "What's in My Bag Now," here are my favorite non-toxic, green beauty picks for spring.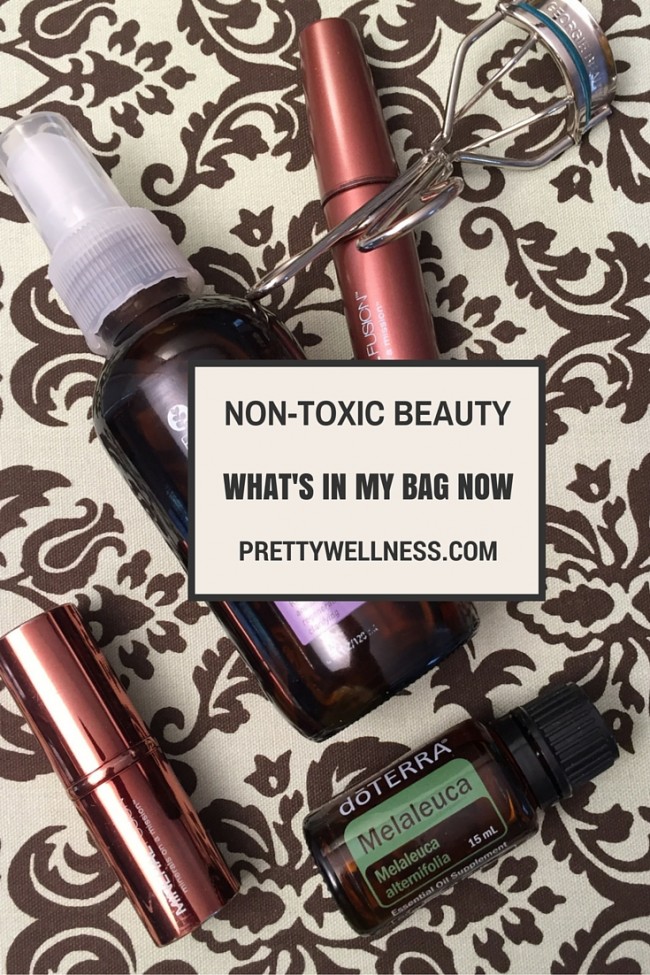 Mineral Fusion Lipstick – Alluring
I've been a fan of Mineral Fusion makeup since I started my green beauty regimen a few years ago. Their products consistently rate well on EWG's Skin Deep database. Their lipstick formula is long-lasting and they offer a variety of colors. My favorite, Alluring, is a spring pinkish, plum color.
Mineral Fusion Mascara, Lengthening – Graphite
I've tried other green beauty mascaras and always come back to this one. It's thick enough to make my lashes look dramatic and long, without all the added harsh chemicals. It's also easy on the eyes, the formula is non-irritating, which is helpful for someone who wears contacts. (Or, the person that cries at a lot of movies and commercials…)
Pangea Organics Facial Toner – French Rosemary with Sweet Orange
In the spring and summer, I run around a lot for work and play. I keep this sweet smelling toner in my purse. It refreshes my skin and removes environmental toxins easily. It's made of all organic ingredients and works well on my sensitive skin.
doTERRA Melaleuca Essential Oil
Because I'm on the go, my purse doubles as a computer bag and file cabinet. Therefore I get a ton of small paper cuts. I've found that rather than use antibiotic cream, melaleuca aka tea tree oil works well to heal small cuts. I also use it on blemishes rather than expensive pimple creams.
Georgie Beauty Eyelash Curler with Organic Chamomile Pads
While I love cosmetics and enjoy the beautification process, I tend to walk around town with minimal makeup. Once the snow melts, I power walk outside often. Because a natural summer glow is easiest, I wear little makeup, merely brushing on some mascara and curling my eye lashes. One of my favorite tools for summer is the Georgia Beauty eye lash curler. It soothes the lashes with organic blue chamomile pads, while conditioning and curling them.
What green beauty products do you use or would you like to try?
This post may contain affiliate links meaning I may receive a commission with no costs to you. I pro-actively try various products and then affiliate myself with these items that I already use and love.