Late spring makes me happy. Seeing all the radiant flowers in bloom and bright colors of nature everywhere excites me for summer. It's also a time that I revamp my beauty bag. I love buying new seasonal products. I'm outside more, so like skincare items with sun protection. Spring also reminds me to rid my everyday items and refresh with newer ones. I still use products that are largely organic, vegan and rate low in toxicity in the Environmental Working Group's Skin Deep database. Here's what's in my bag for late spring.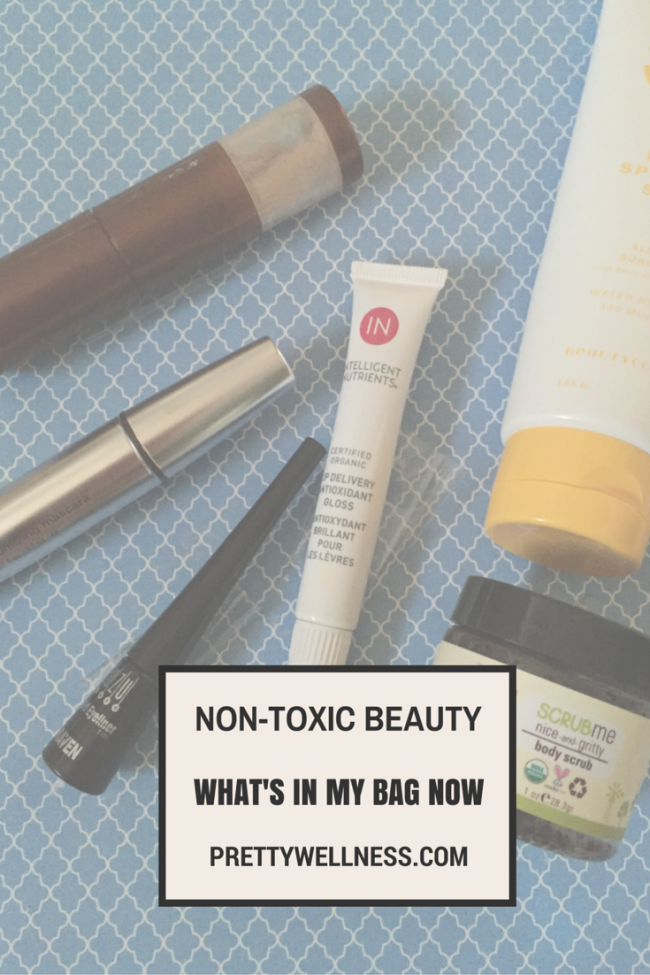 Non-Toxic Beauty: What's in My Bag Now
Intelligent Nutrients Gloss: Pink Hibiscus
This moisturizing, organic gloss is bright, but sheer, making it a nice daytime lip color. Packed with antioxidants, this gloss can help prevent premature stress and aging.
Mineral Fusion Natural Volumizing Mascara
After trying many non-toxic brands, Mineral Fusion is still my favorite because it truly lengthens and gives the illusion of thicker lashes. During the winter or summer nights out, I wear shades of black, but during the daytime summer I like chestnut.
Zuzu Luxe Liquid Eyeliner – Raven
Liquid eyeliner is easy to apply and lasts for hours especially Gabriel Cosmetics' Zuzu's liquid eyeliner in Raven. Zuzu's collection also includes festive colors. My favorite is shimmery, copper one: Luxor.
Mineral Fusion Natural Brands Mineral SPF 30 Brush On Sun Defense
I truly believe that cream sunscreen is the best sun protection. However, sometimes when in a rush, I use a mineral powder with SPF. This wand has lasted a year. It's also easy to transport in my small purse, so that I always have some sort of SPF handy.
BeautyCounter Broad Spectrum SPF 30 Sunscreen
This sunscreen is good for head to toe protection. Waterproof and easy to apply, I use this lightly scented SPF30 for the whole family.
Balanced Guru's Scrub Me Nice and Gritty Body Scrub
I started using Balanced Guru's body scrubs after receiving a Goodebox all-natural beauty subscription box. Made with only a handful ingredients, my face looks amazing and feels refreshed after exfoliating with it several times a week.
What are your favorite spring into summer beauty products? 
This post may contain affiliate links through the Amazon Associates program, meaning I may receive a commission with no cost to you.