If I could have one wish, outside of winning the lottery and maintaining good health for my family, I would ask a genie in a bottle to grant me a cleaning lady daily. I feel calmer when my house is organized, free of dust bunnies and relatively clean. Since I haven't seen the big check yet, I'm still looking for ways to keep my house presentable. Now that I embrace a clean lifestyle, it's not just about eating wholesome foods, keeping active and wearing mineral makeup, it's also about using non-toxic cleaning products within the home. Many conventional cleaning products have chemicals and other ingredients that are  potentially harmful for our health.
So in an effort to "be well" in our home, when I was diagnosed with stage IV breast cancer, I changed my cleaning routine to find less toxic products and use pantry items. I investigated these through my favorite resource, the Environmental Working Group's website that ranks single ingredients.
Now, as each season arrives, I look for new products to try. Here's what's under our cabinet now.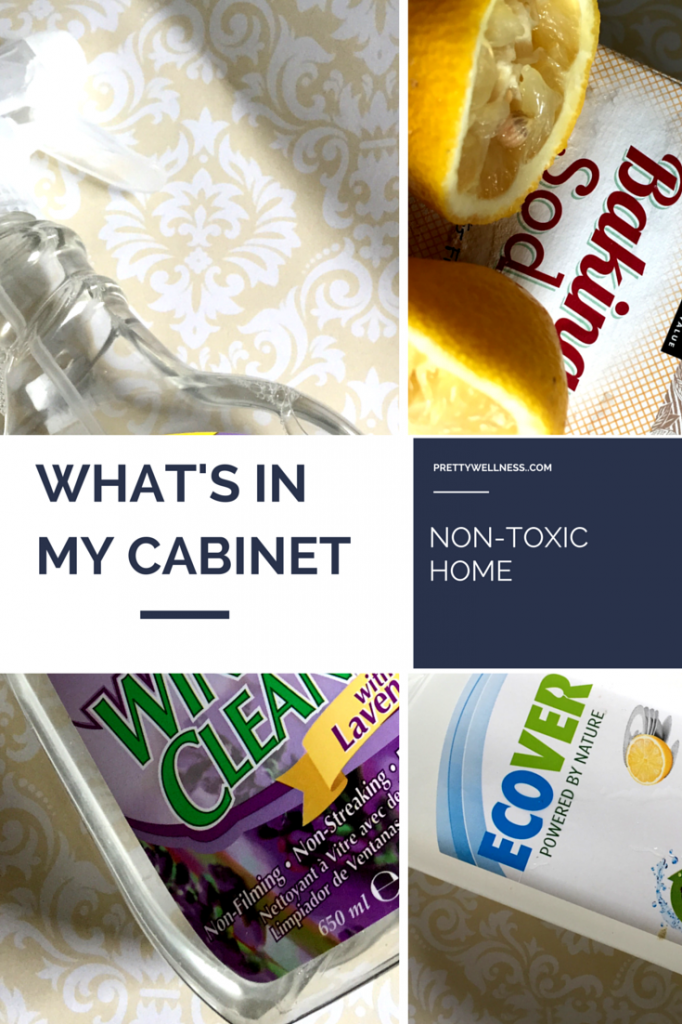 Non-Toxic Cleaning Products: What's in My Cabinet Now
Window Cleaner/Granite Countertops/Stainless Steel Appliances
Window Kleener Lavender 22 fl oz Liquid by Earth Friendly Products
Dishwasher Detergent
Seventh Generation Auto Dish Pacs, Free and Clear, 45 Count
Dishwashing Liquid Soap
Ecover – Dishwashing Liquid, Lemon, 32 oz
Hand Soap
EO Products Hand Soap Peppermint & Tea Tree, 12 fl. oz.
 and doTERRA On Guard Foaming Hand Wash (16 oz) with 2 Dispensers
Homemade Products
Lemon as a sponge, baking soda as a scrub and vinegar & water as a countertop disinfectant. Many DIY products use essential oils that are antibacterial and antiseptic including rosemary, lemon and tea tree oils.
What is your favorite household cleaner?
For daily tips and inspirational ideas on healthy living, clean eating and a non-toxic lifestyle, please follow us on Twitter, Instagram and Facebook.
Other Favorites
This post may contain affiliate links through the Amazon Associates program, meaning I may receive a commission with no cost to you.