Earth Day can be everyday and it can be easy to live a non-toxic lifestyle. Not only is recycling and reusing products important for our planet but also knowing what's in our products can make a difference in our health. After my second diagnosis with breast cancer, I started investigating what might advance cancer and found a ton of information on toxic chemicals in our beauty and household cleansing products. I made quick changes and continue to investigate new products to see what works and what doesn't. Now that I've spent the past few years paying more attention to the ingredients in my cleaning products and making sure they are non-toxic, it's become second nature.
I actually was surprised. As an avid Whole Foods shopper, I often grabbed well-known brands like Method. After scouring the Environmental Working Group's Guide to Healthy Cleaning database and reading many of the suggested links, I came up with these general conclusions to help guide my future shopping trips.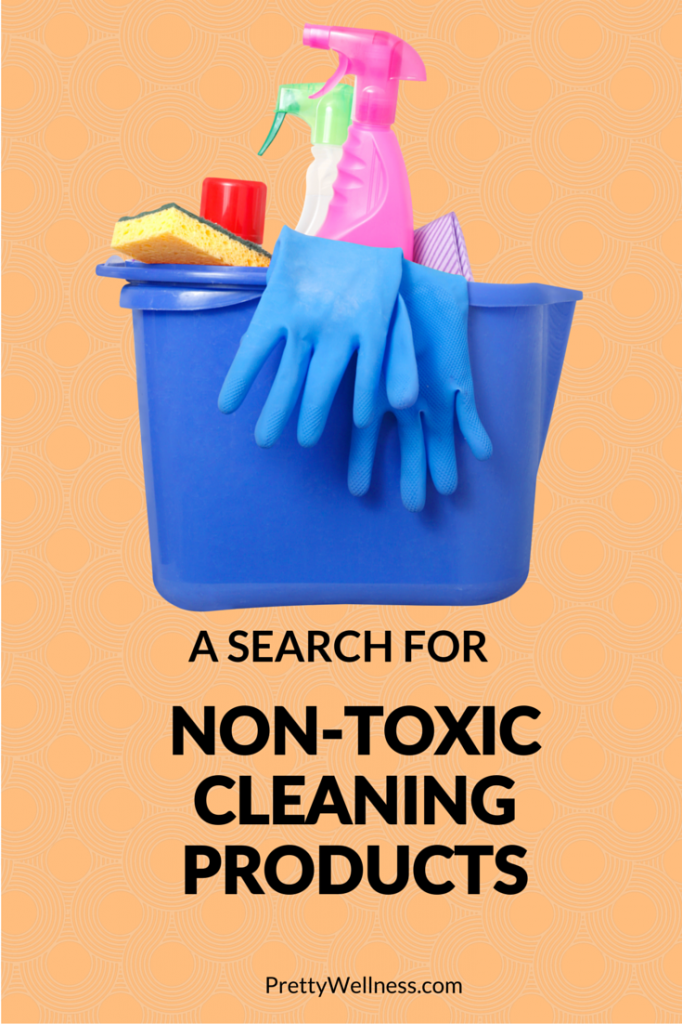 Findings for Non-Toxic Cleaning Products
5. All natural isn't necessarily good:
Just because a product says all natural, free or clear, it could still have tons of toxins that irritate allergies, promote cancer cells and are horrible for the environment. My favorite cleansers such as Method products and ALL Free and Clear laundry pods, scored horribly. Look for labels that say, "petroleum-free," "biodegradable," "phosphate-free," "VOC-free," and "solvent-free."
4. Fragrances are bad:
From laundry detergent to all-purpose cleaners, fragrances and perfumes often promote skin irritation, allergies and possibly nervous system and respiratory effects. Try opening the windows or using baking soda in an open box (for small areas) to reduce smells.
3. Brands that consistently scored well:
(Most received an "A." This equals a low level of allergens, mostly non-toxic and free of harsh chemicals)
Green Shield Organics: Their fabric softeners, laundry detergents, dishwasher detergents, dishwasher automatic packs, all-purpose cleaners and bathroom cleaners consistently received "A's." This brand is easy to find at a Whole Foods or health food market, too.
Seventh Generation: My runner-up brand for laundry detergent, dishwasher pods and toilet bowl cleaners is Seventh Generation. About half of their products scored well. I will check out the database before I buy other products. (I'm not as concerned about the allergens as I am carcinogens or toxic chemicals.)
Branch Basics: Branch Basics creates multi-purpose concentrates that are simple, affordable and sustainable. All their products are plant and mineral based and free of harmful preservatives.
A few surprises:
I should note that a few conventional brands seen in traditional shopping stores that scored well include: Martha Stewart Clean and Oxy Clean Baby. They both received high marks overall, mostly non-toxic for most products.
2. Making household cleaners can be easy, cheap and very low in toxicity:
White distilled vinegar: Put an equal ratio of water with white distilled vinegar in a spray bottle and use as an all-purpose cleaner for the countertops, showers and wood floors.
Lemon juice: Lemon juice can be utilized to dissolve hard water deposits and soap scum.
Baking soda: Baking soda can be used as a non-abrasive cleaner and air freshener.
1. Clean the Air – Use Air Filters:
The quality of air we breathe is important for our overall health. Clean air can also lead to a number of benefits including increased energy, better blood circulation and a stronger immune system. Without an air purifier, many homes harbor dust and germs that lead to allergies and other health problems. Air purifiers help remove dust, bacteria, mold and more. I use The PURE COMPANY Large Room True HEPA Air Purifier. It's a true HEPA filter with 360-degree air intake and filtration. It's air quality sensor constantly monitors the air and self-adjusts (especially when I burn vegetables it cranks up to remove odor and filter the smokey air.) It also has an aromatherapy feature if I feel like adding essential oils.
There are also plants that can help filter the air:
Crysanthemums remove ammonia and other toxins though only purify if the plant is blooming

Kimberly Queen fern removes formaldehyde and is considered a natural humidifier.

Gerbera daisies are ideal for removing toxic gases.
To see us in action, check out our WTNH-TV Wellness Wednesday segment on non-toxic spring cleaning. 
What are your favorite house cleansers? If so, please comment.
Some of my favorite non-toxic cleaning products for 2019:
This post may contain affiliate links meaning I may receive a commission with no costs to you. I pro-actively try various products and then affiliate myself with these items that I already use and love.