Have you ever struggled with losing weight or needed the inspiration to keep going with any goal? This week's guest on "Happiness through Hardship" – The Podcast, Bri Blank Alexander, is the inspiration we all need for weight loss and beyond. Bri Blank Alexander aka "Bri Healthy" is a bright and bubbly wellness expert, TV host, Founder and Chief Inspiring Office of BriHealthy™ and Womenspired™ and her mission is to make healthy living fun. However, her life wasn't always that way, and she's here to tell her story about losing 150 pounds and gaining the true understanding of how hard work, determination and self-love can improve your world tremendously.
Apple Podcasts: https://apple.co/2zidDGw
Spotify: https://spoti.fi/3imO7An
Stitcher: https://bit.ly/2WOsaTl
Google Podcasts and more…
Bri is the healthy talk show host you want to watch and her social media channels are always buzzing with applicable advice to help you to step into your own self-care and self-love. On this episode, she goes into details on how she lost 1/2 her body weight and what she did when she hit a plateau. We laugh about some of our favorite healthy snacks and have a heart-to-heart about what self-love really means. There's something for everyone in this episode as Bri is full of resources and real motivation for reaching your goals and beyond.
We have a great time chatting and believe you will enjoy the back and forth, so please if you like it…rate, review and subscribe. You leaving a review helps us with our podcast ranking. The higher we are ranked, the more people can discover our show….and the more inspirational content we can bring to you and others.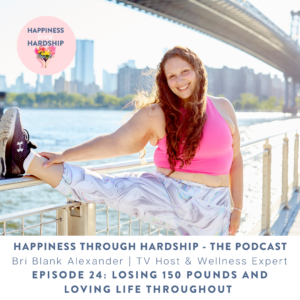 Bri Healthy – Losing 150 Pounds and Loving Life Throughout Show Notes
About Bri: https://brihealthy.com
"Self-Love Central" Show: https://www.youtube.com/watch?v=SWFI4v-AG5Q&feature=youtu.be
My Fitness Pal: https://www.myfitnesspal.com
Healthy Snack Ideas: https://bit.ly/2I3o2di
Power Play: https://powerplaykids.com
Connect with Bri Healthy – Losing 150 Pounds and Loving Life Throughout
Facebook: https://www.facebook.com/brihealthy
Instagram: https://www.instagram.com/bri.healthy/
Twitter: https://twitter.com/brihealthy
YouTube: https://www.youtube.com/c/BriHealthyTV
For more information on the podcast episodes – HERE
For easily accessible cancer information – HERE
For daily wellness tips go to @PrettyWellness on Instagram
For more information on Pretty Wellness and Caryn Sullivan – CarynSullivan.com
For more information on "The Grateful Game" – https://www.instagram.com/tv/CCdduzuht2u/
Follow @PrettyWellness on social media on Instagram, Facebook and Twitter
Happiness through Hardship – The Book and Journal: BUY HERE or donate a book to a cancer center: DONATE HERE
To get a free copy of our smoothies and snacks ebook: sign up HERE
Tools to Help Embrace Healthy Living
This post may contain affiliate links through the Amazon Associates program, meaning I may receive a commission with no cost to you.