A new diagnosis can bring many unanswered questions. Navigating symptoms, treatments and costs are only the beginning. Trying to research on your own can leave you feeling even worse. Good news – you don't have to wrestle with this alone. On this week's episode of "Happiness Through Hardship" – The Podcast, social worker, writer and podcast host, Sandrine Etienne, LMSW, shares tons of ideas on how to manage healthcare and various hardships with better ease.

Apple Podcasts: https://apple.co/2zidDGw
Spotify: https://spoti.fi/3imO7An
Stitcher: https://bit.ly/2WOsaTl
Google Podcasts: http://bit.ly/35cuG9O
IHeartRadio: https://ihr.fm/3cTrLXH
Amazon Music: https://amzn.to/3fKqowq

Sandrine has a passion for helping others and has committed her career to guiding those facing illness. In addition to her company, Misguided Notions, she's also the co-creator of the Caretalkers podcast. There's so much misinformation in the world, dive into today's episode so that you can be better informed and navigate hardships in healthcare with more ease.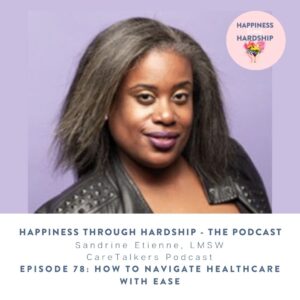 Show Notes – Ep. 78: How to Navigate Healthcare with Ease
4:02 – Sandrine explains how she found her dream job as a healthcare social worker
9:57 – Advice on navigating the healthcare system after a diagnosis
11:23 – The importance of finding someone and/or asking for help
14:19 – Write! Write questions beforehand and write notes during appointments
19:35 – Tips on how to get a better understanding of your insurance
21:47 – Talking medications and insight from pharmacists
23:53 – Sandrine describes her role in helping others
26:53 – Finding someone to relate to can bring joy during an illness
28:53 – Caryn discloses how she rekindled a friendship after diagnosis
30:05 – Sandrine and Caryn play the Grateful Game.
Sandrine's work: https://missguidednotions.com
CancerCare: https://www.cancercare.org/
---
Other Relevant Podcast Episodes:
Ep. 70 – How to Ask for Help: https://prettywellness.com/ask-for-help/
Ep. 10 – A Health & Patient Advocate: Finding Her Voice through Endometriosis: https://prettywellness.com/endometriosis/
---
Connect with Sandrine Etienne – Ep. 78: How to Navigate Healthcare with Ease
Instagram: https://www.instagram.com/missguidednotions/?hl=en
Podcast: https://morebananaproductions.com/caretalkers/
Podcast Instagram: https://www.instagram.com/caretalkerspod/
Connect with US
Happiness through Hardship – The Book and Journal: BUY HERE or donate a book to a cancer center: DONATE HERE or by sending a VenMo to @caryn-sullivan-3
For easily accessible cancer information – HERE
For daily wellness tips go to @PrettyWellness on Instagram
For more information on Pretty Wellness and Caryn Sullivan – CarynSullivan.com
Follow @PrettyWellness on social media on Instagram, Facebook and Twitter