I'm excited to introduce you to Shantana Hazel on Happiness through Hardship – The Podcast talking about her journey with endometriosis and how to be a patient advocate no matter your diagnosis. She's the founder of Sister Girl Foundation, the author of  28 Ways on How to Advocate for Your Health Care and A New Me – Mind, Body, Soul, Health & Wellness Journal and has been recognized with numerous awards around the world for her dedication and commitment advocating for women's healthcare. While she's the life of the party, full of laughs and always willing to grab a karaoke mic, she has lived with life altering pain and deep anguish from endometriosis since she was a teenager. Sixteen surgeries and nearly three decades later she took the pain and turned it into purpose. Shantana is committed to ensuring that women with chronic illnesses including endometriosis and cancers aren't suffering in silence and receive proper care.
Shantana's story is full of inspiring words, lessons on resilience and how to advocate for yourself after a health diagnosis (endometriosis and more)….so please listen to this episode and if you like rate, review and subscribe. This helps with our podcast ranking and increases the chances of others finding it.
Apple Podcasts: https://apple.co/2zidDGw
Spotify: https://spoti.fi/2WNFc3k
Stitcher: https://bit.ly/2WOsaTl
Shantana and I also share the importance of journaling or documenting conversations and information after receiving any diagnosis. I believe that having a medical binder or digitized folder with files, notes and thoughts can be really beneficial (listen to mini-episode 1) and she agrees. As she puts it in today's episode, we all get "brain fog" when going through stressful situations and having notes on not only what we learn about our diagnosis, but how we feel with any side effects related to them can be helpful to keep handy in a journal. (See links below for both Shantana and my journals.) We also talk about the importance of gratitude in our lives and have a blast playing "The Grateful Game" at the end.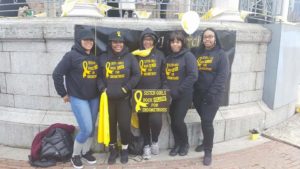 Shantana Hazel – A Health & Patient Advocate- Finding Her Voice through Endometriosis – Show notes links:
Sister Girl Foundation: www.sister-girl.org
Books: "A New Me – Mind, Body, Soul, Health & Wellness Journal" and "28 Ways on How to Advocate for Your Healthcare" – https://www.sister-girl.org/Books.html
Endometriosis: https://www.mayoclinic.org/diseases-conditions/endometriosis/symptoms-causes/syc-20354656
Gynecological Cancer Event – SIMS Clinic – Yale Medicine's Sexual, Intimacy and Menopause Clinic: https://www.yalemedicine.org/departments/sexual-intimacy-and-menopause-program/
Connect with Shantana and The Sister Girl Foundation – Empowering Women with Endometriosis and Cancer on social media #IamSisterGirl at:
Facebook: https://www.facebook.com/Sistergirl.2011/
Instagram: https://www.instagram.com/sistergirlfoundation/ 
Be sure to check out her 7-Days of Gratitude Challenge on Instagram, too!
Connect with us at: 
For more information on the podcast episodes – HERE
For easily accessible cancer information – HERE
For daily wellness tips go to @PrettyWellness on Instagram
For more information on Pretty Wellness and Caryn Sullivan – CarynSullivan.com
Follow @PrettyWellness on social media on Instagram, Facebook and Twitter
Happiness through Hardship – The Book and Journal: BUY HERE or donate a book to a cancer center: DONATE HERE
To get a free copy of our smoothies and snacks ebook: sign up HERE