Did your job or personal life shift tremendously over the past year? Many people and small businesses have had to change directions including this week's guest on "Happiness through Hardship" – The Podcast. I'm excited to share the mic with Emilie Aries – Founder and CEO of Bossed Up. A year ago, all her in-person speaking and training was put on hold due to COVID-19 and 100% of her planned events were cancelled. As a company focused on signature events and in-person opportunities, Bossed Up was faced (like so many people) with big decisions and little direction. Today, the good news is that they are innovating and listening to their communities needs…and Emilie shares the struggle and opportunities as well as gives us hope for better days.
Apple Podcasts: https://apple.co/2zidDGw
Spotify: https://spoti.fi/3imO7An
Stitcher: https://bit.ly/2WOsaTl
Google Podcasts: http://bit.ly/35cuG9O
Emilie's career started on the political campaign scene and after rising the ranks in the election world, she launched Bossed Up, a personal and professional development company. Emilie has worked with leaders at Fortune 500 companies and has been being featured in media talking about how people can transform their careers and communities.
On this episode Emilie shares how she created psychological safety for her team and listened to her clients in order to innovate. She speaks about having audacity in order to have hope. She also shares tons of tips for those wanting to make radical progress in their careers. My eyes lit up when she shared a lesson about embracing new skills and sharing a story about playing the drums in a family band.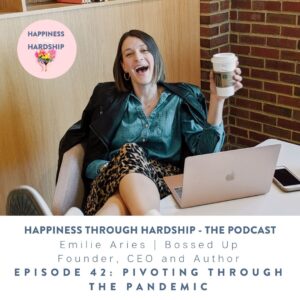 Her stories and suggestions will make you smile, too. In fact, if you like this episode, I encourage you to check out others on the topic of employment or inspiration including Episode 28 with Valerie Gordon or Episode 34 with Sam Ramsdell. And please remember to rate, review and subscribe. You leaving a review helps us with our podcast ranking. The higher we are ranked, the more people have access to our show.
Show Notes – Pivoting Through the Pandemic with Emilie Aries
Bossed Up – website: https://www.bossedup.org/
Bossed Up – podcast with Caryn: https://www.bossedup.org/podcast/episode290
Bossed Up Book on Amazon: https://amzn.to/31EfIa9
The Nature Fix by Florence Williams: https://amzn.to/3u8jaGt
Bossed Up Lifetracker Planner: https://www.bossedup.org/lifetrackerplanner
---
---
---
Connect with Emilie Aries and Bossed Up
Facebook: https://www.facebook.com/bosseduporg
Instagram: https://www.instagram.com/bosseduporg/
Twitter: https://twitter.com/bosseduporg
Connect with US
Happiness through Hardship – The Book and Journal: BUY HERE or donate a book to a cancer center: DONATE HERE
For easily accessible cancer information – HERE
For daily wellness tips go to @PrettyWellness on Instagram
For more information on Pretty Wellness and Caryn Sullivan – CarynSullivan.com
Follow @PrettyWellness on social media on Instagram, Facebook and Twitter.
This post may contain affiliate links meaning I may receive a commission with no costs to you. I pro-actively try various products and then affiliate myself with these items that I already use and love.