Do you still think about your childhood dreams…and wonder where your life might be if you followed them? Today's guest on "Happiness through Hardship" – The Podcast, talks about just that…I'm excited to introduce you to Samantha (aka Sam) Ramsdell – who is TikTok famous for her witty comedy bites and singing sensations. She's a singer and comedian, with theatrical experiences in numerous off-broadways and regional showcases. While creating music and comedy is her love…by day she's a corporate sales exec. She never thought as a kid that she could make a career out of her hobbies and talents, so frankly went a safer route. Though in recent years, she's learned to approach her career differently. I am thrilled for her to share her story about the hardship and blessings of following dreams – especially when it's her second career act.
Apple Podcasts: https://apple.co/2zidDGw
Spotify: https://spoti.fi/3imO7An
Stitcher: https://bit.ly/2WOsaTl
Google Podcasts: http://bit.ly/35cuG9O
Sam is not only funny, fabulous and incredibly vocally talented, she's trained with some of the best comedy clubs and voice coaches in the country. This past year, The NY Weekly named her "Top 5 New Internet Comedians to follow in 2020" and "Rising New Artist in 2020". You can follow her on social media for her silly antics – stuffing a whole croissant in her mouth or even the world's greatest sandwiches. Also check out her inspirational side where she shares her her gorgeous voice that is uplifting and beautiful.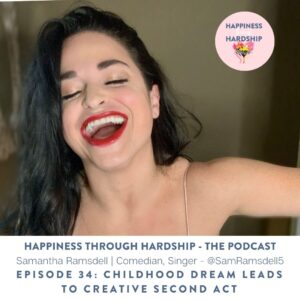 Show Notes: Sam Ramsdell – Ep. 34: Childhood Dream Leads to Creative Second Act
@SamRamsdell5 on all social media – links below:
Instagram: www.instagram.com/samramsdell5/
TikTok: www.tiktok.com/@samramsdell5?
Twitter: www.twitter.com/samramsdell5/
YouTube: www.youtube.com/channel/UCPze2Pdpx4Vfps0y3Pqc6eQ
Cameo: www.cameo.com/samramsdell5
What is Saturn Return?: http://bit.ly/2YiiTTw
The Power of Affirmations: http://bit.ly/2KXDxoU
Stress Reduction Tips: https://prettywellness.com/stress/
TOP INSPIRATIONAL BOOKS MENTIONED by Sam, Caryn and the Pretty Wellness Community:
"Who Moved My Cheese:" amzn.to/39pMQr3
"Everything is Figureoutable:" amzn.to/3iUW55u
"The Gifts of Imperfection:" amzn.to/3pqszqZ
"The Last Lecture:"amzn.to/3ooMqFM
"The Artist's Way:" amzn.to/2Mtky5V
"Essentialism:" amzn.to/3a7TX6x
"The Holistic Guide to Decluttering:" amzn.to/3prB8lc
"The Alchemist:" amzn.to/3t3W2sL
"The Year of Yes:" amzn.to/2YnRteO
"Untamed:" amzn.to/36ldGyJ
"The Carpenter:" amzn.to/2KVfPtt
Connect with US
Happiness through Hardship – The Book and Journal: BUY HERE or donate a book to a cancer center: DONATE HERE
For easily accessible cancer information – HERE
For daily wellness tips go to @PrettyWellness on Instagram
For more information on Pretty Wellness and Caryn Sullivan – CarynSullivan.com
Follow @PrettyWellness on social media on Instagram, Facebook and Twitter.