Happy New Year. We're excited to launch the Pretty Wellness Small Steps 2018 Challenge. Each day, our team will share wellness tips and thoughts to help inspire you to make a few healthy changes this year. As always, our content is aimed to assist you to find ways to add healthy habits to your life easily.
Other than today, the next few Sundays we will reveal a weekly goal and then provide insight each day via Facebook and/or Instagram on simple ways to focus on this challenge. We will repost back to this site, so you can see a comprehensive list at the end of each week.
We would love to hear from you with questions, comments and thoughts on how to make these healthy tips stick. Share your photos, videos or any healthy habit you want to share with us including the hashtag #SmallSteps2018.
And now for this week's goal…
Week Four – BE MINDFUL
According some of my favorite wellness experts from Well+Good to mindbodygreen, 2018 is going to be all about #selfcare…and many in wellness circles believe it starts with being mindful and present in the moment.
This week for the Pretty Wellness #SmallSteps2018 challenge, our tips will be about how to take small steps to play around with meditation, mindfulness, simple breathing techniques and all that helps us be more present. Come back here daily or check us out on Facebook and Instagram for daily wellness tips and inspiration.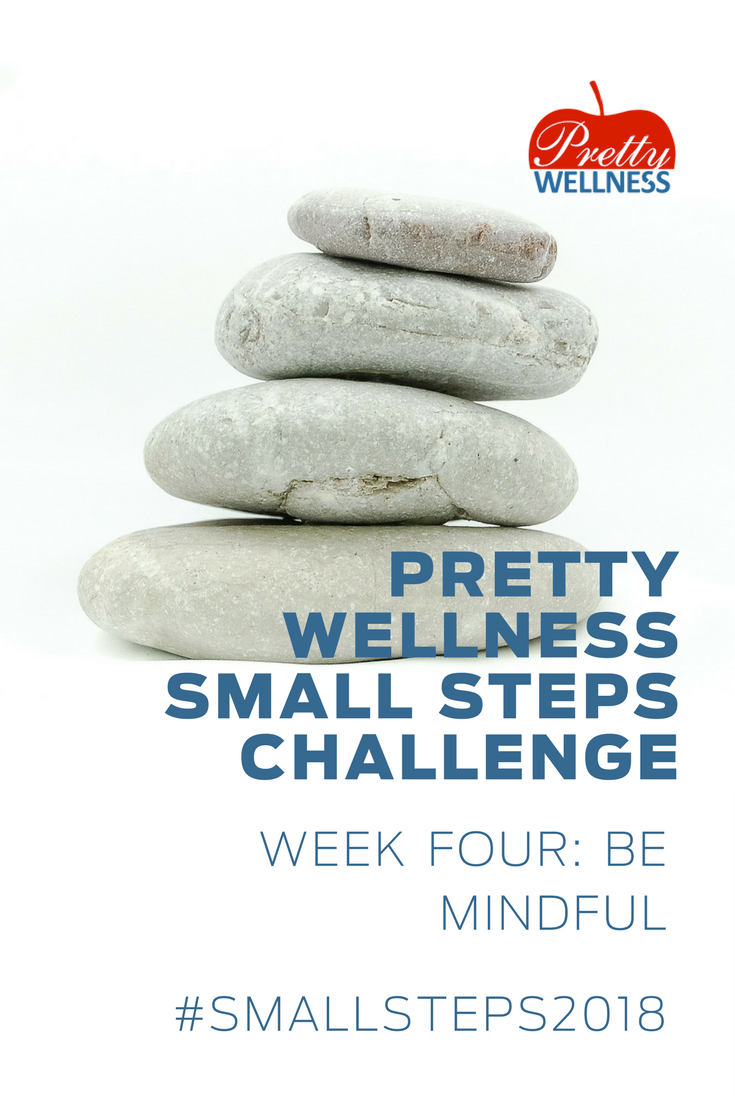 Be Mindful Tip #1 – Find a few minutes of zen to just BE. Lighting a candle in a dim room makes any activity more calm. I love to journal first thing in the morning or late at night. I write throwing my words on paper without judging or paying attention to grammar. It's cathartic to just be with my words.
Be Mindful Tip #2 – Embrace positive affirmations or a mantra – 
YES…if this is new to you it is really awkward at first. It seems hokey. I've thought before…how can me saying a short phrase really help me get through the day. Then I remembered the worst day of my life.
It was December 29, 2004 and I had been diagnosed with breast cancer unexpectedly. My husband and I were in shock and didn't cry or truly feel any stress about it following the doctor's visit. Until the night came…
Together in his arms, we cried, we panicked, we wondered whether I would live until my 32nd birthday. He finally fell asleep but I couldn't. My mind wandered and I was truly scared. The weight of fear was not only on my mind but throughout my body. Then I thought of a friend of my sister-in-law,
Mary Ann Wasil
, who beautiful, bald and bold lived through cancer gracefully. I thought to myself, "If Mary Ann can do it, I can, too." I then kept saying it over and over…"If Mary Ann can do it, I can, too." I finally fell asleep and believe it or not, that mantra helped me feel a little better in the morning.
Drawing upon that experience, I realized that words repetitively can help make my day better. So now, I try in the morning to find a moment of time to think about a positive affirmation to jump start my day. Sometimes it's about happiness, other times it's about health. 
While it takes practice for it to feel real, it's really so very simple. Find a saying that you connect with and let it be a part of your life.
Third Week's goal – Be Active – Be Creative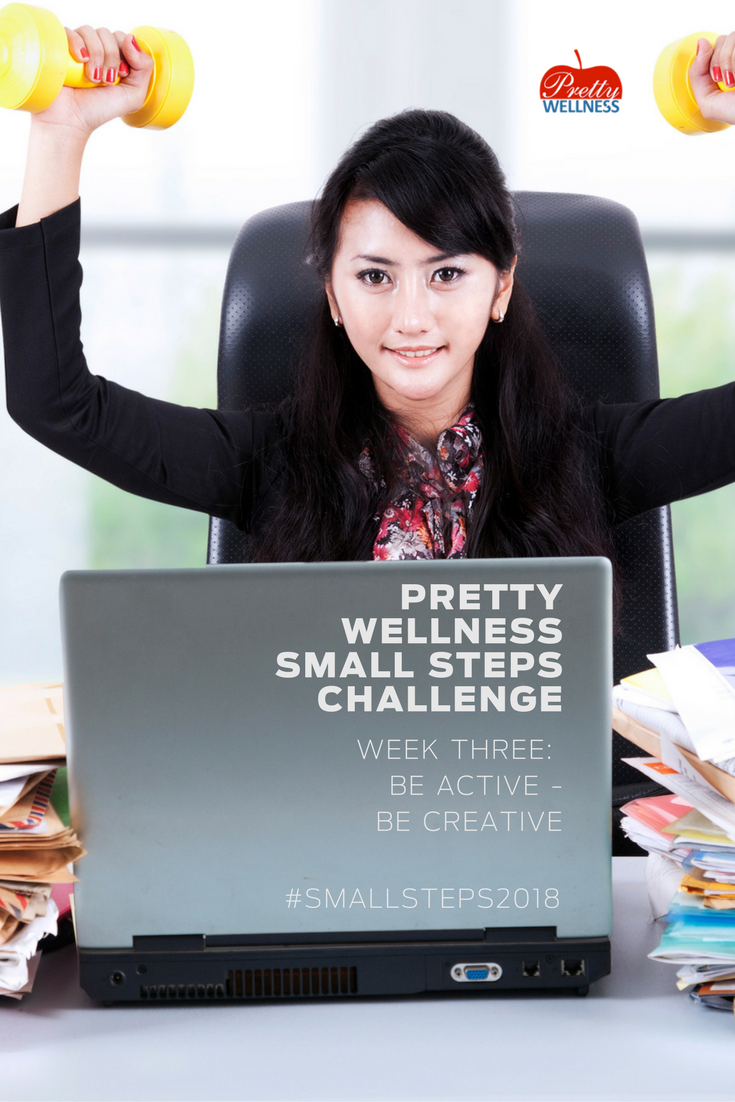 We're now onto week three of the #SmallSteps2018 challenge and we're focusing on being active. Whether it's to lose weight or for disease prevention, being active is key to living healthy. The age old question is….how do we fit it in, when living a busy life? This week we will share some of our creative tips on how to find time or ways to be a little active when you live a very busy life. Check out Facebook and Instagram each night. If you miss one, you can always come back to us right here. Please join in the conversation below or on our social platforms.
Be Active Tip #1 – Find creative ways to fit in a walk. I've been known to wear a suit/dress and lace up my Nikes to take a power walk while brainstorming a work topic with a colleague. Rather than coffee morning conversations, I now regularly meet and greet with friends over a long beach walk. Sometimes I even walk several loops around the grocery store before I start shopping. There are many known health benefits to power walking.
When my cancer returned four years ago, I started reading and researching healthy lifestyle modalities that protect against further disease. Harvard Medical School's Nurses Health Study (NHS) and the Women's Healthy Eating and Living Study (WHEL) have researched the impact of walking for breast cancer patients and seen tremendous results.
Be Active Tip #2 – Keep exercise clothes nearby. I've found that I feel amazing when I workout in the morning. It's just hard to get out of bed, right? So, I've been known to sleep in my joggers or yoga pants so I can easily jump out of bed.
I also keep a clean set of clothes and running shoes in a fitness bag in my car or at my work desk so that I'm ready to go to the gym or take a power walk at any time.
Be Active Tip #3 – Embrace fit activities with your family. I love this list of fit, fun and mostly free activities that encourage family time while being active.
Be Active Tip #4 – Find a workout buddy IRL or a virtual one.
This week my BFF from home, Neat Little Nest, LLC – Michele Vig, came to visit. It was awesome to actually walk and talk in person. For the past two years we've been waking up early to power walk and talk on the phone since she lives in Minneapolis. Having her be my workout buddy has motivated me to get my steps in, burn a few calories and brainstorm entrepreneurial projects. And the best part – I get to do all that while enjoying the time on the phone with one of my dearest friends. So, when you are trying to decide how to creatively be active, consider friends from anywhere in the world to join you in a virtual workout.
Second week's goal – Add More Veggies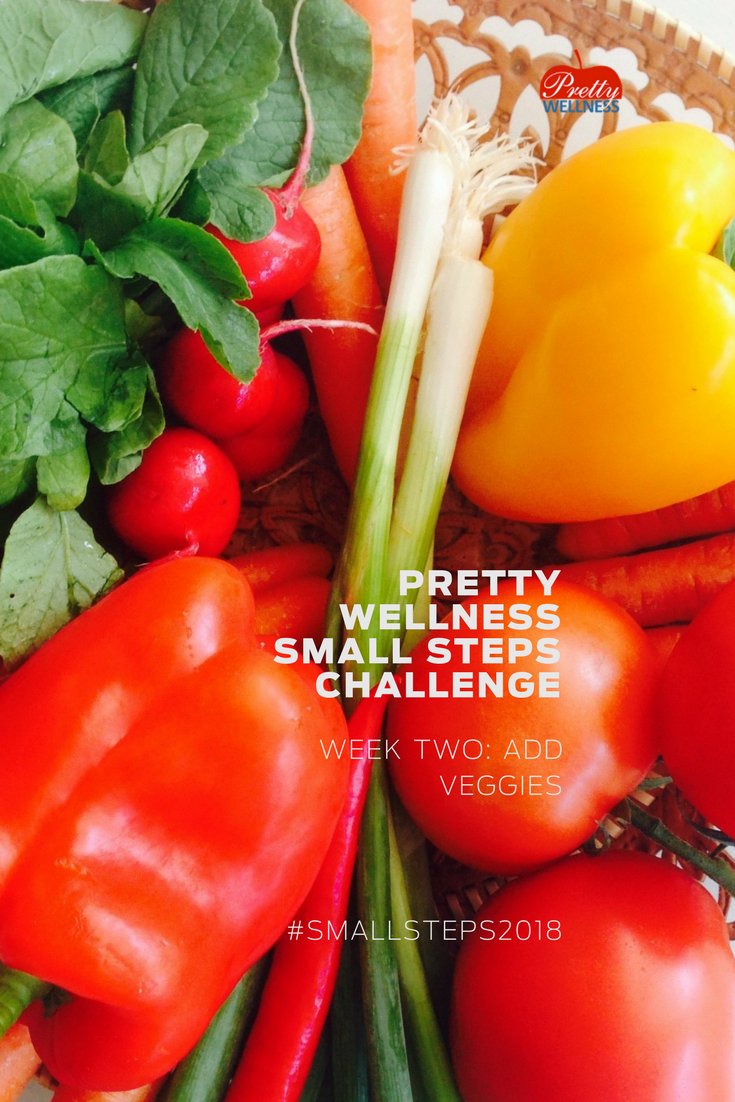 Week Two: ADD MORE VEGGIES
When I was diagnosed with stage IV breast cancer, I set out to make some healthy changes. I read medical journals, watched documentaries and interviewed various doctors in my path. I kept on hearing about the powerful impact of eating a plant-based diet. So I did it. Four and a half years later, with a plant-based nutrition certification and a strong medical and naturopathic team…I'm thriving. I do believe that my diet filled with vegetables is partially to thank. So this week's heath focus for the Pretty Wellness Small Steps challenge is to add more veggies to your life.
Come back each day for a tip of day about how to add more veggies to your life.
Eat More Veggies – Tip #1 – Have veggies cut up, handy and portable so you can grab and go in an instant – Make it easy. Buy baby carrots. Cut up red peppers. Slice cucumber to use with guacamole or hummus instead of chips. Leave it out on the counter for all to grab. It's easy to throw these in a to-go bag and throw in a purse, too.
Eat More Veggies Tip #2 – Substitute collard leaves for taco shells and sandwich wraps – Enjoy this for #TacoTuesday next week. The secret to the perfect collard wrap is to be sure that the leaves are not ripped. Then fill the center with food leaving enough room on the ends to fold.
Eat More Veggies Tip #3 – Sneak them into smoothies – When I started eating clean a few years ago I experimented with my blender every day. I created drinks using different combinations of fruits and vegetables. Here's what I learned from my juice lab: I've found that cauliflower has such a bland taste and can be overpowered by spices (cinnamon, pumpkin pie spice) and used in any smoothie. If you don't think your family will buy into a green smoothie, try different combinations of strawberries and banana with almond milk or pineapple, mango and coconut water. Or try a green smoothie recipe, add some blueberries and it changes the appearance. This smoothie is by far my family's favorite. And YES, it's green. Both my son and husband will drink it with breakfast.
Eat More Veggies Tip #4 – Substitute Pasta for Veggie Noodles – If you like tomato sauce, especially Rao's Homemade, combining noodles aka zucchini noodles with it tastes amazing. I will even sauté cauliflower rice, add kalamata olives, garlic and RAOs to the pan to make a meal in under 10-minutes. Not a red sauce fan, sauté a panful of vegetables with the zoodles.
Eat More Veggies Tip #5 – Add vegetables to homemade breads, pastas or even puree them and hide in meals – Before I started eating clean, I read the Jessica Seinfeld Deceptively Delicious books. The idea of sneaking veggies into homemade recipes made sense. Whether it was baking zucchini muffins or adding squash and cauliflower to mac-n-cheese, I figured it was worth a try. And…it worked with my family. They loved these recipes and ate more vegetables because of it. A few years later when I changed my diet to a low-sugar, plant-based one, I pulled out those cookbooks and used them for inspiration to make my own. Often times I swapped medjool dates for sugar, I started adding cauliflower to everything and actively sought out muffins made with veggies.
First week's goal – Detox Tips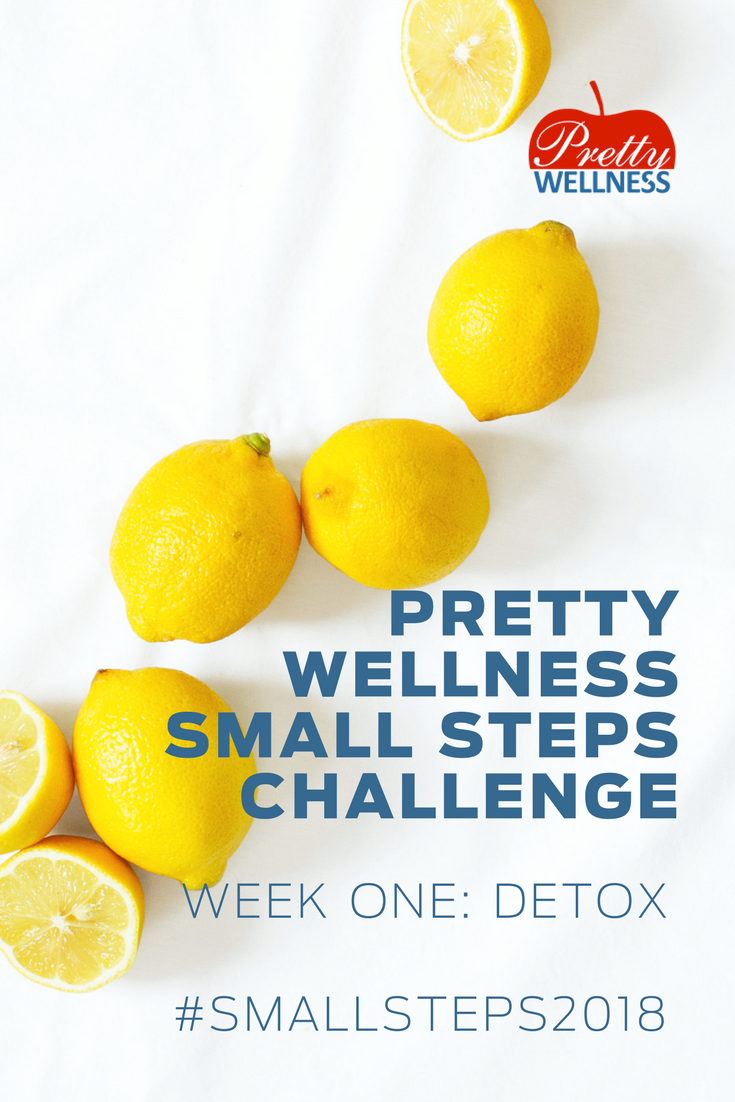 Week One: DETOX
Studies show that holiday weight gain is real. Even if it's minimal for some, the impact of over consuming food, drink and often expenses leaves many feeling sick and tired by New Year's Day. So this week, we will focus on ways to detoxify naturally. Remember to check us out on social media each night for detoxifying tips.
Detox Tip #1 –  Start a new morning routine by drinking warm water with lemon first thing after you wake up. After a night's sleep, the body has been dehydrated. Drinking warm lemon water provides immunity boosting properties (vitamin C,) aids with digestion and rehydrates the system, which will flush the toxins out of our body. This is easy to do, just warm up water and slice a half of a lemon.
Detox Tip #2 –  Drink Lots and Lots of Water – There are several benefits of drinking water it's almost impossible to ignore them. In addition to flushing out toxins, drinking water helps dehydrate our system resulting in increased energy. It also helps promote weight gain. If you're like me and love a tasty beverage, try infusing fruit and herbs in water and drink all day long.
Detox Tip #3 – Drink, Eat and Embrace Leafy Greens – Organic leafy greens are filled with chlorophyll, which aids in releasing toxins from the body. Think kale salads, green smoothies, wheatgrass shots, collard wraps and spinach packed sandwiches. Just give it a try. Add a green to each meal. Breakfast omelettes with spinach, green smoothies like our kid-approved one, collard greens to substitute wraps, broccoli rabe or escarole and bean plates when dining out.
Detox Tip #4 – Try using coconut oil in your beauty regimen to eliminate extra chemicals in your body – 
What people don't realize is that many cosmetic items are filled with excess chemicals. The FDA has very lenient regulations on ingredients in beauty and skin products so it's possible that harsh chemicals are seeping into your blood system if you use them. Think of how many products you use daily = shampoo, soap, conditioner, lotion, shaving cream, toothpaste, teeth whiteners, makeup and the list goes on…Try using a few more natural products to eliminate the excess toxins going into your bloodstream. Try using coconut oil as a substitute. I use it for body lotion, shaving cream, teeth whiteners and make-up remover.
Detox Tip #5 – Dry brushing twice a day is an easy way to eliminate toxins from the body – 
Brushing the skin stimulates the lymphatic system, which is responsible for eliminating waste in our body. There are many other benefits, too. Dry brushing literally brushes away dead skin/cells, boosts circulation and has been known to improve the appearance of cellulite. Honestly, this is something I aim to do and then forget. The
directions
are easy. So, join me and make it a habit. 1-2x a day.
We would love to hear from you. Please feel free to comment below or join us in the social media conversation on Facebook and Instagram. Happy and Healthy 2018. Let's take small steps together.
Good luck taking #SmallSteps2018 this week. Check out last week's post about making New Year's Resolutions Attainable.
For wellness daily tips and inspirational ideas on healthy living, clean eating and a non-toxic lifestyle, please follow us on Twitter, Instagram, Facebook and Pinterest. Please remember to talk with a doctor or natural practitioner when making lifestyle changes.
Looking for a speaker to inspire your organization or business team? Hire me to present or facilitate a seminar on resiliency, positivity and wellness in the workplace. Check out my business website and demo reel at CarynSullivan.com. I can be reached at Caryn@CarynSullivan.com.