We all have vices. Mine used to be sugar…and carbs…and cheese…and diet soda…and the list continued on and on. However, when I first started researching healing and disease prevention modalities, I quit eating this crud and haven't looked back. I also prioritized fitness or simply being active and played with mindfulness techniques. The one area, call it my vice, that I have not given up has been drinking wine.
Most doctors and naturopaths suggest limiting alcohol, whether it's to prevent disease, lose weight or improve sleep. On the flip side, there are a few studies that claim some drinks, such as red wine, can help prevent disease. So, which is it?
While I did investigate these questions about wine and health last year, I'm no doctor, naturopath or nobel peace prize-winning scientist, so I don't have the answers.* In speaking with my nutrition oncologist, he claims there have been no studies proving that wine increases risk for additional cancer growth after a reoccurrence.  Since I consume mostly clean foods and beverages, I know how my body reacts to additional chemicals and toxins. I've found a few drinks that I can consume without experiencing all the uncomfortable side effects of drinking.
Now that we're heading into the holidays season, I thought I would share my favorite festive drinks during the holiday season that keep me feeling fabulous.* Have a happy and healthy holiday season.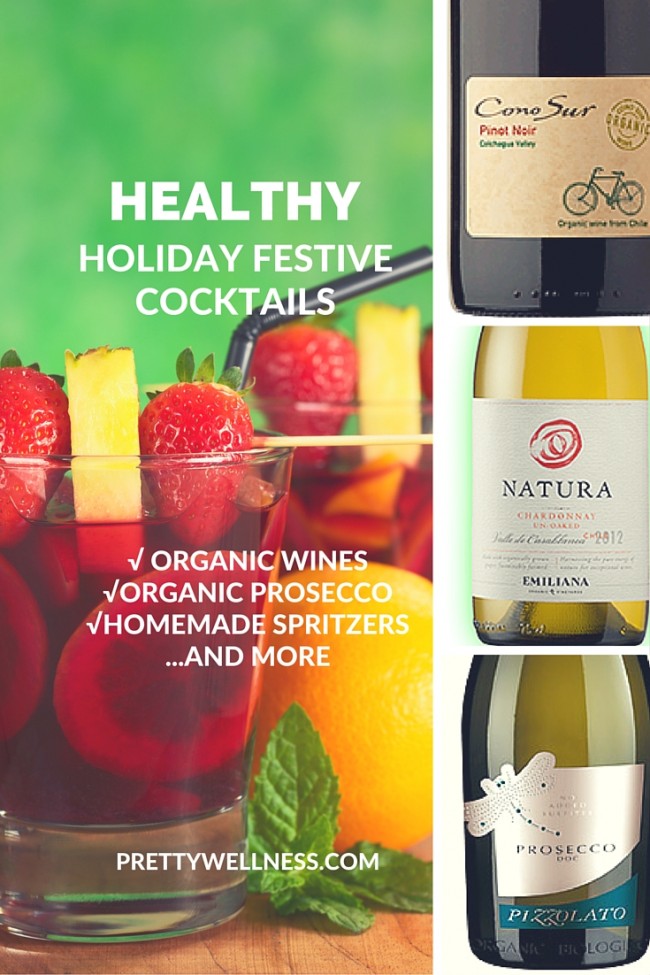 1. Organic or Sustainable Wines
Whether it's beer or wine, the ingredients in these products matter. I get a much better sleep when I've been drinking organic wine. Today, many wineries are using organic products and practicing sustainable measures, just not officially bearing the organic sticker. I've heard that many of the European wineries use wholesome ingredients and follow organic practices. My favorites are: ConoSur and Natura for red wine.
2. Prosecco
A little bubbly goes a long way. While the carbonation may fill me up, I'm seldom drinking so much that I feel bloated. I love the sweet taste and a few glasses isn't terribly heavy on the calorie counter. My latest organic favorite is Pizzolato.
3. Sangria
Most people think of sangria for a summertime celebration, but it's a refreshing spirit anytime. Create your own winter inspired concoctions with organic white wine, organic vodka and some colorful fruit. I favor red wine, so love red sangria, too.
4. Homemade Wine Spritzer
Pour a half-glass of wine into a half-glass of carbonated water to make your own healthy wine spritzer. Make sure you use non-flavored sparkling water. It will keep the authentic taste of the wine. Plus, the so-called "natural flavors" are typically made with a few chemicals and not natural fruit.
What is your favorite festive beverage?
* Please note, I'm not a doctor or medical marvel, just have an interest in health and wellness. See my disclaimer for more information. Talk to your doctor to learn more or check the other sources used: Anti-cancer by David Servan-Schrieber MD, PHD, The Cancer Recovery Plan by D. Barry Boyd, M.D., the Harvard School of Public Health Web site and the National Institute of Health Web site. Also, I don't advocate drinking, I'm just telling my story. In addition, though I don't look a day over 13…I'm of course 21+ years.