I used to love a big plate full of pasta. Sure, the starch-filled noodles were tasty. But what I came to realize was that the juicy sauces were what made the meal. So, once I learned how-to use a spiralizer, I went to town creating my own veggie pasta dishes.
Now that I'm vegan and eat largely plant-based foods, a veggie pasta meal nightly using different beans, green leafy vegetables and sauces provides a variety of nutrients and dinners. (I use two-zucchinis for each individual dinner.) I feel incredibly full and satisfied without the bloat of heavy carbs. For my family, if I buy an additional six zucchinis, two potatoes and two sweet potatoes, I have side dishes for the entire week. Here's my favorite recipe for an easy veggie meal or side dish. Enjoy!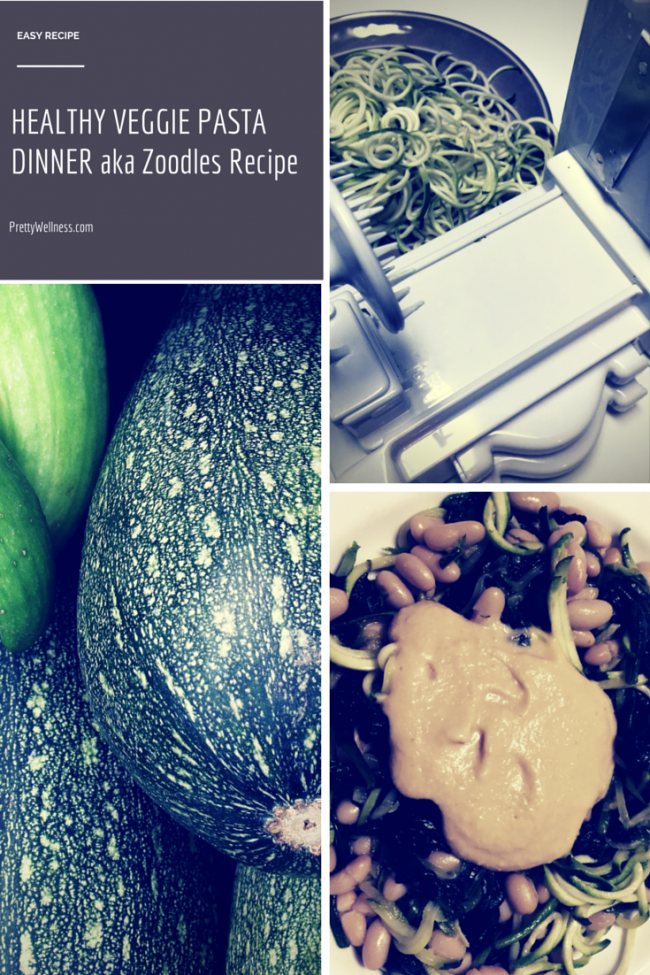 Easy Recipe: Healthy Veggie Pasta Dinner
This easy veggie pasta recipe is simple, hearty and tasty for a full-meal or side dish.
Recipe type:
Side Dish or Dinner entrée
Cuisine:
Vegan, Vegetarian, American
Ingredients
2 zucchinis - medium sized
3 tbsps. extra virgin olive oil
3 cups spinach
1 tsp. minced garlic
½ cup cannellini beans
1 tsp. salt - or salt to taste
1 tsp. pepper
*Optional: garnish with hummus. I make my own in the Vitamix blending 1 can/box of chick peas with 1 tbsp of vinegar, 1tsp. cumin and 1-2 cloves of garlic.
Instructions
Use spiralizer to make veggie noodles
Add 1 tbsp. of EVOO in sauté pan and 1 tsp. of minced garlic
Put noodles and chick peas in pan on medium heat for five minutes
Add 3 cups of spinach
Drizzle 2 tbsps. of EVOO on spinach and cover on low heat
Keep an eye on pan, stirring often
Cook to preference/wilted veggies
Notes
This recipe is for one heaping entree or three side dishes.

I often rotate my veggies including sautéed mushrooms, onions, brussels sprouts, escarole and different beans.

I also substitute the second two tbsps of EVOO for RAOs tomato sauce.
 What are you favorite vegetable side dishes?
For wellness daily tips and inspirational ideas on healthy living, clean eating and a non-toxic lifestyle, please follow us on Twitter, Instagram and Facebook.
Looking for a speaker to inspire your organization or business team? Hire me to present or facilitate a seminar on resiliency, positivity and wellness in the workplace. Check out my business website and demo reel at CarynSullivan.com. I can be reached at [email protected].