YouTube sensation and author of "She Does Keto," Gigi (Dubois) Ashworth, shares the dirty details of when she was diagnosed with Crohn's, celiac disease, ulcerative colitis, IBS and anorexia on this week's episode of "Happiness through Hardship" – The Podcast. She is personality-PLUS and is proof that you can educate and inform as well as entertain at the same time.
Apple Podcasts:
https://apple.co/2zidDGw
Spotify:
https://spoti.fi/2WNFc3k
Stitcher:
https://bit.ly/2WOsaTl
Google Podcasts and more…
Gigi truly follows the beat of her own drum and shares her story navigating these auto-immune diseases as well as battling anorexia. Her take on life is unique and through it all she shares how important mindset is to healing and finding joy in life. In fact, she encourages anyone who is feeling crummy that they can feel better by fueling themselves differently. She also talks about the importance of a support system and connecting with like-minded people. In addition to loving family and friends, she advocates for those navigating Crohn's, Colitis and truly any hardship to tap into a community filled with others whom are dealing with similar diseases.
She's super spunky and shares stories in details of chasing Junior Olympic dreams (though she doesn't consider herself competitive,) cutting her hair short (even wearing a mini mohawk,) and her healthy obsession with salmon.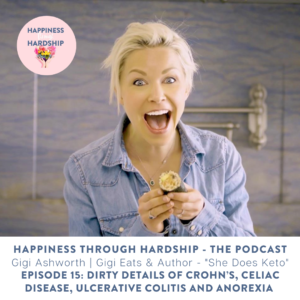 Gigi Ashworth – Dirty Details of Crohn's, Celiac Disease, Ulcerative Colitis and Anorexia Show Notes
Gigi's Book – "She Does Keto:" https://amzn.to/2EPb6GC
The Gigi Eats/The Good Chocolate Bar – sugar free, dairy free with Crispy Crystals: https://www.thegoodchocolate.com/product/double-crunch-vegan-milk-58-2-5-oz-70g-bar/
Gigi Eats Celebrities – https://gigieatscelebrities.com/
Caryn's Hot Yoga on YouTube – Hot Yoga Ashville – https://www.youtube.com/watch?v=tQjuoLAjUPc
Juice Tonic – https://www.vitaminshoppe.com/p/cranberry-turmeric-ginger-tonic-16-fl-oz/dh-1033
Connect with Gigi Ashworth – Dirty Details of Crohn's, Celiac Disease, Ulcerative Colitis and Anorexia
YouTube: https://www.youtube.com/user/gigieatscelebrities
Instagram: https://www.instagram.com/gigieats/
Facebook: https://www.facebook.com/GiGiEatsCelebrities/
Twitter: https://twitter.com/dubagee
Pinterest: https://www.pinterest.com/dubagee/
For more information on the podcast episodes – HERE
For easily accessible cancer information – HERE
For daily wellness tips go to @PrettyWellness on Instagram
For more information on Pretty Wellness and Caryn Sullivan – CarynSullivan.com
For more information on "The Grateful Game" – https://www.instagram.com/tv/CCdduzuht2u/
Follow @PrettyWellness on social media on Instagram, Facebook and Twitter
Happiness through Hardship – The Book and Journal: BUY HERE or donate a book to a cancer center: DONATE HERE
To get a free copy of our smoothies and snacks ebook: sign up HERE