As a child, my mother was loving, thoughtful and wise, though the absolute strictest in the neighborhood. So as a result, I was naturally a semi-rebellious teen. She also served home cooked meals most nights and made us drink a cup of milk at each meal. Just to make her mad, I pushed for eating Hungry-Man salisbury steaks and diet soda whenever possible.
Now that I'm a parent, I often think about how I can motivate my son to make healthy choices. How do I find a balance between being "that parent" that doesn't allow her kid to eat any junk food to one that feels defeated and serves whatever the child claims they will eat?
Let's just say, I don't have all the answers yet, but I'm trying. From all I've learned the past few years about the importance of eating clean for disease prevention, my goal is to find a number of healthy foods that my son will eat. This way, if he eats enough wholesome plant-based choices throughout the day, the junk foods are merely "sometimes foods". Below are a few life hacks for getting kids to eat healthy. I spoke to WTNH's Teresa Dufour on CT Style about these tips and showcased the ideas.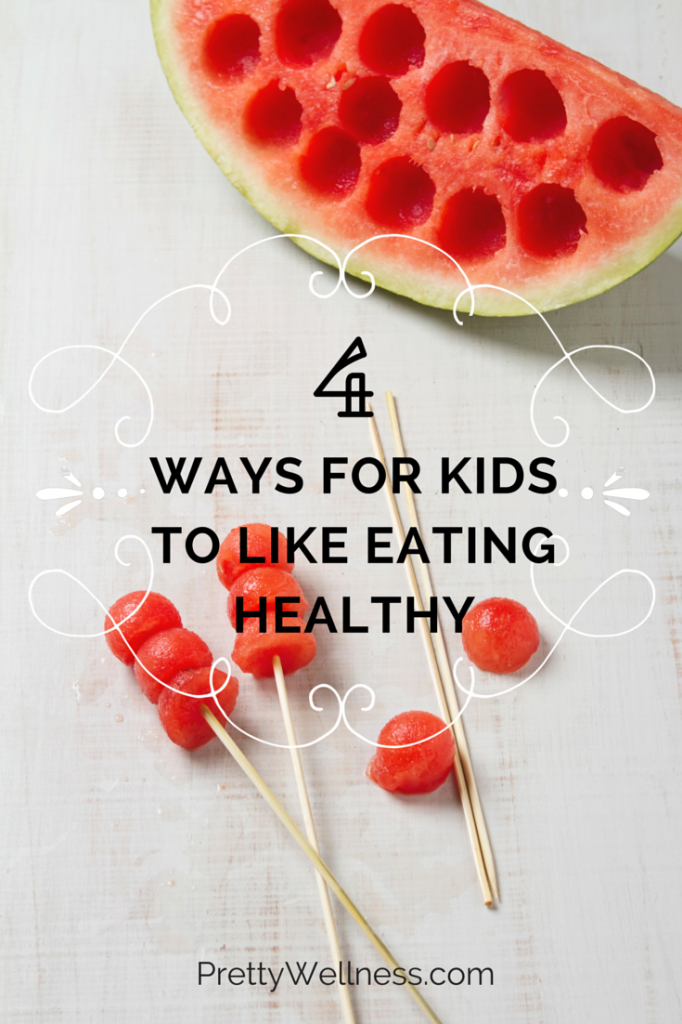 Four Ways to Help Kids Eat Healthy and Like It
1. Let Kids Select Healthy Foods to Eat
We know kids like choice. So whether it's at the grocery store or the farmer's market, letting them pick out a few different fruits and vegetables may motivate them to eat more. I often ask my son to take photos of the healthy items at Whole Foods. It's a way to help him recognize wholesome, nutrient dense foods and how they come in various bright colors. I sometimes use these pictures for the blog. I encourage others to have fun with this. Many people have Facebook and Instagram accounts, so I challenge you to showcase yours there.
2. Enjoy Social Media Challenges – #OneNewFood or Wellness Wednesday efforts
Pick a day a week (aka Wellness Wednesday) to try a new healthy recipe or hearty nutrient rich food item with your family. A blogging partnership between MommyInSports and OhHonestly created a #OneNewFood challenge. The goal is to pick an item and serve it a few different ways throughout the week. Think zucchini as zoodles, raw with dip or in a muffin. If you don't have time to make it a weekly affair, trying one thing different may see a positive change. Or if not, try adding veggies to otherwise liked food.
3. Mask the Veggies
I get it, not every kid will eat raw veggies. So I buy or create dips to mask the strong vegetable taste. Some health advocates will disagree with this strategy, urging kids to learn how to love their veggies. I'm just trying to present options knowing that some families just want to make progress. I use several different "dips" with carrots including sun butter, Greek yogurt dressing and guacamole. I also love smoothies and will throw vegetables with mild flavors like cauliflower and butternut squash into them.
4. Find Fancy Presentations
Sometimes presentation is everything or at least can be helpful. Many of these creative ideas can be found easily on Pinterest. Here are my favorite easy food tricks: Buy small cookie cutters to create shapes out of watermelon and cantaloupe. Make fresh fruit kabobs, watermelon pizza or  fruit and veggies sandwiches with dips in between. If prep time is an issue, just use fancy china or a cool wine glass and serve parfaits or fresh fruit, so that the kids will feel like it's a special treat.
Please share with us what obstacles do you face when trying to eat healthy?
Check us out below on CT Style's "Mommy Monday" talking about kids and healthy eating tips.