I love chocolate and prefer it before any vanilla or fruity dessert. Now that I eat mostly plant-based foods, I've learned to find substitutions for my favorite sweets. Rather than using processed chocolate to bake or include in chilis, smoothies and sugary desserts, I use cacao. While cocoa powder has a richer, sweeter flavor, it's more processed. Cacao is a pure, raw powder that is high in antioxidants and therefore provides more health benefits. Ever since my cousin, Lisa, a dietician and incredible vegetarian cook, blended a creamy cacao mousse for me, I've been hooked. I eat it for snacks and sometimes breakfast, too.
As a mom, wife, writer, and business owner, I don't have hours to enjoy the intricacies of baking. Recipes that I follow or create include simple ingredients and take only minutes to prepare. This one takes little time and satisfies my sweet cravings with no guilt.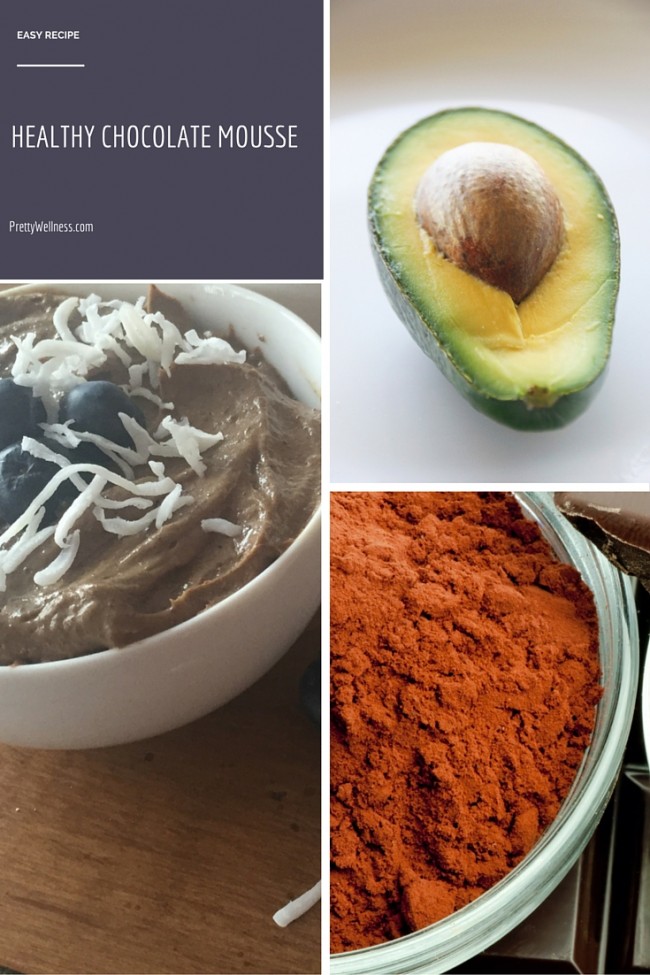 Would you substitute cacao for cocoa? Try it in the recipe below.

PrettyWellness.com Healthy Chocolate Mousse
This healthy chocolate mousse is made of only a few truly natural ingredients.
Ingredients
3 avocados - very brown and soft
3 tbsp. raw, organic cacao powder (you can use cocoa powder but it's less healthy)
1½ tbsp. organic vanilla extract
3 tbsp. raw, organic agave syrup
Optional: 3 tsp. Himalayan sea salt before blending to offset dark cacao/chocolate taste. Add coconut or fruit of choice for garnish.
Instructions
Peel avocados - make sure they are very brown and soft.
Add avocados to the blender.
Next add cacao powder, vanilla extract and agave syrup and blend. If you don't have a high speed blender, you may have to pulse/blend it more, stopping and using a spatula to mix.
Blend until you reach a creamy desired consistency - typically about two minutes with a high speed blender.
Taste test - if it tastes too much like avocados, add a little more vanilla extract and/or cacao. If you have a sweet tooth, add slightly more agave.
Eat right away and/or put in refrigerator for a thicker consistency.
Notes
It took me a few times to "perfect" my mousse. Once you reach the desired consistency, taste and do the following:
-add Himalayan sea salt to tone down the cacao flavor
-add more cacao if you like a dark chocolate flavor
-add an additional tbsp. of agave for sweetness or additional medjool date paste (medjool dates covered in water for 30 minutes.)