It's the most wonderful time of the year…insert music and bright flashing lights here. Then pull the curtain back and you see reality. Rushing from urgent work meetings to children's holiday concerts, then to festive parties and last-minute bargain shopping events, this season is filled with joy and plenty of stress. Being an achiever, I've always tried to get it all done with a smile. Though, no matter how many errands I delegate or projects I put off until next year, I still feel a little anxious in the scurry to get it all done. This year, I put my super healthy gadget girl powers to the test and tried a few devices to help de-stress. I even spoke about this, finding a little zen during the holiday season, on CT Style our local ABC affiliate award-winning lifestyle morning show. Below are some of my favorites gadgets and tools.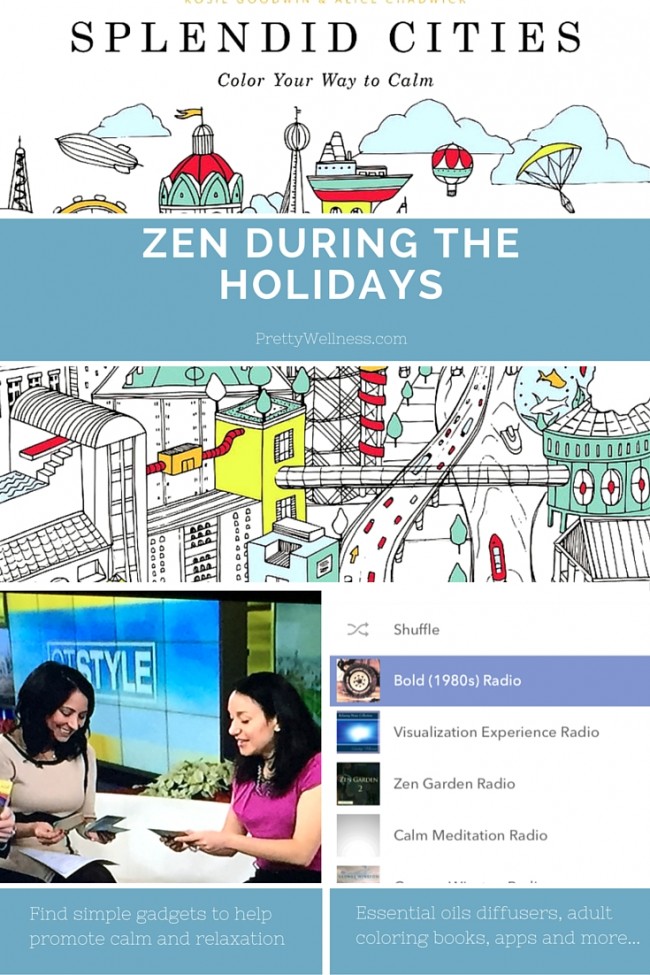 Utilizing essential oils have been show to help promote relaxation, elevate mood and ward off illness. One of the most popular ways to use essential oils is by diffusing them. While there are many techno-devices out there, I've seen sturdy ones at doctors and naturopaths offices for less than $40. My favorite calming scents are lavender and ginger. I find diffusing oils aka aromatherapy to be easy and remarkably calming.
Often used for party playlists, Pandora highlights every music genre. Most people don't think of Pandora as a house of Zen, though it's filled with yoga, guided meditation and visualization radio stations. With always too much to do (don't we all feel this way,) I love to power walk outside and listen to the Deepak Chopra station.
Miracles Now – Affirmation App
Gabrielle Bernstein, coined by The New York Times as the "Next Generation Guru," is a life-coach, author and meditation aficionado. Her intension, in creating the Miracles Now affirmation app, is to use it daily to promote loving thoughts and shift perceptions toward a positive attitude. If this is a gift, she also offers a deck of affirmation cards
with similar messages.
Simon Electronic Carabiner Hand-Held Memory Game
Yes, you heard me, the Simon multi-colored electronic game. I found a miniature version at my local Rite Aid store and picked it up originally as a stocking stuffer. Sitting at the train station, not wanting to look at my phone, I started playing it and became hooked. As my cell phone sat at the bottom of my purse, playing Simon was relaxing because no texts, no emails or no calls popped up mid-game.
Adult Coloring Books: Color Your Way to Calm
These seem to be the rage right now, adults teaching themselves to unwind by coloring diligently within the thin lines of a scenic activity book. There are tons of themes out there to suit a variety of passions, so these adult coloring books can serve as a creative gift for lovers of travel, art, fashion and food. Numerous studies have shown how crafting, including coloring, helps promote wellness and boost immunity compared to those who don't participate in these types of activities. It's hard to multi-task or play with a smart phone while focused on coloring, so it's easy to see how it can promote relaxation.
If you want to learn more, check out the "Healthy Gadget Girl" segment on Tech Tuesday for WTNH's CT Style.
Do any of these simple gadgets or items inspire you to tweak your routine to include them? Please comment below and share your ideas.
This post may contain affiliate links, meaning I may receive a commission with no cost to you.