Have you ever dreamed of being a musical superstar…having a beautiful voice while also sharing your wisdom with the world? Today's guest on "Happiness through Hardship" – The Podcast has both. In fact, Sara Porritt, diversity and inclusion corporate media executive, yoga instructor and host of the podcast, "Hear us Roar" is a Rhythm & Blues / R&B singer known professionally as Baiyu. Being one of the first and only Asian R&B singers in the early 2000's, Sara aka Baiyu, made a name for herself within the music industry. While she encountered many obstacles, her resilience and passion is incredibly inspiring and I cannot wait for you to hear her story.
Apple Podcasts: https://apple.co/2zidDGw
Spotify: https://spoti.fi/3imO7An
Stitcher: https://bit.ly/2WOsaTl
Google Podcasts: http://bit.ly/35cuG9O
IHeartRadio: https://ihr.fm/3cTrLXH
Sara has some impressive accolades to back her up. She has released two full length albums, as well as a few EPs. She was featured on the hit CW Network show, "The Next", as part of the top four talents who are on the "verge of stardom". Sara was also named one of Yahoo News and VIBE's "Top 10 Musicians to Watch." Not only is she beautiful and talented, she's incredibly smart – a high powered job, a college degree from Princeton are just a few. Her life as a pioneer in the music industry led to her continually giving back to the world and she still does –  sharing conversations with fearless Asian women about how ideas and passions can change lives…continually using her voice to inspire.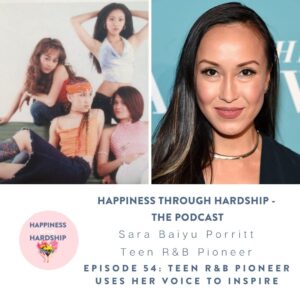 Sara's courage, resilience and passion is energizing and I cannot wait for you to hear her story about being one of the first and only Asian R&B singers in the early millennium. If you like this episode, please follow/subscribe, rate and review. This helps us with our podcast ranking, the higher we are ranked, the more people can be inspired by our show.
Ep. 54: Teen R&B Pioneer Uses Her Voice to Inspire – Sara Porritt Show Notes
3:50 – Sara's experience with being a VJ on mtvU's show, "The Freshmen"
5:00 – How her R&B music career began and various struggles she faced
10:58 – Uncomfortable recording label experience before the company folded
12:42 – Asian prejudices within her music industry experiences and her solo career transition
16:43 – How Sara moved past the discriminatory experiences she went through
19:10 – Advice: Let go of attachment when pursuing an experience you're passionate about
22:54 – Sara's current connection to her professional R&B persona: Baiyu
26:30 – Her experience growing up as a Chinese-American immigrant
29:40 – What makes Sara happy right now: having small moments to herself
CONNECT with Sara Porritt – Teen R&B Pioneer Uses Her Voice to Inspire
Hear her music: http://www.baiyuonline.com/site/
"Hear us Roar" podcast: https://saraporritt.com/hurpodcast
Contact Sara: https://saraporritt.com/contact
Instagram: https://www.instagram.com/saraporritt/
Connect with US
Happiness through Hardship – The Book and Journal: BUY HERE or donate a book to a cancer center: DONATE HERE
For easily accessible cancer information – HERE
For daily wellness tips go to @PrettyWellness on Instagram
For more information on Pretty Wellness and Caryn Sullivan – CarynSullivan.com
Follow @PrettyWellness on social media on Instagram, Facebook and Twitter.