What if you could create an epic and inspiring life making changes from within? It's not as hard as you think! This week's guest on "Happiness through Hardship" – The Podcast, a well-known, wellness wonder woman talks about how to begin. New York Times bestselling author and spiritual celebrity, Kimberly Snyder, is the founder of healthy lifestyle company, Solluna, as well as a meditation teacher, podcast host, celebrity nutritionist, holistic wellness expert, and three-time New York Times best selling author. Her latest book, hot off the press, You Are More Than You Think You Think You Are includes  practical lessons in enlightenment for everyday life. On this episode Kimberly shares her wisdom on a variety of wellness topics including how to ignite your "True Self" and create a peaceful life.
Apple Podcasts: https://apple.co/2zidDGw
Spotify: https://spoti.fi/3imO7An
Stitcher: https://bit.ly/2WOsaTl
Google Podcasts: http://bit.ly/35cuG9O
IHeartRadio: https://ihr.fm/3cTrLXH
Amazon Music: https://amzn.to/3fKqowq
After graduating from Georgetown, Kimberly traveled the world. She learned from some of the most profound spiritual educators, which inspired her to write You Are More Than You Think You Are. In this book and now on this episode, she eloquently speaks about tapping into your "True Self" in an easy and meaningful way. She shares how there are many simple practices (and big ones, too) that result in feeling beauty, peace and joy all around and within yourself. Her book is easy-to-read and she's easy to love…so enjoy our conversation filled with jewels of advice and positive spirit.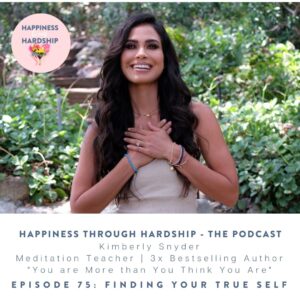 Whether you hear her words on this episode, read them in this book, or meet her in-person as I did a few years back during her "Radical Beauty" tour, she's the real-deal. Kimberly Snyder is authentic to the core and radiates positivity. If you have any interest in living a happier life, this episode is a must-listen.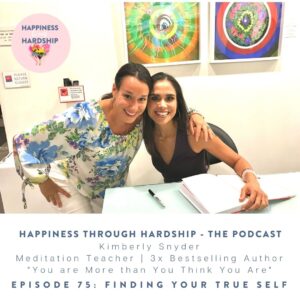 SHOW NOTES – Ep. 75: Finding Your True Self with Kimberly Snyder
5:53 – Kimberly shares her experiences and lessons learned from traveling – breaking down perceptions of self
7:32 – Kimberly talks about the importance of yoga in her life including "dynamic will" and unique power
9:35 – When Kimberly's first celebrity found her
10:02 – Kimberly's journey of writing a book and getting a deal
13:13 – Kimberly defines the "True Self"
14:05 – Kimberly shares the danger of "ego" in our lives
15:41 – Kimberly's belief on the importance of shifting your perspective
16:29 – Solluna's Four Cornerstones of True Wellness
20:30 – Kimberly talks about taking moments to feel
22:42 – Kimberly's philosophies on mirror gazing and dealing with judgment
28:40- Caryn and Kimberly play "The Grateful Game"
Kimberly Snyder's new book: You Are More Than You Think You Are: https://amzn.to/3AtQNqs
Radical Beauty with Deepak Chopra: https://amzn.to/3rMuI2B
The Beauty Detox Solution: https://amzn.to/3tUEH8J
The Beauty Detox Foods: https://amzn.to/3ojmz4X
The Beauty Detox Power: https://amzn.to/3g2HyUJ
CONNECT with Kimberly Snyder
Instagram: https://www.instagram.com/_kimberlysnyder/
Twitter: https://twitter.com/_KimberlySnyder
Facebook: https://www.facebook.com/KimberlySnyderCN
Website: https://mysolluna.com/
Connect with US
Happiness through Hardship – The Book and Journal: BUY HERE or donate a book to a cancer center: DONATE HERE
For easily accessible cancer information – HERE
For daily wellness tips go to @PrettyWellness on Instagram
For more information on Pretty Wellness and Caryn Sullivan – CarynSullivan.com
Follow @PrettyWellness on social media on Instagram, Facebook and Twitter