Have you ever considered looking into your ancestry wondering if you would stumble upon something interesting? This episode is about discovering a family secret, one that pushes you to re-examine your existence and experiences. I'm honored that this week's guest on "Happiness through Hardship" – The Podcast, Jane Fine, bravely shares hers and to a degree mine, because we're related.
Apple Podcasts: https://apple.co/2zidDGw
Spotify: https://spoti.fi/3imO7An
Stitcher: https://bit.ly/2WOsaTl
Google Podcasts: http://bit.ly/35cuG9O
IHeartRadio: https://ihr.fm/3cTrLXHno
My bright and bigger than life, (though shorter than most,) Aunt Jane is a highly acclaimed, award-winning painter and teacher. A wildly smart and passionate conversationalist, her abstract art focuses on social and political themes, which has been exhibited nationally and internationally for over 20-years. Today's episode showcases her backstory, one she didn't know and only discovered recently by taking a genealogy test. Jane re-tells the story, which led her down a path of reexamination of past experiences, relationships with family, as well as her own identity.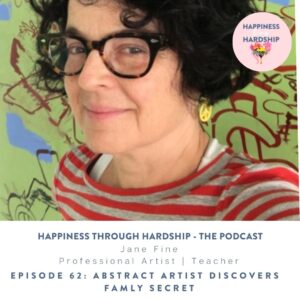 During this episode, Jane not only shares the background, she also talks about how she has continually navigated. While her art and creative avenue has been a tremendous help with coping, we barely touched upon her elaborate career. Recognized globally, Jane is famous in the art world, having been reviewed frequently in The New York Times, The New Yorker, New York Magazine and Art in America among other periodicals. She's also the recipient of several prestigious grants including the Pollock-Krasner Foundation, The New York Foundation for the Arts and The National Endowment for the Arts. In addition, Jane has been awarded world-renown fellowships and has been resident at The MacDowell Colony, Yaddo, The Fine Arts Work Center in Provincetown, The Millay Colony, The Cité Internationale des Artes in Paris, The Golden Foundation and The Hermitage Artists Retreat. She is currently represented by Pierogi Gallery in New York City and collaborates with her husband, my uncle, artist James Esber, under the pseudonym "J. Fiber."
Show Notes – Ep. 62: Abstract Artist Discovers Family Secret
5:03 – Jane backstory before the backstory
6:03 – Jane's sister, Paula, has doubts about who her father is
9:07 – Jane's son, Abe, is interested in taking a DNA test
10:49 – Jane's moment of realization about her biological father
11:33 – Jane's initial denial
14:05 – The realization
15:19 – The phone call that felt like a movie
17:14 – Jane's son gives her helpful advice
19:11 – Jane now asks herself "Who am I?" and "Who is my biological father?"
19:42 – Jane's range of emotions after accepting the discovery
20:46 – How Jane researches who her father could be
28:39 – Jane's self-reflection
31:55 – Jane makes new family connections and finds new similarities
35:28 – How Jane finds peace and how others can, too
40:21 – The peace her son gives her
44:32 – Caryn and Jane play The Grateful Game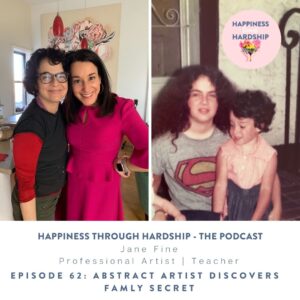 Connect with Jane Fine – Ep. 62: Abstract Artist Discovers Family Secret
Jane Fine website: https://www.janefine.net/about
Jane Fine Instagram: www.instagram.com/janemfine/ and www.instagram.com/grand.flag/
Jane Fine – represented by Pierogi: https://www.pierogi2000.com/artists/jane-fine/
Collaborative work with husband, artist James Esber: https://www.pierogi2000.com/artists/j-fiber/
James Esber: https://www.jamesesber.com/
Connect with US
Happiness through Hardship – The Book and Journal: BUY HERE or donate a book to a cancer center: DONATE HERE
For easily accessible cancer information – HERE
For daily wellness tips go to @PrettyWellness on Instagram
For more information on Pretty Wellness and Caryn Sullivan – CarynSullivan.com
Follow @PrettyWellness on social media on Instagram, Facebook and Twitter.