I used to get sick a lot. I ran myself ragged sleeping little and hurrying from place to place. I seldom took preventative measures. Instead, as soon as a cold snuck up on me, I popped zinc pills, downed gallons of orange juice and took nighttime cough syrup before bed. Still, every season, the bug hit me a number of times. Since I changed my lifestyle, though, I get sick less. I sleep more, eat clean, walk a lot, use less toxic products and overall keep a hearty, positive spirit. Even though I've changed my ways, I'm not about to say that I'm not prone to sickness especially now that I'm on this new chemo pill. So, while I realize that there is no one superfood or miracle activity to boost my immunity, I'm always intrigued with wholesome or natural modalities. Initially when the media made such a fuss over bone broth soup, I discounted it because I'm vegan and don't eat meat. After speaking with a naturopathic oncologist recently, who suggested I consume it regularly, I started to explore it further.
Through two conversations with naturopathic doctors and reviewing media stories on the web, I learned there are some likely benefits from eating or drinking bone broth soup with little harm. The minerals from the bones are said to calm inflammation in the body, so if I'm fighting allergies or a cold, it seems to soothe inside and out.
Truth be told, this information isn't terribly new, as my mother, grandmother and probably yours, too, encouraged us to eat chicken soup when sick. I still have my reasons for not eating meat, but I've been turned onto bone broth soup. I plan to visit a butcher and make my own bone broth from organic, grass fed chicken or beef. In the meantime, I found a product a Pacific bone broth product that's organic and low in sodium, so I've been exploring making my own onion soup with it.
Below is my favorite EASY recipe to date. (Making your own bone broth would reap more minerals, however some of the frozen bone broth containers in the store are good.) This recipe chocked full of onions and topped with nutritional yeast, will satisfy French onion soup fans. My 6-year old even liked it and asked for more after he finished his first bowl.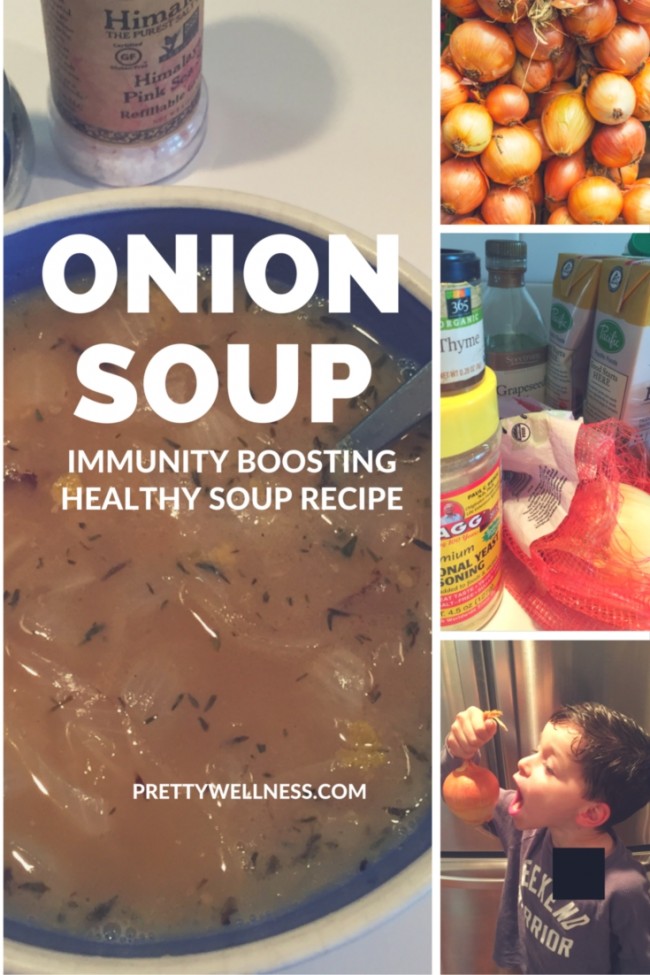 PrettyWellness.com Immunity Boosting Onion Soup Recipe
This recipe will satisfy healthy eaters who crave French Onion Soup but don't want the calories. It's a hearty soup filled with minerals from the bone broth and nutrients from the veggies.
Cuisine:
Healthy Onion Soup
Ingredients
2 boxes/48 ounces of frozen organic bone broth soup
6-8 onions
4 bay leaves
2 tbsp. grapeseed oil
2 tbsp. thyme
2 tbsp. Himalayan sea salt
2 stalks of celery
**Serve with organic nutritional yeast
**Optional: Add 2 tbsp. organic, cold-pressed apple cider vinegar if you like a slightly tart taste
Instructions
Pour bone broth and chopped celery in a pot and boil
Chop onions and saute in grapeseed or extra virgin olive oil
Once onions are sautéed / browned add to broth
Add bay leaves, thyme, grapeseed oil, Himalayan sea salt and apple cider vinegar (optional) and simmer for an hour (or until celery is at the desired consistency)
Serve with organic nutritional yeast (1 tbsp. per bowl of soup)
Notes
If you do not want to sauté the onions, add them raw to soup, increase grapeseed oil to ¼ cup (rather than 2 tbsp.) and simmer for two hours or until onions / celery reach desired consistency.
Do you have a favorite immunity boosting recipe or cold-calming favorite food?
Here are some other ways to prevent illness this winter season.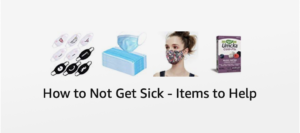 Looking for a speaker to inspire your organization or business team?
Hire me to present or facilitate a seminar on resiliency, positivity and wellness in the workplace. Check out my business website and demo reel. at CarynSullivan.com.  For wellness daily tips and inspirational ideas on healthy living, clean eating and a non-toxic lifestyle, please follow us on Twitter, Instagram, Facebook and Pinterest.