As a super healthy eater, I love salads. I'm a huge fan of big leafy greens and will even make side dishes of quinoa salads. Since my son and husband enjoy more hearty meals, I've been playing around with different grains. I found that introducing one with a pasta-like consistency such as Israeli couscous opened my family's mind to try others like quinoa, barley and farro.
This dish was a hit. Filled with beans, I served this to my husband for dinner and he felt satisfied. I've also found if I double the ingredients, it can be a side dish at night and leftover lunch the following day.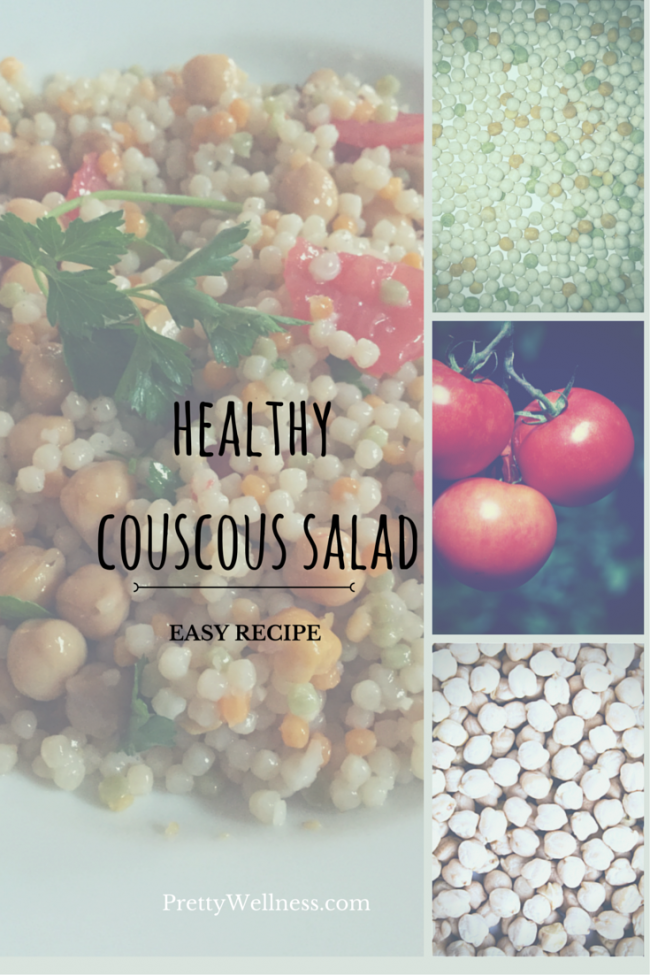 Easy Recipe: Healthy Couscous Salad
This hearty Israeli Couscous salad can be served as a side or main dish.
Recipe type:
Healthy Couscous Salad
Ingredients
2 cups organic Israeli couscous (Bob's Red Mill TriColor Pearl Couscous)
1 cup garbanzo beans
¼ cup parsley
3 tbsp. garlic grapeseed oil
1 cup sliced tomatoes
1 tbsp lemon juice
*Salt and pepper to taste
Instructions
Cook Israeli couscous per directions (typically - boil 2½ cups of water, add 2 cups couscous and simmer for 10 minutes)
Let couscous cool for 10 minutes
Sauté garbanzo beans with 1 tbsp. of grapeseed oil on stove-top for 5 minutes (while couscous is cooking)
Mix 2 tbsp. garlic grapeseed oil and lemon juice in couscous
Add garbanzo beans, tomatoes, parsley and mix
Add salt and pepper to taste
Garnish with parsley
Notes
This serves as two side dishes or one big meal.
Have you tried Israeli or Pearl Couscous? What's your favorite grain?
For wellness daily tips and inspirational ideas on healthy living, clean eating and a non-toxic lifestyle, please follow us on Twitter, Instagram, Facebook and Pinterest. Please remember to talk with a doctor or natural practitioner when making lifestyle changes.
Looking for a speaker to inspire your organization or business team? Hire me to present or facilitate a seminar on resiliency, positivity and wellness in the workplace. Check out my business website and demo reel at CarynSullivan.com. I can be reached at [email protected].