Do you seek a healthier and happier life? Would you consider to declutter your world? This week's guest on Happiness through Hardship – The Podcast is Michele Vig of Neat Little Nest and author of The Holistic Guide to Decluttering: Organize and Transform Your Space, Time and Mind.
Apple Podcasts: https://apple.co/2zidDGw
Spotify: https://spoti.fi/2WNFc3k
Stitcher: https://bit.ly/2WOsaTl
Google Podcasts and more…
Michele has always been a super woman – a high-powered, strategic marketer with a tireless work ethic. She has received big awards, top promotions and reached her dream of being CMO for a big brand as well as playing the role of a wife, mom, community volunteer and loyal friend. However, a near stroke caused her to re-evaluate her lifestyle, which laid the groundwork for Neat Little Nest – her organizational and decluttering empire.
Michele shares with us her health struggle and reflects on how holistically decluttering not just our stuff, but our time and mind can lead to transformational changes. Michele's insights are helpful no matter what roles you play in life. She's brilliant, incredibly thoughtful and shares her tips and philosophy for helping you find your desired life.
Throughout the interview Michele talks about managing stress with a career or busy life. She also speaks about the importance of decluttering first before organizing. Her method goes beyond decluttering your home – it's about decluttering your life, calendar, and mind to find real, lasting change.
I encourage you to listen to this episode and pick up a copy of her book. The Holistic Guide to Decluttering…it will take you on an interactive journey to learn how to clean out and organize key areas of your life. Her practical, followable advice offers step-by-step strategies that can be followed easily even for the busiest and messiest people. And with people spending more time in their own spaces these days, with ever more demands on their mind space and their time, Michele's advice is needed and necessary.
I'm excited for you to hear her story and suggestions. Please listen to this episode and if you like rate, review and subscribe. You leaving a review helps us with our podcast ranking. The higher we are ranked, the more people can discover our show.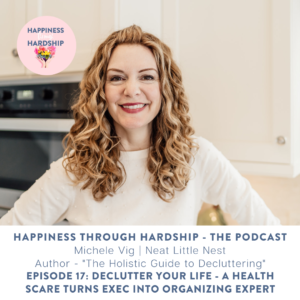 Show Notes: Michele Vig – Declutter Your Life – A Health Scare Turns Exec into Organizing Expert
The Holistic Guide to Decluttering: Organize and Transform Your Space, Time and Mind Book by Michele Vig: amzn.to/3c2UJCq
Neat Little Nest Decluttering Checklist: www.neatlittlenest.com/
My Desired Life Planner and other NLN products: www.neatlittlenest.com/signatureproducts
Michele's Favorite Organizational Tools: www.amazon.com/shop/neatlittlenest
Working Identity: Unconventional Strategies for Reinventing Your Career by Harvard Business School Press: amzn.to/3hDiQIY

Connect with Michele Vig – Declutter Your Life – A Health Scare Turns Exec into Organizing Expert
Instagram: www.instagram.com/neatlittlenest/
Facebook: www.facebook.com/NeatLittleNest/
Pinterest: www.pinterest.com/michelevig/
Twitter: twitter.com/NeatLittleNest
Connect with Us
For more information on the podcast episodes –

HERE
For easily accessible cancer information – HERE
For daily wellness tips go to @PrettyWellness on Instagram
For more information on Pretty Wellness and Caryn Sullivan – CarynSullivan.com
For more information on "The Grateful Game" – https://www.instagram.com/tv/CCdduzuht2u/
Follow @PrettyWellness on social media on Instagram, Facebook and Twitter
Happiness through Hardship – The Book and Journal: BUY HERE or donate a book to a cancer center: DONATE HERE
To get a free copy of our smoothies and snacks ebook: sign up HERE