We cry and smile at inspirational stories, though don't often make changes until the life altering experience happens to us. On this week's episode of "Happiness Through Hardship" – The Podcast Shantel Garcia shares her story about adjusting to a surprising and uncontrollable situation. Shantel is an entrepreneur and former CFO as well as a mother of three kids. Her family endured an unthinkable hardship when her three-year-old son was diagnosed with a brain tumor. Today, Shantel shares how this influenced her life, her career and how she refined time spent with family.
Apple Podcasts: https://apple.co/2zidDGw
Spotify: https://spoti.fi/3imO7An
Stitcher: https://bit.ly/2WOsaTl
Google Podcasts: http://bit.ly/35cuG9O
iHeartRadio: https://ihr.fm/3cTrLXH
Amazon Music: https://amzn.to/3fKqowq
This episode tugged at my heart strings, and it may on yours, as well. Shantel's ability to stand strong for both herself and her family is inspiring. The tweaks she made seem manageable for all of us going through hurdles in life, too. We hope this story inspires you to make those changes you have been considering. If you liked this episode, please check out more than 80 others that can lead you toward better health and happiness.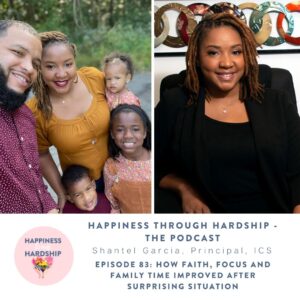 Show Notes – Ep. 83: How Faith, Focus and Family Time Improved After Surprising Situation with Shantel Garcia
3:59 – How Shantel found out her son had a brain tumor
4:47 – Signs of brain tumor
8:08 – The day of her son's diagnosis
11:22 – The integration of being a mother and working
13:08 – How Shantel connected with her son and herself after the diagnosis
17:20 – Advice for parents in a similar situation
22:18 – How she prioritizes time – what she does, what she says
33:10 – Shantel and Caryn play the Grateful Game
Connect with Shantel Garcia – Ep. 83: How Faith, Focus and Family Time Improved After Surprising Situation

Website – https://www.innovativeconsultingct.com/thefounder
Instagram – https://www.instagram.com/icsbizconsult/
Facebook – https://www.facebook.com/ICSBizConsult
LinkedIn – https://www.linkedin.com/company/innovative-consulting-solutions-ics
[Tweet "A touching story and motivating advice about parenting on "Happiness Through Hardship" – The #Podcast]
Connect with US
Happiness through Hardship – The Book and Journal: BUY HERE or donate a book to a cancer center: DONATE HERE or by sending a VenMo to @caryn-sullivan-3
For easily accessible cancer information – HERE
For daily wellness tips go to @PrettyWellness on Instagram
For more information on Pretty Wellness and Caryn Sullivan – CarynSullivan.com
Follow @PrettyWellness on social media on Instagram, Facebook and Twitter