A year ago, today, it was Friday the 13th. Waiting for my biopsy results, the phone rang at 7:30 p.m. and my superstitious self knew it wasn't good news. The doc revealed my cancer was back. Shaken with the diagnosis of stage IV metastatic disease, I needed to find a way to cope. I've always fed off of positive energy. Finding success stories of those living and thriving with cancer was key. Public Figure Kris Carr and the wife of a former colleague became role models illustrating how to tweak my lifestyle for better overall health. So, to honor, my anniversary living clean, I've launched a new category on the blog, "Clean Living Connecticut." This is both a resource for those living in Connecticut, as well as a promise to myself to keep living a clean lifestyle.
This series will highlight resources and places where I've had quality experiences. Some reviews will be specific to Connecticut; others will be useful for anyone globally who cares about their health. Consistent with Pretty Wellness, content will be about health (clean eating, exercise,) happiness (mindfulness techniques, inspirational stories) and being beautiful (non-toxic products.)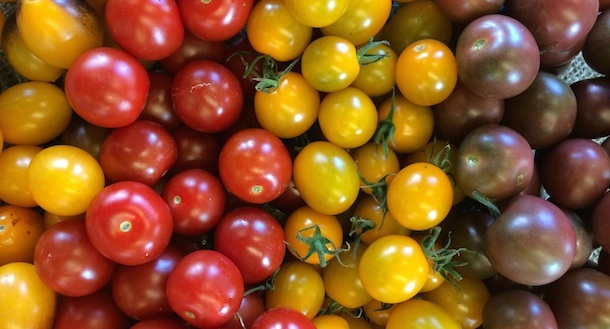 Health: Add more plants to my diet
When I didn't have a lot of time, but wanted to quick-start a wellness regimen, I simply added more fruits and vegetables at every meal. Bananas, apples and baby carrots are easy to grab-and-go when in a rush. Drop berries in cereal or side dishes to sneak in some power-packed fruit. Create fun meal-time salads by selecting (raw) pumpkin seeds, avocados, beets and hummus on top of a big bowl of lettuce and multi-colored tomatoes. This became a satisfying lunch or dinner for me. In Connecticut, Stop and Shop, Trader Joes and Whole Foods all have organic produce and lots of it. So, start there. If you get find time and want an adventure, check out the local farmer's markets for produce on the cheap. (List of Connecticut Farmers Markets )
Happiness: Mindfulness
Living in Connecticut, we experience treacherous traffic. I95 and the Merritt Parkway are frequently parking lots filled with frustrated drivers. Ironically, the packed highways parallel the peaceful shoreline, which can be the most Zen place on earth. At least for me it is. I wish for everyone in Connecticut to visit the Long Island Sound regularly. During the off-season (or even summer evenings,) the strong sounds of the waves are dramatic. They often overpower my nerve-wracking thoughts. In addition, the water glistening into the horizon provides a calmness that makes me feel at home.
Being Beautiful: EWG's Skin Deep Database
For years, I looked at ingredients in food, just never in my beauty or household products. As cathartic it was for me to go through my cosmetic bag and throw out toxic products, I wouldn't suggest starting there because it will be costly. Pick a few items and upgrade. However, finding non-toxic and quality beauty products was challenging because I didn't know whether the ingredients were hazardous or healthy. Then I found the Environmental Working Group's Skin Deep database. Shopping for beauty products is easy with this tool. The database includes over 65,000 products whose ingredients have been analyzed. Even a non-scientific minded person understands EWG's rating system, so learning more about toxicity in cosmetics is easy. Many of the organic, vegan and least toxic brands can be purchased at Whole Foods or a health food shop as well as on Amazon or Pharmaca.
I've stumbled upon many places in Connecticut that have helped my journey into clean living easier. Please comment below about your healthy habits. Also let me know your questions and concerns about taking small steps toward clean living.