I used to make up a lot of excuses. I didn't eat healthy because I was too busy. I couldn't eat healthy because it was too expensive. I didn't have a food budget because I didn't think that discounts made a difference. I didn't realize that with a little bit of time and thought, living healthy and saving money could be easy. We explore this topic on this week's WTNH-TV Wellness Wednesday segment was about simple ways to eat healthy on a budget. 
Ways to Eat Healthy on a Budget – Strategies and Ideas on How to Make it Work in Your Life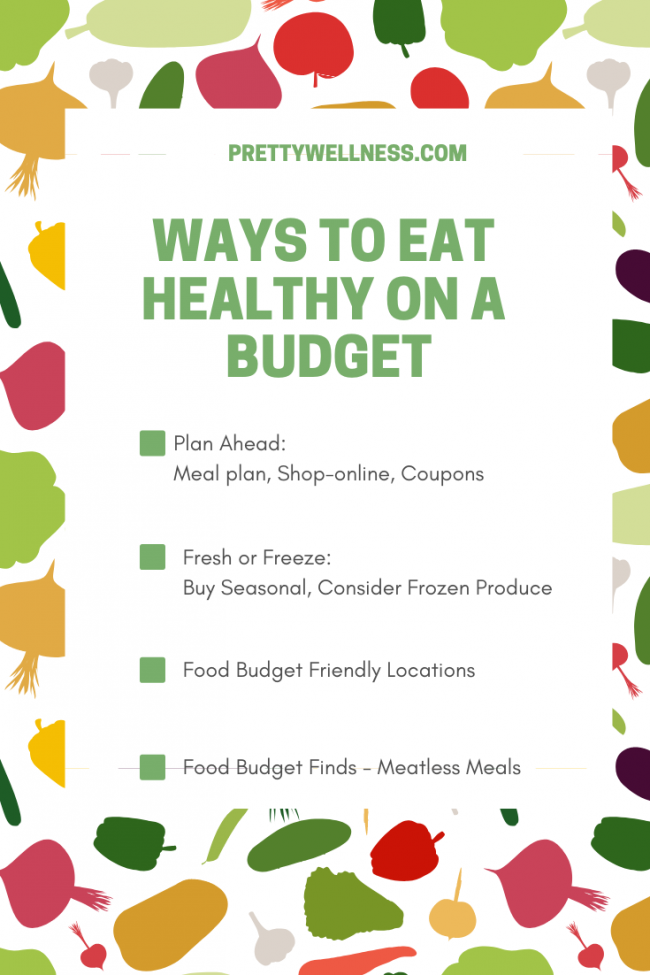 Plan Ahead: Meal plan, Shop-online, Coupons
One of the easiest ways to significantly save money is to meal plan your lunches and dinners for the week. When I do, I save 20-30% of what I typically spend on my grocery store visits. Having a grocery list to shop from while being mindful not to add too many extra items into your cart, can help keep financial costs and waste down. In addition – look at grocery store sales first and plan your meals around it.
I've also found that when I shop online with a service such as Prime Now or PeaPod, I stick to the money I plan to spend. While it costs a little for the service, I save that and then some by purchasing thoughtfully. It's easy for me to watch how much I have spent and I save time by not going to the grocery store, too.
As always, those looking for good deals and coupons are key. Whether you get them from the newspaper or follow your favorite brands on social media, discounts are readily available if you thoroughly look for them.
Fresh or Freeze: Buy Seasonal, Consider Frozen Produce
When people ask me about tips to eat clean or more healthy, I first share my favorite one: add more fruits and vegetables to your life. Doing this will fuel your body with tons of healthy and healing nutrients. When trying to stick to a food budget in the produce aisle, shop seasonally. While there are many fruits and vegetables that are available year round, produce in season tastes better and tends to be cheaper.
For those items that aren't in season, consider the frozen version. I LOVE to buy frozen berries for my smoothies. I also use frozen riced cauliflower to replace pasta. Frozen produce is cheap and easy to maintain freshness in the comforts of your freezer.
Food Budget Friendly Locations
While I love Whole Foods and they offer some budget friendly perks for Amazon Prime members, I've found a lot of other places carry healthy foods for those on a budget. Here's a quick list of some of my favorites:
Costco, Sam's Club or BJ's warehouse clubs
Big box companies like Walmart or Target grocery sections
Trader Joe's
Farmer's markets (year round in-door ones or summer markets)
Traditional grocers like Aldi tend to have aggressive sales and low prices on food
Food Budget Finds – Meatless Meals
Meat can be a high price item on your grocery bill. Stock up on high nutrition/low cost foods and swap one meal a week for a Meatless Monday dinner or Wellness Wednesday meal. Some of these healthy, hearty items that are cheap and can be the basis of a meal include: beans, lentils, eggs, nut butters, tofu, brown rice, oats, barley and sweet potatoes.
What's your favorite healthy eating budget tips? We would love to hear from you and grow this list – please comment below!
For wellness daily tips and inspirational ideas on healthy living, clean eating and a non-toxic lifestyle, please follow us on Twitter, Instagram, Facebook and Pinterest.
Looking for a speaker to inspire your organization or business team? Hire me to present or facilitate a seminar on resiliency, positivity and wellness in the workplace. Check out my business website and demo reel at CarynSullivan.com.