There are times that I love the cold and dreary weather. When I'm wrapped in a furry blanket, nestled into my couch or eating piping hot, comfort food, I actually don't mind winter. One of my favorite seasonal foods is chili. A bean-filled, spice induced vegetarian chili is a good, ol' comforting meal that provides a ton of nutrients. It's easy to prepare and cook, plus it's satisfying with just a small serving. Dump these simple ingredients in a crock-pot before work. Then return home early evening to a ready-made meal. Plus, there's often enough to freeze, so leftovers are breeze.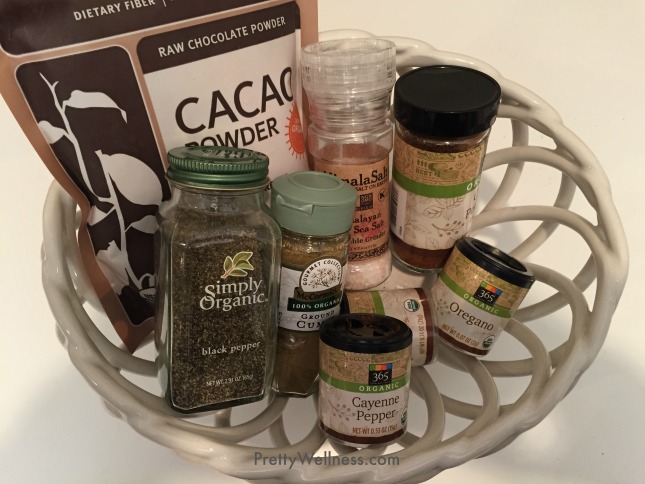 Image of chili spices

Easy Recipe: Healthy Veggie Chili
Ingredients
2 tbsp. organic cold pressed extra virgin olive oil
3 cloves garlic, crushed
2 cups mushrooms, sliced (or frozen)
2 red/multi-colored peppers, chopped (or frozen)
2 cups cooked/canned kidney beans
2 cups cooked/canned chick peas
1 cup quinoa or farro (grain)
28 oz (796 ml) canned tomato crushed
½ cup water
1 tsp. Himalayan sea salt
1 tbsp. cacao powder
1 tbsp. chili powder
1 tsp. each: dried basil, oregano & cumin
½ tsp. pepper
¼ tsp. cayenne
Optional: avocado, cheese, sour cream (to garnish) or an anti-inflammatory paste of 1 tsp. turmeric, ¼ tsp. black pepper to the EVOO.
Instructions
Combine peppers, garlic, mushrooms, beans and grain in crock pot
Add oil, water, spices and stir
Put heat on designated time - and let cook. Note: depending on the length of time simmering in the crock pot, the chili may be more liquified, so drain to desired consistency.
Garnish with avocado (vegan) or cheese and sour cream.
Notes
My not-so-secret ingredient is the cacao powder.

My images are made with farro (grain) instead of quinoa.

Also, if you are looking to pack in more healthy properties, add turmeric and black pepper to your dressings/sauces.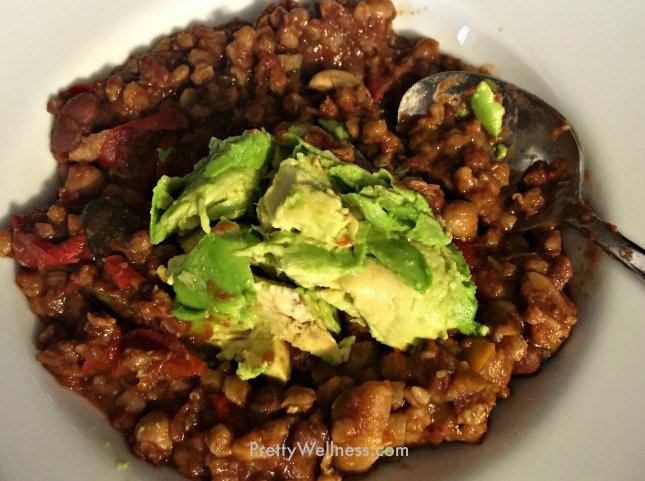 My not-so-secret ingredient is the cacao powder. What special ingredients do you love in your chili?