I've always been surrounded by ballpark food. Before launching Pretty Wellness, I spent most of my career in sports and entertainment. I've been to many arenas, stadiums and various events, both as a guest and an employee. Whether I was organizing a group of media backstage or running the rafters to shoot confetti at a concert, I was often surrounded by unhealthy, greasy grub. Back in the day, I ate numerous malt cups, ballpark hot dogs and drank tons of diet soda. In fact, part of the allure of going to sporting events was that I couldn't feel guilty for eating gluttonously because I had no options. Most venues only sold this type of food, but not anymore. Now you can eat gourmet to gluten-free at many venues throughout the country. So to honor baseball season, we're taking you on a trip through the MLB ballparks, hoping you will find some healthy options you like.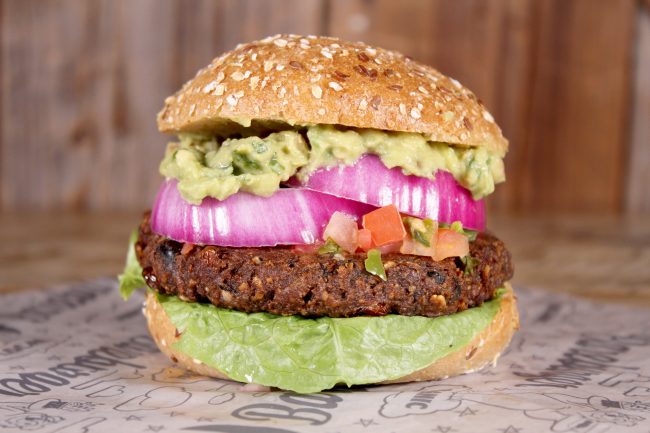 One of the most iconic teams in MLB, the New York Yankees and Legends Catering hosted a press event showcasing their creative ballpark foods. Not only is my family a fan of the Yankees, we love the game, the ballpark atmosphere and the vast selection of food that we all can eat. I was thrilled to see the healthy options and alternative items for those vegan, vegetarian, gluten-free and kosher. I hovered over the Bareburger station at the event. I adore this restaurant focused on using local, organic and sustainable ingredients. Over half of their traditional menu is vegan, and this is true of their Yankee Stadium concourse location, as well. In addition to a selection of Beyond Sausage sandwiches, Bareburger at Yankee Stadium is debuting new avocado bites and their ChangeUp Impossible 2.0 Burger – a black bean burger with vegan American cheese, caramelized onions and special sauce on a sprout bun. Mouthwatering. I ate two. Their avocado bites are so creamy, you can mistake them for a lightly spiced cheese stick.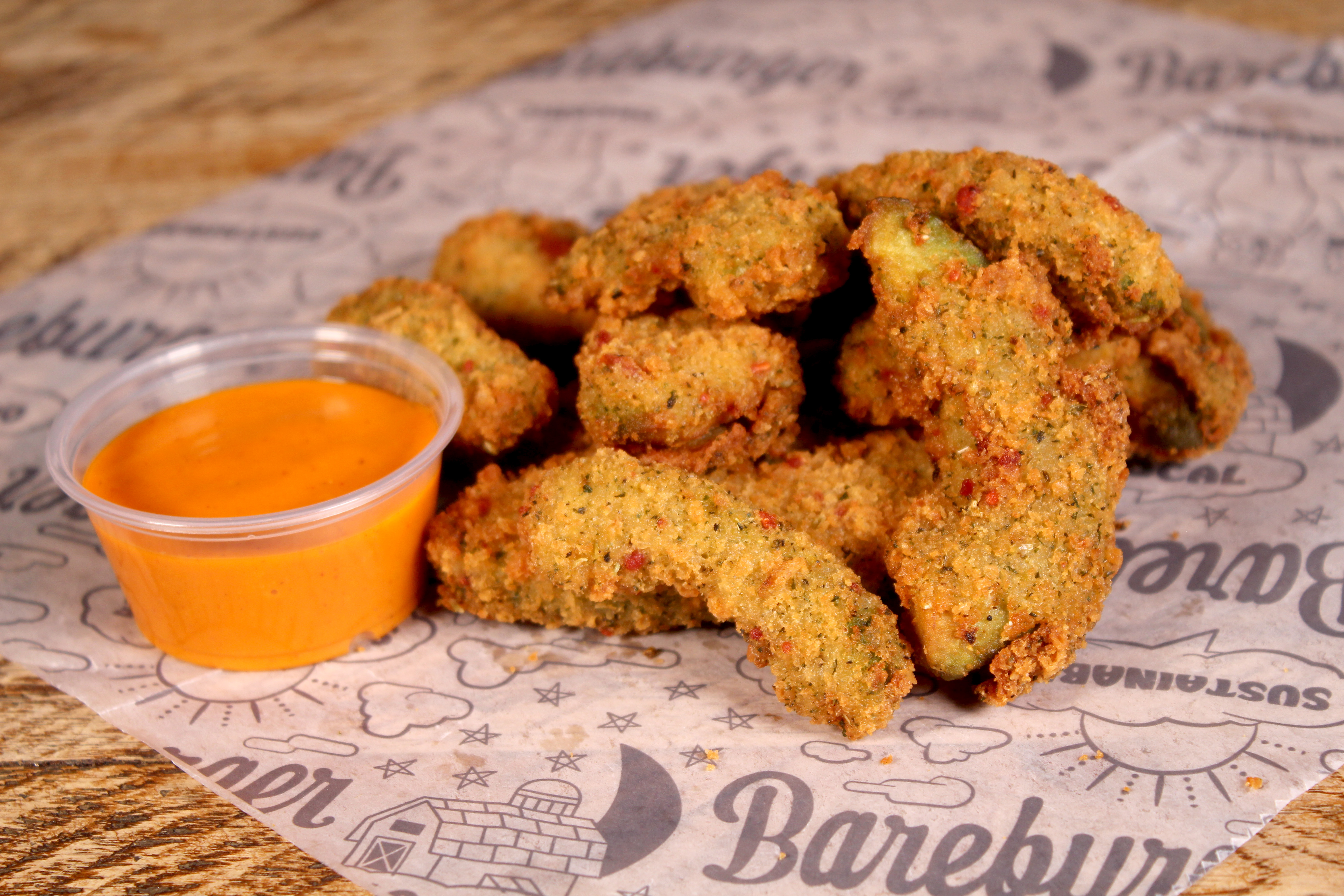 There are many other options at Yankee Stadium for those on a health kick or focusing on better choices. Here are some other favorites:
Healthy Options:
Melissa's Farmer's Market (Section 121B) with fresh fruit and big prepared salads
Noodle Bowl (127B) with veggie sushi and edamame
Frank's Red Hot Toyota Terrace – Buffalo cauliflower (minus the blue cheese for a healthier choice)
Gluten-free somewhat healthy options include: Organic half-chicken (MasterCard Batter's Eye Deck), Mighty Quinn's (Section 133) baby-back ribs, Bareburger in lettuce wraps, Noodle bowl sushi sampler
As much as I would love to think the entire world is filled with only Yankees fans, I realize this isn't the case. So to honor America's favorite pastime and celebrate all of us who want to be a little healthier, check out our comprehensive list below of notable healthy finds in all the MLB ballparks.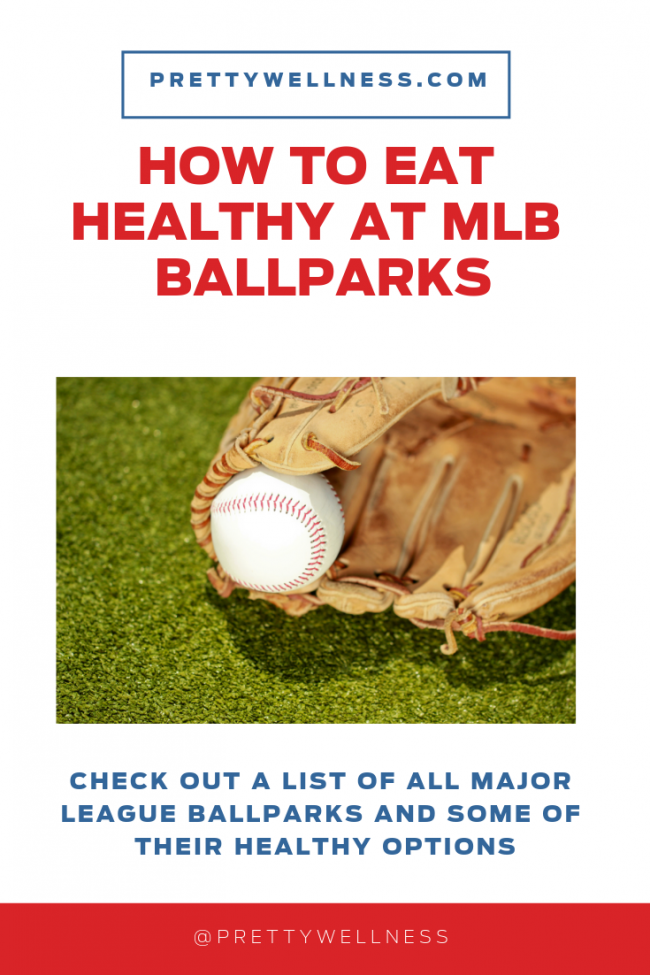 Notable Healthy Finds at MLB Ballparks
Arizona Diamondbacks – Chase Field
Plant-based burgers are all the rage at the ballparks this season and the Arizona Diamondbacks' version is the vegan Camelback Burger with brown sugar-truffle ketchup, jalapeño relish, avocado, lettuce, herb mustard, cucumber and onion flakes. Ask for the ketchup on the side (or not at all) and you have a hearty and healthy lunch.
Atlanta Braves – SunTrust Field
SunTrust Field prides themselves in showcasing Southern cooking from six states that are considered to be "Braves Country." While many of these creatively crafted recipes are not healthy, they do support a "Farm to Fan" initiative, where fresh homegrown ingredients are brought in from local farms to be used on the ballpark menu.
Baltimore Orioles – Oriole Park at Camden Yards
Camden Yards is one of the few ballparks in the league that allows guests to bring their own food and drinks. (I'm a huge fan of stuffing my purse with baby carrot bags, bananas and Ezekiel bread veggie sandwiches with hummus.)
Boston Red Sox – Fenway Park
The Home Grown Salads are grown locally on the Fenway rooftop garden. The salad is organic and includes arugula, peas, kale, radishes, strawberries, fresh herbs, and more!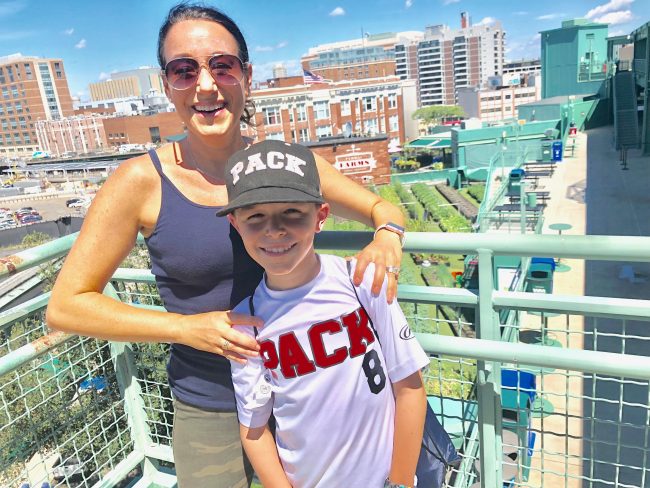 Chicago Cubs – Wrigley Field
This old-school field isn't left behind when it comes to healthier options. Wrigley Field offers the Impossible Burger served with chipotle lime aioli, lettuce and tomato on a brioche bun. Substitute the bun for a big lettuce wrap and you have a filling, lower-calorie sandwich.
Chicago White Sox – Guaranteed Rate Field
Guaranteed Rate Field sells their own vegan garden burger (section 122, 140, Fan Deck, 544, 522) and vegan/vegetarian chili (club level.)
Cincinnati Reds – Great American Ballpark
The Reds are celebrating their 150th anniversary with a ton of new food offerings, though high caloric ones. If you're going to the game at Great American Ballpark, my healthy suggestion would be to grab a small bowl of Skyline chili without the cheese or creamy toppings. (Go meatless if they have it available that day, too.)
Cleveland Indians – Progressive Field
Cleveland Kraut Haus at Progressive Field offers fermented sauerkraut to sandwiches and meals. (Right field standup bar) Also a popular Food Network cart sometimes carries vegetarian and gluten-free options.
Colorado Rockies – Coors Field
Coors Field is another ballpark that supports healthier options like the vegan, plant-based Beyond Meat products including burgers and bratwursts. There's also a burrito bowl kiosk serving burrito bowls filled with wholesome beans, rice, and veggies. In addition, my favorite stand was the make your own salad filled with a variety of green leaves, bright colorful vegetables and crunchy, healthy toppings. New to the Coors Field menu are shishito peppers roasted with Thai chile vinaigrette. Limit the queso sauce and chips and this snack is on the healthier side.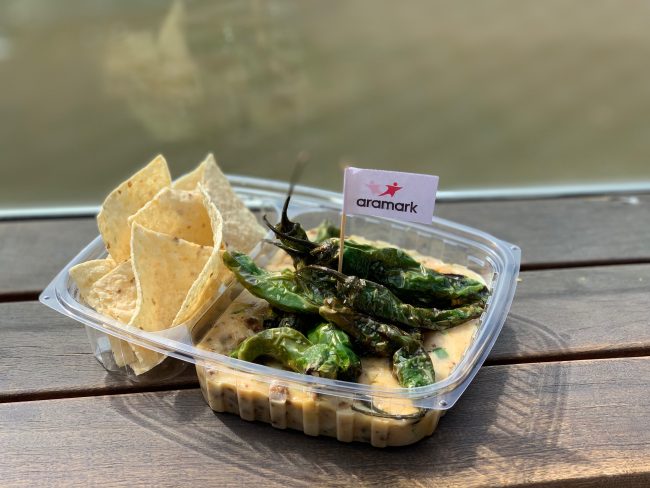 Detroit Tigers – Comerica Park
 Comerica Park hosts a number of healthy food finds including a vegan burger bowl or Beyond Burger sandwich (Big Cat Court near Gate A Corktown), falafel (Big Cat Court near Gate A Greektown) and grain bowl jars (Grab-and-g0 near section 140)
Houston Astros – Minute Maid Park
Minute Maid Park sells the plant-based Beyond Burger served Caribbean-style with avocado pineapple relish, black beans and a Sriracha aioli.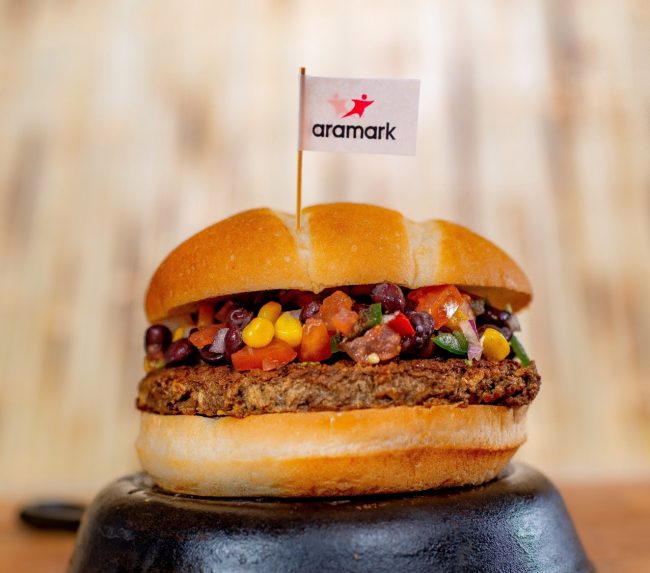 Kansas City Royals – Kauffman Stadium
Like many ballparks, Kauffman Stadium sells Beyond Meat's Beyond Brats and artisan grilled chicken sandwiches.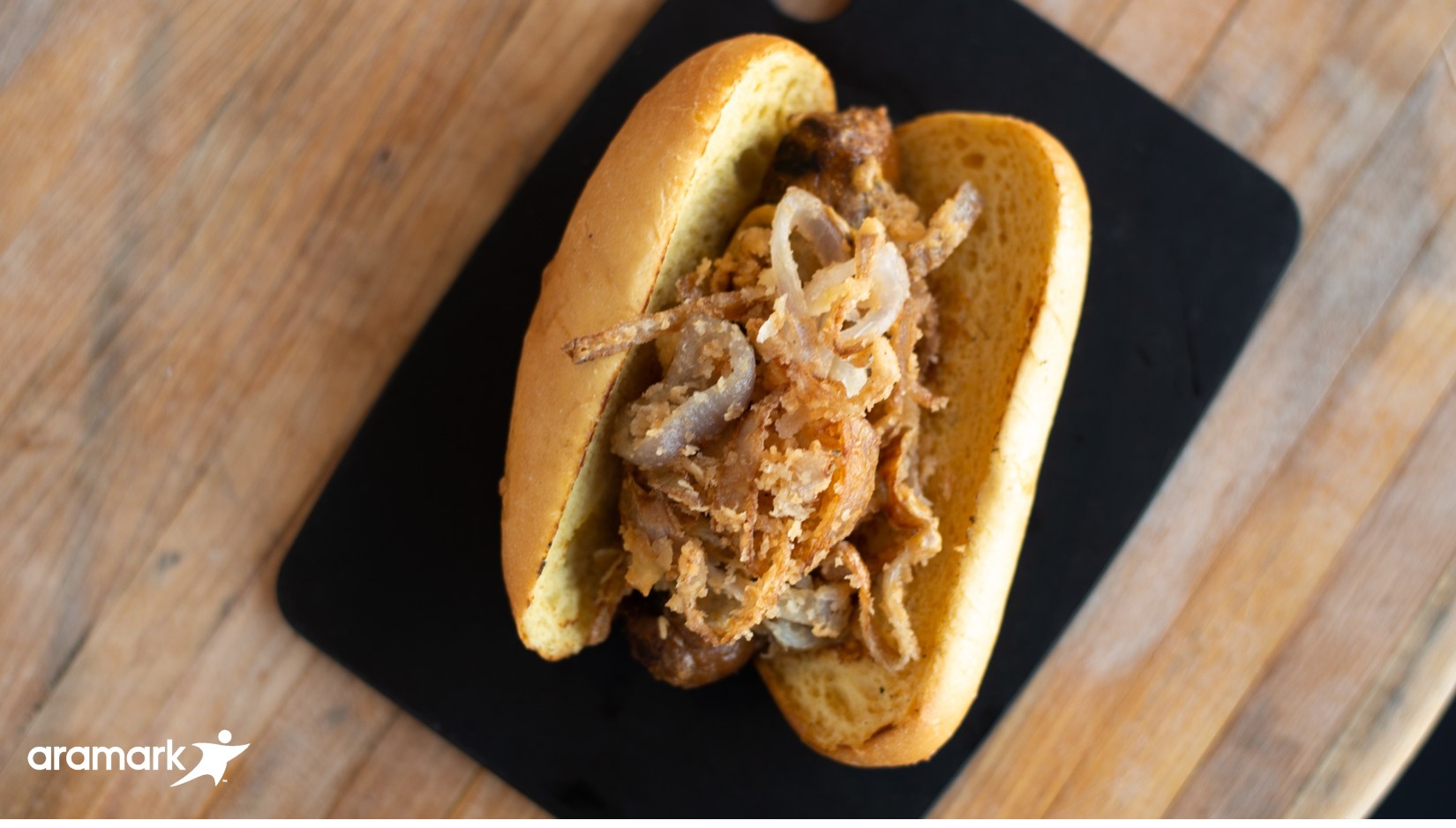 Los Angeles Angels of Anaheim – Angels Stadium
Angels Stadium offers a few vegan, vegetarian and gluten-free options including the Big A vegan burger (section 107) and Melissa's Fresh Harvest Stand salads, fruit cups and hummus plates (3rd base food court, Corner Market sections 123, 221, 305, 342)
Los Angeles Dodgers – Dodger Stadium
There are so many items to choose from at Dodger Stadium including Base Bowls – poke bowls, The Healthy Cart – quinoa and chickpea salad, California green salad and Beyond Meat vegan Dodger Dogs and burgers, (Buds & Burger serves Portobello mushroom burger, too.) This year's newest healthy find is a California Roll Bowl.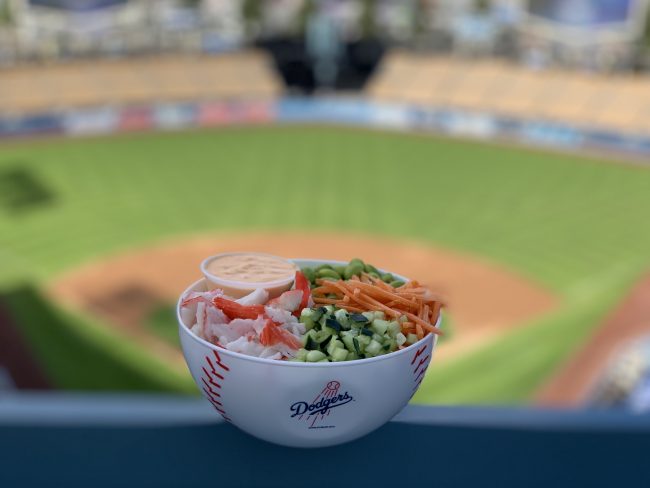 Miami Marlins – Marlins Park
There are tons of locally inspired food options including sushi rolls, ceviches and Peruvian specialties (SuViche section 23) as well as fresh grab-and-go options (El Mercadito Presented by Pepsi, Section 4.)
Milwaukee Brewers – Miller Park
Miller Park has been touting their new gluten-free and vegetarian items. The Elite en Vaso is grilled corn tossed in mayo, chili powder, cilantro, lime juice and garnished with cotija cheese. While this creamy options sounds delicious, if the concession stand can grill the corn without mayo, the dish would be much healthier.
Minnesota Twins – Target Field
My childhood hometown, I have so many great memories attending the Twins World Series parade in 1987. I used to watch games at the Metrodome eating a ballpark frank. Now, at Target Field, there's so much more to offer, especially healthy options. Check out Hell's Kitchen Impossible Burger (Bat & Barrel), Hot Indian Foods Vegan Tofu Vindaloo (portables 120) and vegan burgers and hot dogs (section 109, 305.)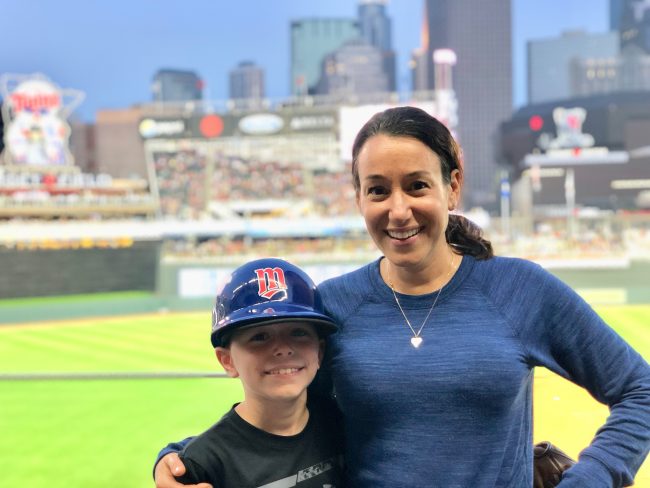 New York Mets – Citifield 
Marty's V Burger is a  dedicated vegan stand. Throughout the field they also sell Plainville Farms turkey burger on a Rudi's gluten-free bun (Hair Celestial Gluten Free & Organic Stand on field concourse level,) Yves veggie burgers and dogs (multiple locations) and Two Boots vegan slice pizza (multiple locations.)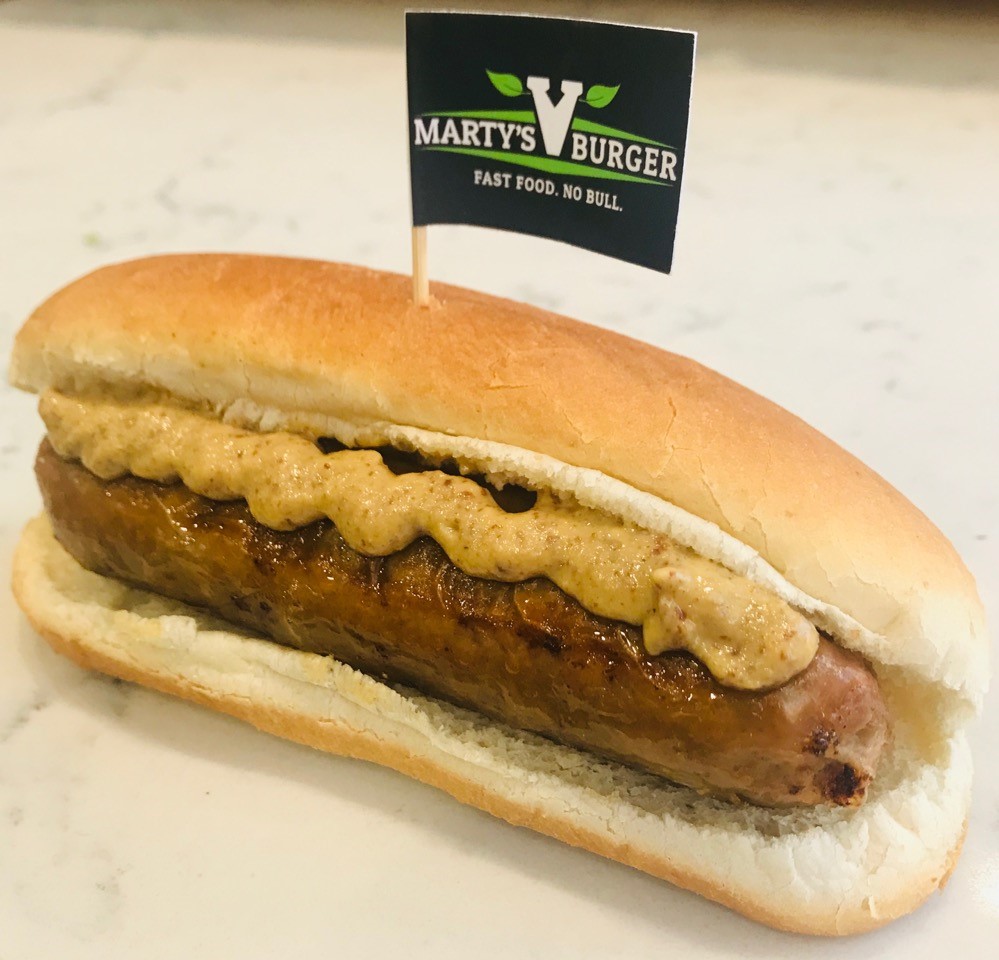 Oakland A's – Oakland Coliseum
Nourish is a portable concession stand that serves health foods including a build your own salad, rice and quinoa bowls.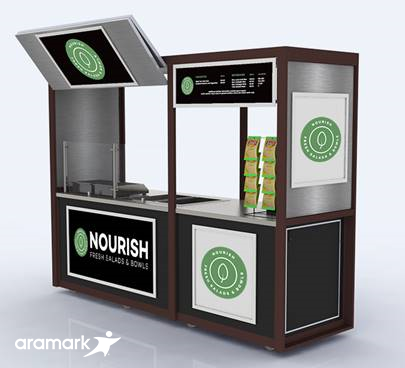 Philadelphia Phillies – Citizens Bank Park
An uber-healthy substitute for a Philly cheesesteak could be the vegan lettuce wraps with curry cauliflower, chickpeas and coconut milk now at Citizens Bank Park. Or, get the cheesesteak, minus the meat at the Campo's kiosk that sells both soy meat or wheat meat alternatives with vegan cheese. Also available is the Wayback black bean burger, Campo's veggie filled cheese steaks and the Gluten-free Stand (section 126)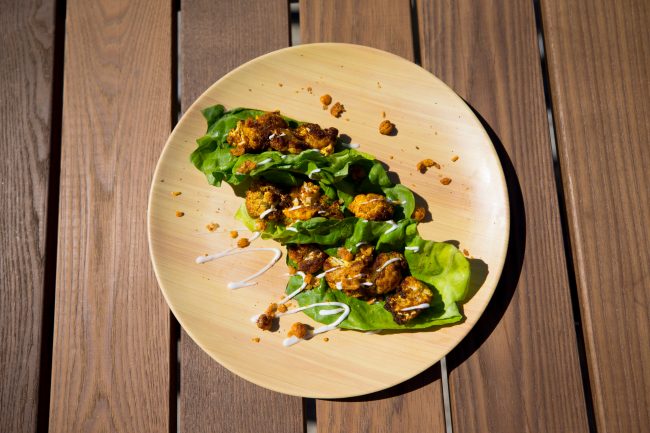 Pittsburgh Pirates – PNC Park
PNC Park sells a quinoa blueberry salad with red quinoa, chopped hearts of palm, sunflower seeds and a rainbow array of vegetables.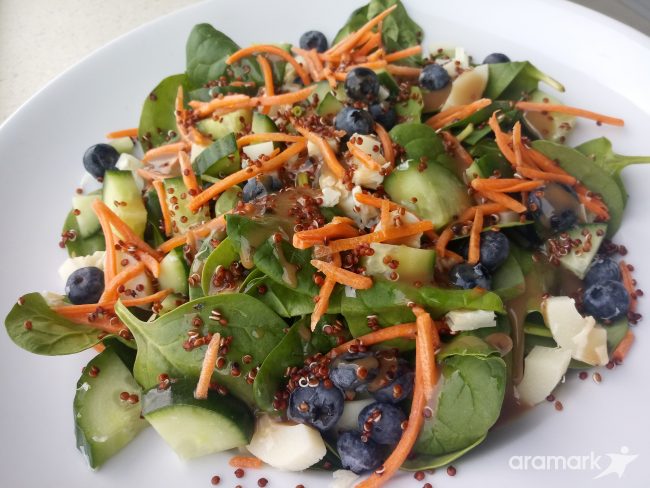 San Diego Padres – Petco Park
Noted as one of the healthiest ballparks in MLB, Petco Park has a variety of wholesome foods including fresh caught poke and sashimi (Blue Water Seafood,) kale quinoa salad (Seaside Market,) veggie dogs (Friar Frank) and wok seared rice and vegetable bowls.
San Francisco Giants – Oracle Park
Behind centerfield wall is a culinary garden that provides food for in-stadium dining options at Garden Table and Hearth Table with fresh produce for their flatbreads (gluten-free options) as well as sandwiches, smoothies, salads and juices. This 4,320 square foot garden not only provides fruits, veggies and herbs for the foods sold at the ballpark but also hosts events for fans of all ages to learn about sustainability, urban farming and healthy eating.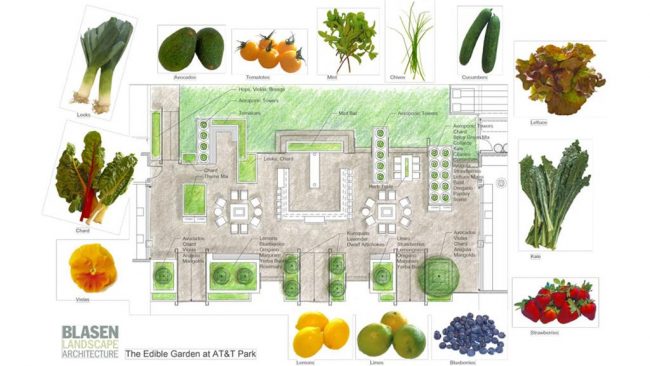 Seattle Mariners – T-Mobile Park
The tofu delight sandwich, sautéed with organic tofu, garlic aioli, caramelized onion, and pickled jalapeño makes my mouth water thinking about it. (Paseo – Edgar's Cantina, Edgar's Home Run Porch)
St. Louis Cardinals – Busch Stadium
Busch Stadium offers healthy-fare throughout the ballpark including a Baja vegan or turkey patty (Double Play Tap & Grill Sections 135 and 358,) build your own salad (Red Bird Club Italian Pizza Oven section 250) and fresh seasonal fruit (8th Sweet Market Section 155, Broadway Market Section 108, Family Pavilion Kids Kitchen Section 107 and Terrace Market Section 452.)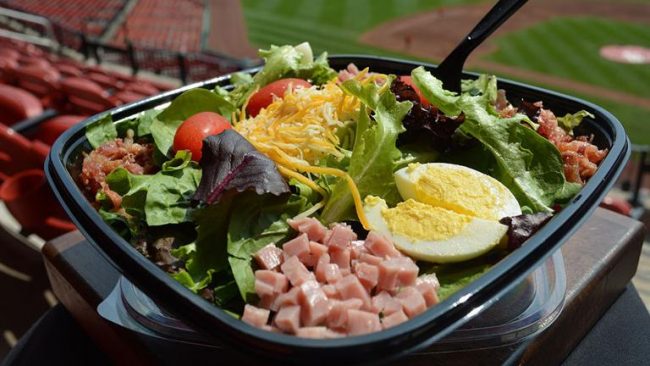 Tampa Bay Rays – Tropicana Field
The Rays most notable health-ish food item is the chicken satay (Lead Off Wok – 3rd base concourse.)
Texas Rangers – Globe Life Park in Arlington
It's the Rangers' last season at Globe Life Park and the executive chef is still working hard to create a variety of food offerings for fans. For those looking to be healthy, the Beyond cheese burger and street tacos with vegan meat crumbles (Vegan stand section 16) are a valid and delicious option.
Toronto Blue Jays – Rogers Centre
What's hot in Toronto is the "32 Ingredient Salad" with Brussels sprouts, kale, green cabbage, romaine lettuce, carrots, butternut squash, red cabbage, white and red quinoa, sunflower and pomegranate seeds, orange juice, honey, apple cider vinegar, garlic and more (vegan, gluten-free.) Also, check out the Vegan'acho nachos (section 125.)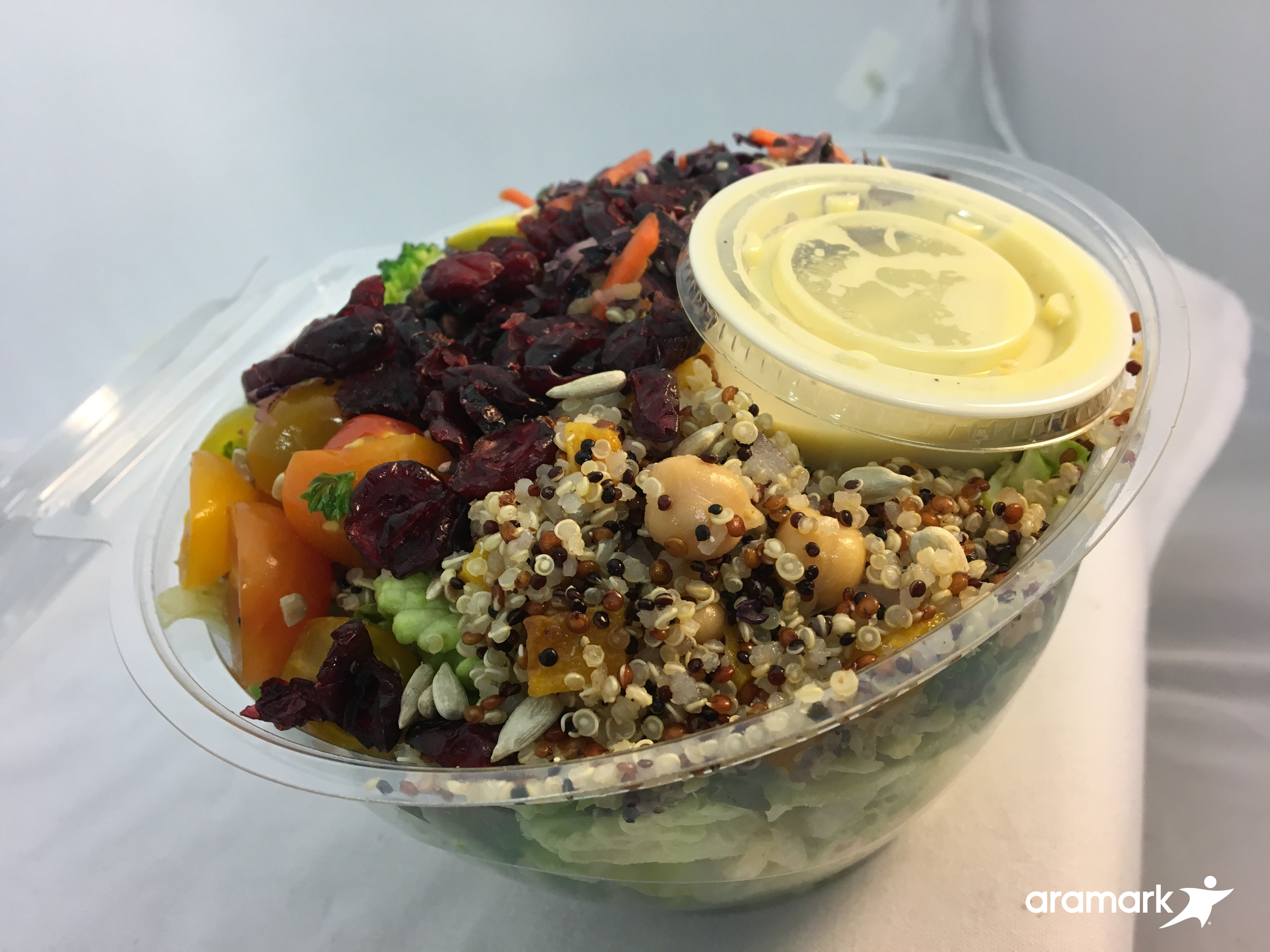 Washington Nationals – Nationals Park
 A few healthy findings include Melissa's Field of Greens (section 136) and Ben's Chili Bowl – no cheese or sour cream (sections 110 and 141.) If you're looking for a vegetarian option with a little zest, try Bao Bao steamed buns – the roasted mushroom in spicy Korean Ssamjung sauce is a hit (section 116) or Taco Caminando bowls (section 233) minus the cheese and chips. My favorite was the buffalo cauliflower taco, made with a soft shell and no cheese.
We're excited to visit a few Major League ballparks this season. Headed to a game? Download the MLB Ballpark app and use the food and beverage finder locate more options.
Do you have any favorite ballpark / event foods? What are your favorite memories at a ballpark or arena? For daily tips and inspirational ideas on positivity and wellness, please follow us on Instagram and watch our stories. We're also on Facebook, Twitter and Pinterest.
Some Fun Finds and Useful Suggestions
Looking for a speaker to inspire your organization or business team? Hire me to present or facilitate a seminar on resiliency, positivity and wellness in the workplace. Check out my business website and demo reel at CarynSullivan.com.
  This post may contain affiliate links meaning I may receive a commission with no costs to you. I pro-actively try various products and then affiliate myself with these items that I already use and love.