I remember pulling overnighters in high school, wired with energy after drinking an entire two-liter bottle of Diet Mountain Dew. Study sessions both in high school and college entailed a cornucopia of sweets from gummy cola bottles to bags of sugary Dubble Bubble gum. Once I joined the workforce, these studying conditions transitioned into bad workplace habits. I walked into conference rooms double-fisted with my Diet Dr. Peppers. I often lost track of time due to a ferocious back-to-back meeting schedule. Naturally, I then ran to the vending machine to grab two bags of the least fattening carb-y snack. I assumed the mid-day anxiousness was from stress, not my overly caffeinated state and lack of nutrients. But what was a busy girl to do? I didn't really think my "sorta bad habits" were harming me. Plus, I had conference calls to make, presentations to create and deadlines that I couldn't shake. This pattern went on for many years. Now, I've tweaked my habits. The intensity of owning my own business, managing my cancer and balancing life rivals the stress (albeit differently, but still stress) from my corporate days, so I share my thoughts on how to eat clean at work.
Whether you work at home, on the road or in an office, spending a few minutes to have wholesome food at hand is key. Not only do I feel healthier and energized when eating wholesome foods, but my mind and body are also clear. Eating a wholesome plant-based diet is key to optimal health and disease prevention, so just because I may be swamped, I plan to always focus on having nutrient dense foods nearby. Below are my top five tips for eating clean at work.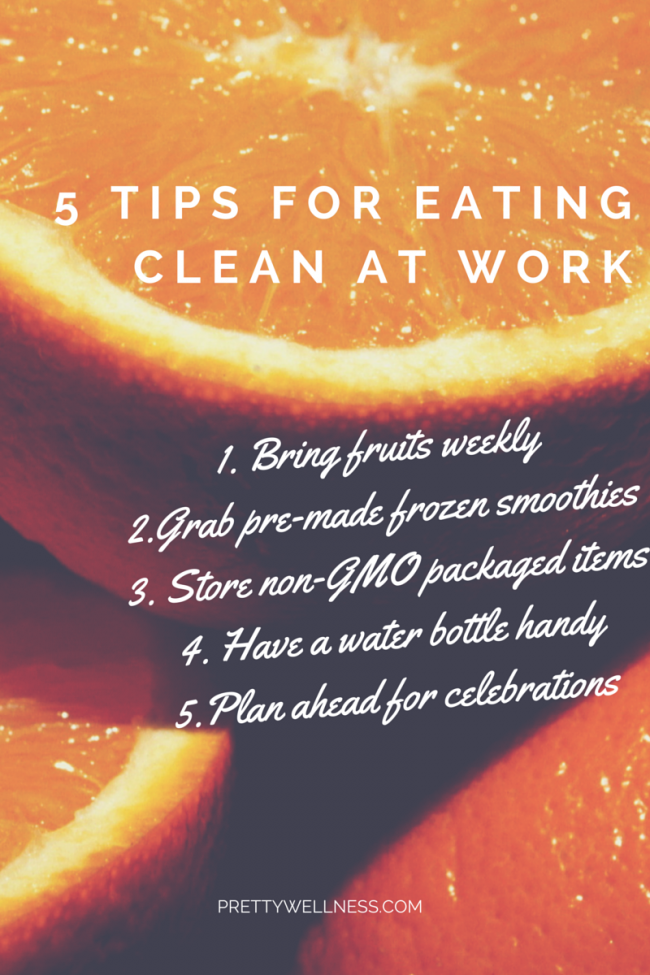 1. Bring fruits weekly
When you grocery shop, be sure to buy enough apples and bananas. These stay in a desk without harm and travel well. Also, avocados are filling snacks and easy to throw in a drawer. Make sure to have an extra set of plastic utensils so you could cut them open and start eating right out of the skin.
2. Grab pre-made frozen smoothies daily
One of my favorite life hacks is to make smoothies in advance and freeze them. I then throw one in my purse in the morning and by mid-afternoon it's thawed. Smoothies packed with fruits and veggies deliver a ton of phytonutrients and energy. I also freeze organic yogurt tubes and if I'm in a bind, give them to my husband for his lunch.
3. Fill desk with non-genetically modified ingredients (non-GMO) or organic packaged items
Canned tuna, packaged beans, dehydrated fruit, seeds and nuts are super easy to buy in bulk and keep in any office for months. My favorite organic and non-GMO packaged foods are SuperSeedz Gourmet Pumpkin seeds, The Good Bean Roasted Chickpeas and Annie's Organic Snack Mixes.
4. Have a water bottle handy
Being dehydrated causes weakness, dizziness and sluggishness, which are all counterproductive in the workplace. Having a water bottle handy and filled regularly is important to not only keep the body and mind working effectively, but it will also keep you filled up. If you don't like plain water, try it infused. It's delicious.
5. Plan ahead for celebrations
Sometimes work meetings are at a restaurant or celebrations fill the office with baked goods. We're all human and want to partake. When put in those situations, I try to order salads, side dishes (sautéed vegetables with extra virgin olive oil) or preview the menu before we arrive. For those work celebrations, I would consider bringing a fruit salad or my own home-baked cookies.
What special tricks or tips do you do to eat healthy while at work? 
Some simple tools for clean eating at work:

For daily tips and inspirational ideas on healthy living, clean eating and a non-toxic lifestyle, please follow us on Twitter, Instagram and Facebook.
This post may contain affiliate links meaning I may receive a commission with no costs to you. I pro-actively try various products and then affiliate myself with these items that I already use and love.