The first time I was diagnosed with cancer, we didn't have smart phones. No one texted. People still wrote letters, though most employees had email. Once people found out that little ol' 31-year-old me had cancer, they all sent long notes, cards and packages. Rather than answer every call and email, I started writing "chapters" of my cancer experience and emailing them to family/friends. Many people thought I had a sense of humor about it all. So I wrote more. This time around, once all my friends and family heard I was re-diagnosed, I was told I should write a blog. So I did. Now an official year being "live" with PrettyWellness.com, I'm reflecting on what I learned and how to make a difference in this world.
Like many, I figured it would be a breeze. I'm a storyteller by nature, so thought it was just about writing content. I was wrong. Let me say, some blogs can be that way, such as a journal meant to be cathartic and informative. However, if the goal with blogging is to "make something of it," albeit a small business, there's so much more involved. So if your vision of success is to build a business out of blogging, here are my top key learnings from this past year.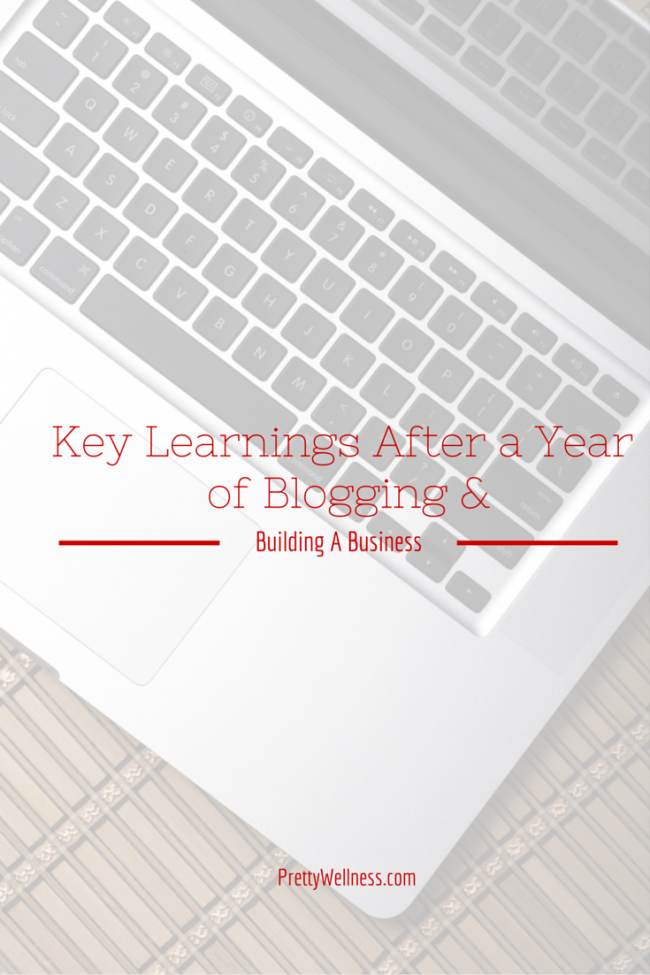 1. To blog successfully, you need to have not only writing but marketing skills, know your audience and write to them…authentically and consistently. You need to understand SEO, so that your words can be found in the vast space of the internet. In addition, you need to reach them on any platform, therefore need to be active on various different social media platforms. This isn't just about posting a pic on Facebook or Twitter, it's about starting conversations and posting regular curated content (several hours a week) on a few platforms to build your credibility. Whether or not you have a logo or catchy name, you're building a brand and need to show insight and expertise. So spending weeks getting to know how to maximize Pinterest, YouTube or your favorite two social media avenues is important, though time-consuming.
2. To blog successfully, you need to have a professional site. You need to figure out hosting (GoDaddy) as well as how to utilize a web creation tool (Word Press.) A relevant theme and clean look to your site is important, too. Then there's learning how to use widgets, new plug-ins and all the bells & whistles that make a blog's readership grow from newsletters to giveaways. Professional websites also have beautiful visuals. Photos can be taken with smart phones, though some work must be done afterwards with PicMonkey or Canva to make them aesthetically beautiful. They need to be optimized for each platform to assure they are being shared, as well.
3. To blog successfully, you should join the writing/blogging community. In order to grow your audience, you need to embrace others to help them help you. Joining blogging groups like The SITS Girls or The Blogging Bunch helps inform bloggers about the business of blogging, while also building a community of support. Commenting on blogs daily, participating in weekly Link-ups and joining Twitter parties is time-consuming, but helps build awareness of your brand while also finding advocates to share your stories to their readers/fans. Guest posting for personal blogs or bigger media companies such as Blogher or The HuffingtonPost will help grow your reach.
4. To blog successfully, you also need to know your goals and have a business plan. What are you trying to achieve? If you want to get paid for sponsored posts, you may look to pursue different opportunities than if you want to write a book or schedule speaking engagements. The industry of blogging is huge and overwhelming…but if you know what you want to achieve, you can map out a path of trying to get there.
5. To blog successfully, you need to have an editorial plan. You need to have an editorial calendar for you blog content as well as social media posts. If you can schedule a few weeks out, you have some flexibility. This also gives you time to capture the appropriate photos, schedule social media posts as well as have content readily available for your site.
6. To blog successfully, you should find a blogging mentor or as I say "blogging big sister." Whose site do you like? Whose voice do you aspire to be like? Analyzing bloggers within your niche or writers that you aspire to be like, will help you progress. Find someone that you think could be your friend because you share a similar message and want to learn from this person. I found Kristen Hewitt of MommyInSports. Our career paths in sports and media are similar, yet different. When I found her, I could see myself being friends with her because we both embrace healthy living, are mothers and understand the trials and tribulations of working in sports. We are now friends because we are bloggers but also so much more. We give each other "tough love" about what we like/dislike about our sites in an effort to make each other better.
7. Most importantly, to blog successfully, you should write from the heart, while at the same time, find a support team to provide feedback so that you can grow. I am so lucky that my son and husband see Pretty Wellness as my job and my passion. They are as much a part of this as I am because they allow me the time to build the business and together embrace a healthy lifestyle making my life be my content. I'm also incredibly grateful that some of my past mentors, bosses and best friends have risen to the occasion to be a part of my "pretty committee." These friends and former colleagues have met with me to build out my vision plan, brainstorm creative editorial content and send me feedback on a weekly basis, so that we can grow our healthy living message.
A special thanks to Kevin, Kyle and my sister, Nancy, for playing many roles in our small business. In addition, I'm very grateful to my extended family and friends for supporting me, providing feedback, making business connections and helping me grow in this space. I also greatly appreciate all the readers and friends that have commented on a daily/weekly basis on the site and social media platforms. Happy Blogaversary to all of us.
Please share your blogging tips and how you see success in the blogging sphere?