Please help us donate books to cancer patients. Recent podcast guest Dr. Eleonora Teplinsky and I want to give away a resourceful and inspirational cancer book to those in need and would love your help. Here's how – Venmo me to @caryn-sullivan-3 ($15 a book or any amount) or see link below for other methods of donation.
For the month of February, donations will be collected. All funds will go toward purchasing Happiness through Hardship – A Guide and Journal for Cancer Patients, Their Caregivers and Friends. This book empowers and supplies readers with ways to take immediate steps so they are prepared, less stressed and able to find joy during their cancer journey. In March the books will be ordered and shipped to Dr. Teplinsky. She will then give to patients in need both at her cancer center as well as throughout the country.*
Here's how you can donate: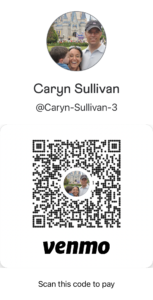 And don't forget…as always, for every book sold, 1/2 the proceeds go to The Cancer Couch Foundation. The Cancer Couch Foundation is a privately funded, 501c3 non-profit organization that has helped put over 5-million dollars into metastatic breast cancer (MBC) research to date! Founded by Rebecca Timlin Scalera, PhD, a metastatic breast cancer patient. 100% of donations and event proceeds are matched and go to fund MBC research at Dana-Farber Cancer Institute and Memorial Sloan Kettering Cancer Center!
We are incredibly grateful for your support! Thank you.
*For those not receiving treatment at Dr. Teplinsky's center, we will host a giveaway for **some patients throughout the country to receive a free book. Stay tuned for details – follow @PrettyWellness on Instagram for further information.  **Please note, the amount of books shipped throughout the country will depend on how many people have donated.