I love to celebrate and create happy times around any holiday. So the Mother's Day countdown has begun in our house. My son has started coloring cards and is already planning a trip to the store to buy my gift. What I love most about these holidays isn't always the present itself, but the sentiment behind it. Sure, if I was sent a brand new diamond-studded Apple watch, the healthy gadget girl in me would jump for joy. However, it would be much more meaningful if the giver attached a note saying, "we know you love to power walk for hours; this watch will keep you on time and connected while also tracking your health data." Thoughtful. Useful. Fun.
I love to create thoughtful gift ideas and am excited to showcase this year's list of useful, fun and healthy Mother's Day gifts for the wellness enthusiast.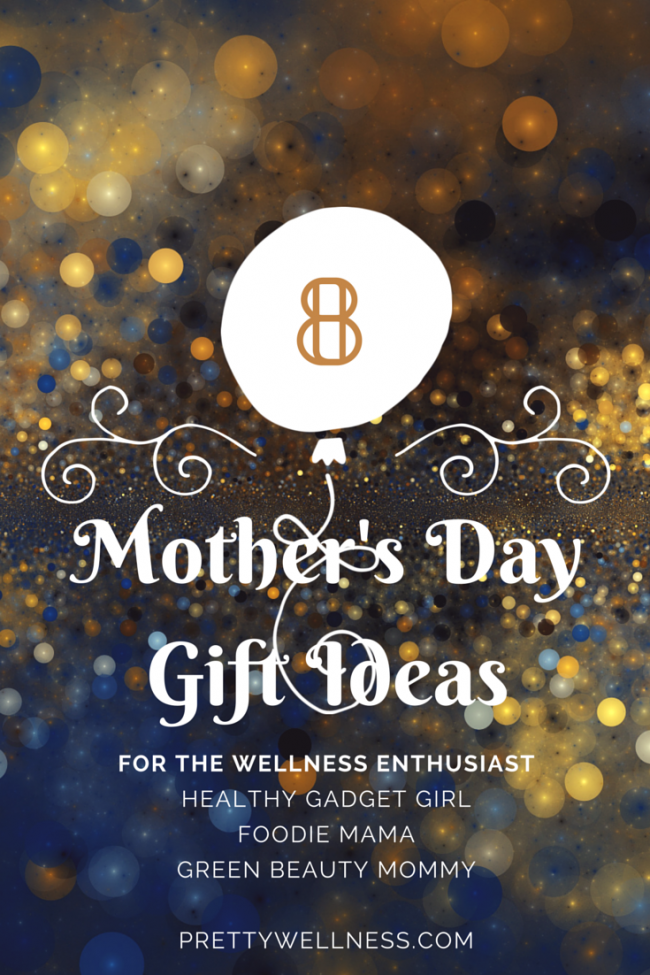 For the Healthy Gift Gadget Girl
TURATA Weighted Ropeless Jump Rope Fitness Speed Rope – I love to jump rope. It remind me of being in elementary school and playing with my friends on the playground. The great news is that jumping rope is an incredible workout that can be done anywhere. That is, if you have high ceilings. While I know I can jump rope outside, it often doesn't happen. So when I found these speed training jump rope balls, I jumped to get them. For those who travel a lot, they are easy to pack and can be used in a hotel room. Or, for the busy mom that just wants a quick workout anywhere, this gift is an easy to use anywhere item.
For the Green Beauty Mommy or Mom Who Loves to Beautify
CLOVE + HALLOW Lip Velvet – Vegan Natural
– Spoil your mom with luxurious new lipsticks that are formulated with non-toxic and few ingredients. I love vegan, award winning Clove + Hallow's bold colors and nourishing lip velvets and lip glazes.
For the Foodie Mama
Planet Natural Herbal Garden Kits – For the crafty mom that loves to prepare fun foods with the family, an herbal garden kit is a fun and useful project. Planting kits for everyday herbs, foods and trees are listed. Planet Natural sells products for indoor and outdoor gardens as well as natural cleansers and supplies.
Plant Theatre Forbidden Fruit Kit Gift Box – If your mom is more of a smoothie or fruit lover, this gift box with five exotic fruits is a fun and creative gift. The box includes everything needed to start growing forbidden fruits including biodegradable pots, peat discs, plant markers and foil sealed seed sachets.
For the Mom that Loves to Sleep
Slip Sleep Mask
– Celebrities are all talking about the Slip sleep masks and pillow cases – These products are made for "beauty not bedding" and are seen as products for anti-aging, anti-sleep crease and anti-bed head.
For the Mom Who Wants to Embrace Positivity
LOLA I-IV-III necklace – The I-IV-III line is the love code 1-4-3 inspired by Minot Ledge Lighthouse in Massachusetts. The lighthouse blinks 1-4-3 in a flashing sequence to communicate the numerical count that is the same as the words I LOVE YOU.
For the Mom that Loves to Read
OttLite Wellness Lamp – This OttLite Wellness Lamp is developed to help you see better by reducing eye strain by 51%. All of the OttLite Wellness lamps are green and energy efficient. LED lighting uses far less energy than other types of lighting and even lasts up to 40K hours. You can help the environment and help your eyes at the same time.
For the local and last minute great gift – Boutique Gym Gift Cards
JoyRide Cycling & Fitness Studio – Give the gift of good health by purchasing a gift card to a local small-business gym like JoyRide. (For my local friends and followers they just opening a new studio in New Haven, CT, too.) JoyRide is a supportive community that inspires all class participants aka any athlete to use the strength built inside the studio as a tool to live a big JOYful life. I'm inspired by the owners (all female), instructors (of all backgrounds) and extremely friendly and motivating attendees.
One Extra Gift for Good Luck – Our Ninth Gift Idea is For the Mom Who Loves an At-Home Spa – Himalayan Sea Salt Dome
Himalayan Foot Detox Half Dome Lamp – Give the gift of relaxation and detoxification with the Himalayan Sea Salt dome. When placing feet on the warm surface it draws toxins out of the body.
More of My Favorites

What was your favorite Mother's Day Gift? Any great gadgets, books or clean living tools that you would like to receive as a gift?
Check out last year's Healthy Mother's Day gift ideas segment for more inspiration.
For daily tips and inspirational ideas on healthy living, clean eating and a non-toxic lifestyle, please follow us on Twitter, Instagram and Facebook.
Or, meet us in person. Looking for a speaker to inspire your organization or business team? Hire me to present or facilitate a seminar on resiliency, positivity and wellness in the workplace. Check out my business website and demo reel at CarynSullivan.com. I can be reached at Caryn@CarynSullivan.com.
This post may contain affiliate links, meaning I may receive a commission with no cost to you.