I've been painting the town green the past 2-years. What I mean by this is that I've been telling everyone and anyone about my love of plant-based eating, as well as drinking green juices and smoothies. My family has been on board, knowing that I feel vibrant and my health is stable. (So there aren't many "EWWWWW, that looks gross" comments.) We hit a huge milestone a year ago. Not only did my then, 6 year old, ask to try my green smoothie recipe, but he also wanted seconds. That interested my husband, who has been craving them ever since.
Last summer, Pretty Wellness went on the road to speak about healthy living for college students and corporate folks. After my presentation at Best Buy headquarters a sample of my kid-approved green smoothie was handed out as people exited the theater.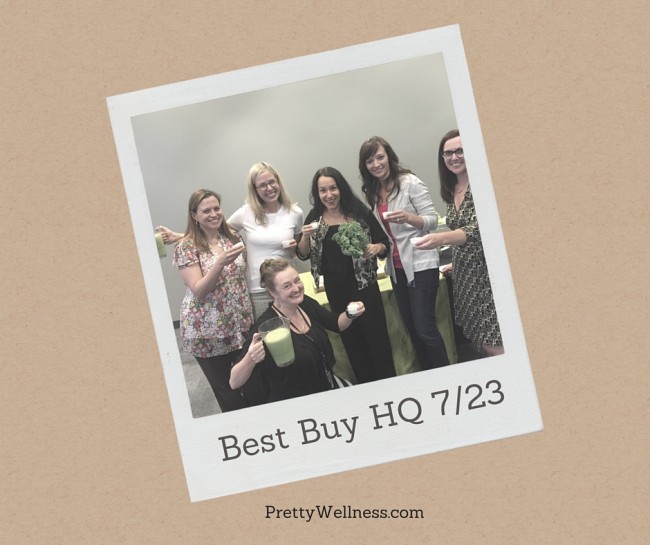 If you're looking for an easy way to get your family and friends to eat more vegetables, try our recipe below. Trust me, it's delicious.
PrettyWellness.com Kid-Approved Green Smoothie Recipe
A delicious, kid-approved green smoothie made with mostly vegetables.
Ingredients
1 cup cauliflower frozen
1 cup kale frozen
1 cup butternut squash frozen
4 cups of milk (I use oat milk)
4 dates (I prefer medjool dates)
1 tbsp. pumpkin pie spice
Instructions
Pour 3 cups of milk in the blender
Add all frozen veggies and blend until liquified (about 1-2 minutes)
Add 1 cup of milk, pumpkin pie spice and dates and blend until liquified (30 seconds)
Pour in glass to drink immediately or store in airtight containers.
Notes
I store in refrigerator for 1-2 days or freezer for longer durations.

These directions work best with a high-speed blender. If you use a traditional one, be sure to blend on a high-speed for a few minutes. If it is still chunky, add more liquid/milk (and an extra date and spice, too.)
My favorite smoothie-making tools:
Do you drink smoothies? What are your favorite fruit or veggie combinations? Please comment and share with us below.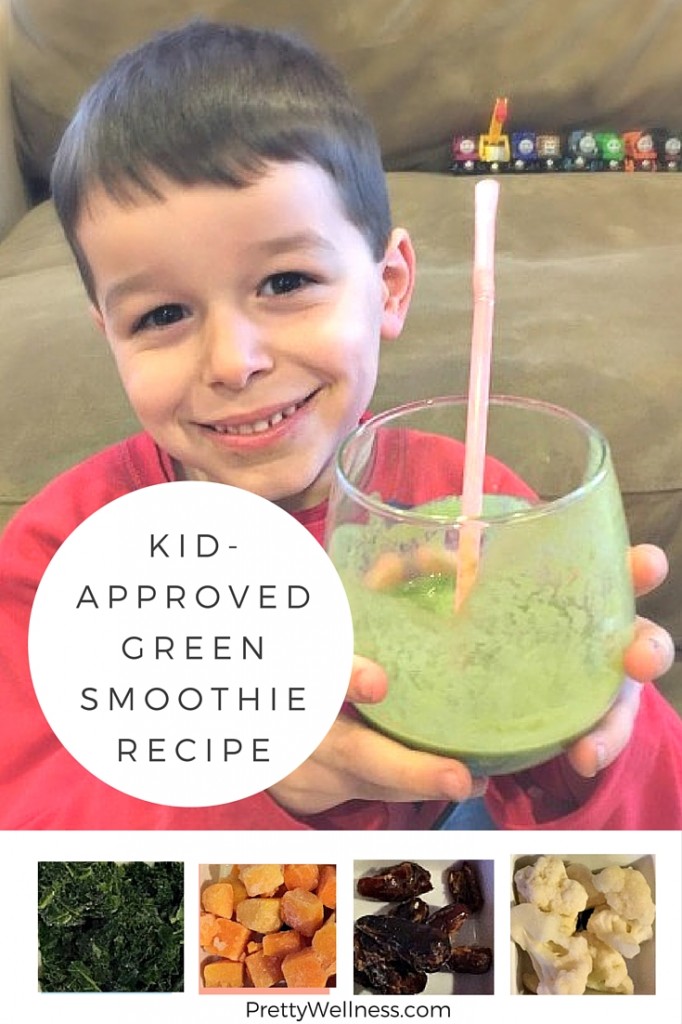 This post may contain affiliate links meaning I may receive a commission with no costs to you. I pro-actively try various products and then affiliate myself with these items that I already use and love.