If you didn't join us last week, welcome to the Health & Wellness News & Information Recap. I love to be a "student of life," especially when it comes to health and wellness. So I will post weekly an easy to skim post where you will get the latest news, information and conversations from the wellness community.
Since Pretty Wellness covers clean eating, active living (mindfulness and fitness), clean living (non-toxic beauty and home) and cancer information, I will look for interesting articles, information and posts under these content categories in the form of my own weekly bullets and links. Here's the news and information from the week of January 12.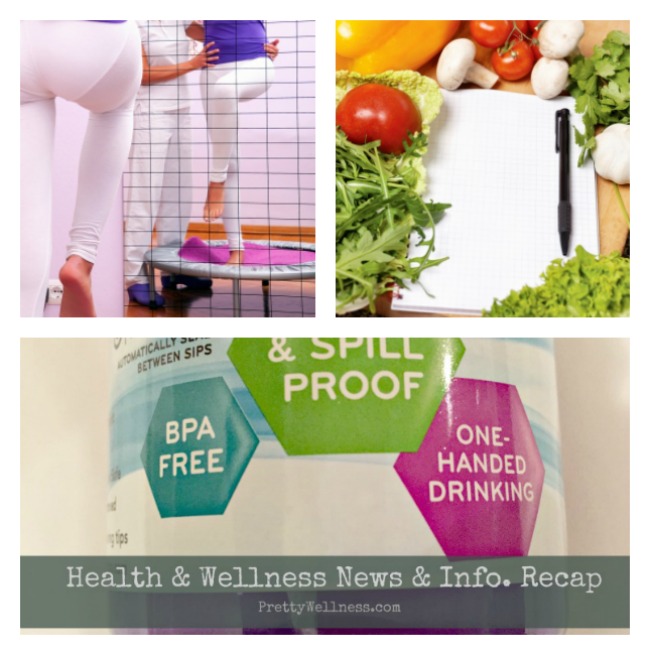 CLEAN EATING 
What the World"s Healthiest Diets Have in Common: I love this article, summarizing some of the world's healthiest diets and what they have in common, including plant-based and seasonal produce and whole grains. I've heard a lot about the benefits of a Mediterranean diet, but not as much about the Nordic and Okinawa ones. If you are interested in learning more about these diets, check out The 5-Factor World Diet
by Harley Pasternak.
ACTIVE LIVING
Is Rebounding Good Exercise: Over the past several years, rebounding (aka jumping on a trampoline) has been promoted as a beneficial exercise for more than burning calories. This week, the New York Times reporter Gretchen Reynolds uncovers the myths about rebounding.
CLEAN LIVING – NONTOXIC LIFE
BPA-Free in the news: Last week, I mentioned that Congress and the Food and Drug Administration (FDA) recently reconfirmed its position that people are not being harmed by bisphenol A (BPA). Many activists still refute this position, and there are even criticisms that BPA-free water bottles may be just as unhealthy as the BPA ones.
CANCER /INSPIRATION
From Surviving Cancer Twice to Writing Tips & Tales for a Clean Lifestyle: If you haven't checked it out already, this week my story was highlighted on GottaMakeLemonade, a platform to inspire others to overcome life's challenges. If you have a story, big or small, where you turned life's lemons into lemonade, you can submit your story here.
Please feel free to comment below or add your own favorite story or blog post of the week. Think of this as a destination to grab a coffee, tea or any drink, read through information on wellness and join in the conversation.
Images courtesy of marin and Ambro at FreeDigitalPhotos.net