It's back-to-school season, and while most of us rush to find the best sales on the teacher recommended school supplies, it's also important to keep an eye out for eco-friendly items. Not only do they help the environment, but they're also better for our children's health.
Believe it or not, there are still many school supplies that include toxic chemicals. Water bottles, lunch containers and even some organizers could be made with BPA, PVC, Phthalate and potentially lead and asbestos. For instance, if plastic in water bottles or containers is heated/damaged, the chemicals in that container could leak into the food or water and then be consumed by our children. It's important to purge these chemicals because many of them are human carcinogens and may contain hormone-disrupting phthalates. While many of these toxins are banned from toys, they are not from school/office supplies.
That's why it's important to learn more about sustainable and non-toxic school supplies. My latest wellness segment on WTNH-TV was about considering better back-to-school options.
If you would rather not wait at Staples or Target to pick up school supplies, I've provided some of my favorite non-toxic ones below. (There's still time for Amazon Prime!)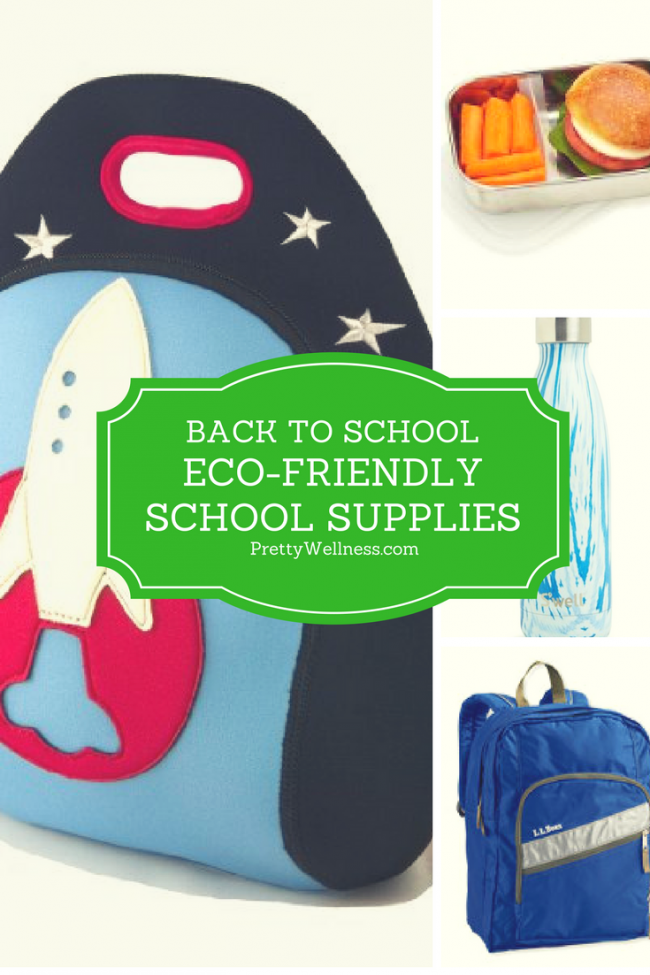 Food Storage
I've been using UKonserve for a few years now. Not only for my son's lunches, but my husband's, as well. They are durable and easy to clean. Most importantly, they are free of BPA, PVC, Phthalate and lead. I've also been scouting some other stainless steel containers that are sold at Whole Foods and other health food stores.
Water Bottles
I admit it, the big plastic Gatorade bottle is so fun and easy for kids to use. I've done it. I do it…but try to keep the use to a minimum. There are a ton of more durable and toxin-free stainless steel bottles on the market. I've been using the stainless steel Klean Kanteen for a few years. Not only do they come in many shapes and sizes, but if there is any issue whatsoever, the company has a great customer service policy even if you bought them from Amazon. The insulated ones keep my infused water freezing cold throughout the entire day. I've also seen a lot of promotion for Hydro Flask and S'well. Glass bottles are easy and I love my Lifefactory bottle, as well.
Bags
Safemama.com has a valuable cheat sheet recommending a few different brands for lunches and bags. Many can be purchased on Amazon. Though, LL Bean also sells quality products with backpacks that are free from PVC, phthalates, lead and BPA.
School and Office Supplies
The Center for Health, Environment and Justice created a resource filled with information about eco-friendly products and school supplies. Some are listed below, others to check out include Bic Corp (PVC-free pens,) The Green Office (recycled and eco-friendly notebooks) and Wilson Jones (many PVC office products.)
What are your favorite healthy, eco-friendly school and/or work items?
For daily tips and inspirational ideas on healthy living, clean eating and a non-toxic lifestyle, please follow us on Twitter, Instagram and Facebook.
Or let's meet in person…hire me to inspire your organization or team to embrace positivity and wellness for a successful personal and professional life. Check out CarynSullivan.com for more information.
This post may contain affiliate links meaning I may receive a commission with no costs to you. I pro-actively try various products and then affiliate myself with these items that I already use and love.