At the end of a long semester, healthy habits aren't top of mind for students. Monumental Projects, all-night study sessions and of course, holiday bar crawls are priority. It's easier and cheaper to drink a Red Bull than brew herbal energizing teas. When the responsibilities pile up, we often lose sight of what's good for our health. Since students need a significant pick-me-up by the time the holidays hit, we've expanded our 2016 Healthy Holiday Guide to include college students hoping they, too, will take small steps toward wellness. Below is a list of healthy, hearty and fun items for the worn out academic that won't break the bank.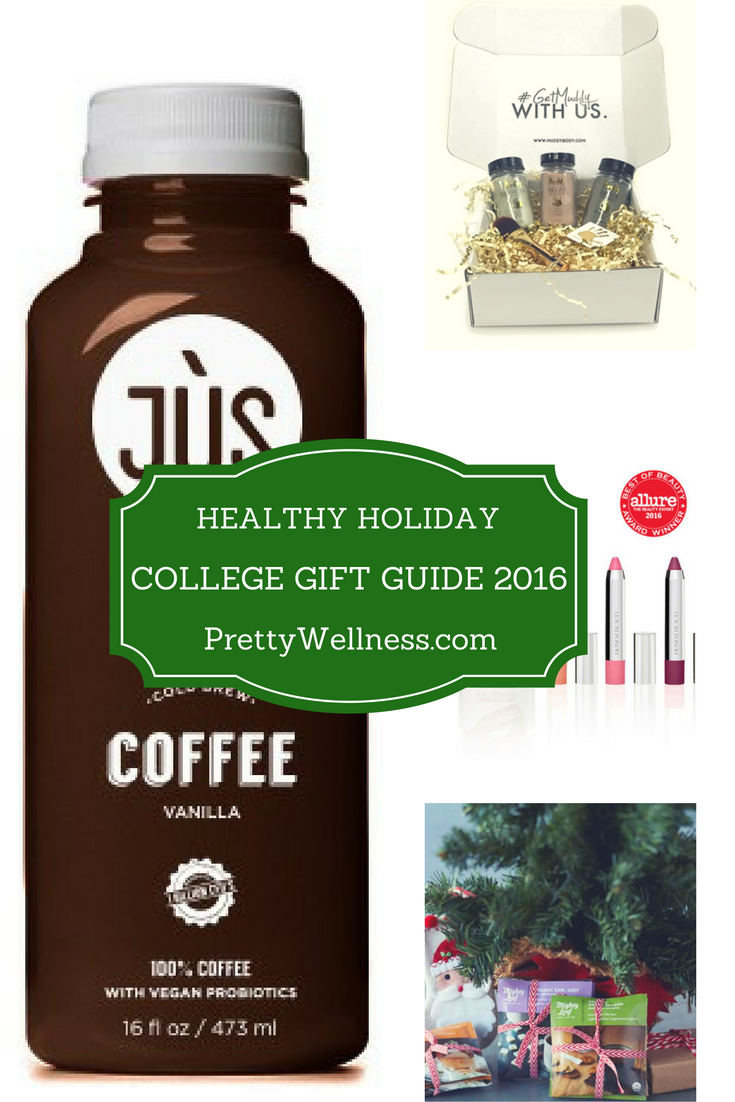 Monk Oil City Skin Potion – $$
Designed to support the body, soul, and spirit, Monk Oil comes in three different city skin potion blends designed to not only smell amazing but also make you feel "not just intact, but also inspired." The nourishing ingredients are designed to promote inner and outer well-being.
LUSH Cosmetics Sea Spray Hair Mist – $
Without a trip to the ocean or the low tide smell, you can add shine, body, volume, and texture for an effortless beach look. Can be used to refresh, re-style, or just add some texture.
Organic Loose Tea Collection Tea Chest – $$
This organic assortment of Mighty Leaf's six most popular teas is displayed nicely in a gift box and loose tea tins. The teas included are Breakfast, Earl Grey, Spring Jasmine, Dragonwell, African Nectar, and Mint Mélange.
Bare Escentuals Your Kiss Is On My List Lipstick Set – $$
A lip kit with 8 mini "Generation Nude" lipsticks from the radiant lip collection by Bare Escentuals gives you a range of colors to try. Great as a gift for someone new to lipstick or not necessarily very daring with their lipstick color choice while still giving options and variety in a holiday gift bundle valued at $80.
Fitness Gift Card – $ (per class)
With New Year's resolutions around the corner of the holiday season, it's the ideal time to give our friends and family a little push to get into good exercise habits or try something new. Pick up a couple fitness gift cards for a trial class. Intense, yet appropriate for beginners, spinning or cycling classes like SoulCycle or FlyWheel are in most college towns or try a local boutique studio. Here we love ZenRide in Fairfield or JoyRide in Westport, Darien, Ridgefield and Wilton.
Probiotic Cold Brew by JUS by Julie – $$
This 6-pack of cold brew coffee is designed to enhance your body's ability to absorb key nutrients and includes probiotics to improve your immune and digestive system. This juice company is non-GMO and verified vegan with all of their products, including these cold brews.
Muddy Body Holiday Gift Set – $
As a holiday gift option, Muddy Body is offering one full size clay mask in either Detox, Relax, Refresh, or Pumpkin Spice or the set of three smaller Muddy clay masks in Detox, Relax, and Refresh. The set includes a metallic tattoo and applicator brush and is packaged in a gift box with gold fillings, perfect for an easy already wrapped gift.
Even during the holidays filled with over the top decorations and grand gestures of family and celebration, it really is the little things that count. At the end of a semester of studies, this is particularly important for the overworked student looking forward to home during the holidays. To students, home is relaxing by the fire, being doted on by family members, and getting back into good habits before another long semester. The break is never long enough, but hen gifting something both healthy and personal, we show our loved ones that we care about them as much as they should care about themselves.
How will you gift wellness this holiday season?
Need some stocking stuffers, here are some other items a college student will love.
Written by Victoria Mattei, PrettyWellness.com Digital Correspondent
Victoria Mattei is a Dean's list student at Fairfield University originally from Long Island, NY. She is currently a junior with a Communication major and Public Relations minor aspiring to work in media business and digital publishing. Victoria is actively involved with Her Campus, Fairfield University's premier online magazine. There she pitches and writes articles as well as promotes social media content. Tori also serves as a High School Ambassador Advisor mentoring girls interested in the communication industries. When not studying or creating content, she enjoys doing yoga, reading, and dreaming about extensive traveling in her future.
Looking for other hot holiday gifts that we love, check out the PrettyWellness.com 2016 Healthy Holiday Gift Guide as well as our past guides: 2015 Healthy Holiday Guide, the 2015 Kids: Healthy Holiday Guide, the 2014 Healthy Holiday Guide and the 2014 Kids: Healthy Holiday Guide.
For daily tips and inspirational ideas on healthy living, clean eating and a non-toxic lifestyle, please follow us on Twitter, Instagram and Facebook.
This post may contain affiliate links meaning I may receive a commission with no costs to you. During the year, I pro-actively try many of these products and then affiliate myself with these items that I already use and love. For the Holiday Gift Guides, we research items that are low in toxicity, sustainable and eco-friendly.